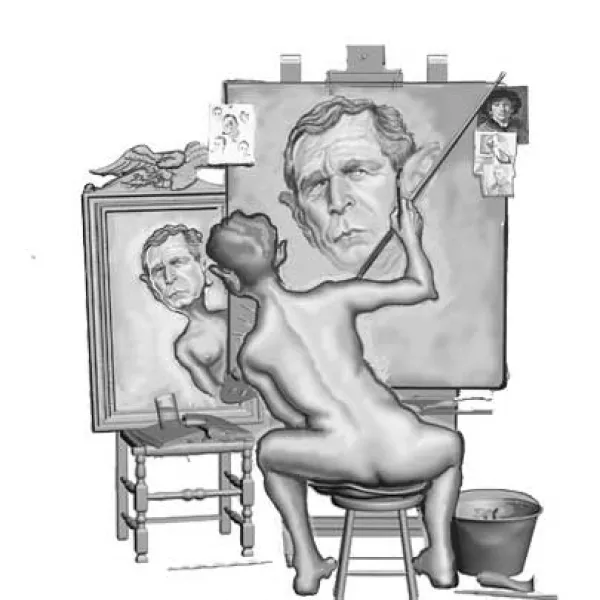 Last week, the five members of the most exclusive club in the universe, Living Presidents, assembled to celebrate the over-the-top shrine to the most embarrassing person ever to occupy the White House. The only thing the other members of the club could say about George W. Bush, who now spends hours a day painting nude self-portraits, was that he was a "nice guy."
It has been said that he loved his black Scottie, Barney (now deceased), and that Barney loved him, despite the fact that Dubya once dropped him on his head. Dogs are very forgiving. One thing is certain—Barney was a better judge of character than his master: He took an immediate dislike to Dick Cheney, universally acknowledged to be the worst human being ever to walk the face of the earth, and bit his trigger finger during a Rose Garden confab.
The dedication of the Bush Shrine was largely overshadowed by the NFL draft, which shows that we Americans have our priorities straight. Despite the terrible damage inflicted on our country by the Bush administration, folks quickly forget and concentrate on important stuff, like how high in the draft our favorite players will be picked. Here in Utah, we were all on the edge of our seats as teams were put on the clock and we waited to see where the University of Utah's Star Lotulelei and BYU's Ziggy Ansah would play next year.
Noted statistician and savvy observer of the sporting scene Milo "Smitty" Smoot correctly predicted that Ziggy would go at No. 5 to the Detroit Lions and that Star would go at 14 to the Carolina Panthers. But even more impressive was the fact that Smitty was 100 percent correct about all 32 first-round picks.
The conjunction of the NFL draft and the dedication of the Bush Shrine got a number of pundits thinking: Why not get Smitty to apply his expertise to rank the living members of the Presidents' Club? There they all were in the Texas sunshine, saying what a nice guy George was.
But wait a minute—not only were all the living presidents present, but a future president as well, former first lady Hillary Clinton. Why not include her? And while we're at it, why not have Smitty evaluate the presidential potential of the other spouses as well? After all, those other gals are no slouches.
Smitty relished the challenge and immediately got down to work, poring over tapes of the presidents and their spouses in action. He applied his esoteric metrics and abstruse algorithms to the players in all sorts of situations, both at home and away.
Here are Smitty's rankings, from lowest to highest:
10. George W. Bush. Upside: liked to play with his late dog, Barney. Shows keen eye for human form in his nude self-portraits. Downside: scored lower on Wonderlic Test than Barney. Other players uncomfortable with George bringing his paintbrush into the locker room.
9. Bill Clinton. Upside: always the smartest guy in the locker room. Downside: always the smartest guy in the locker room.
8. Laura Bush. Upside: sexy as hell. Favorite book is Fifty Shades of Grey. Downside: tests positive for weed. Rumored appointment of Bill Clinton as Special Assistant for Domestic Affairs.
7. George H. W. Bush. Upside: not going to hurt you with desperate late-game Hail Mary. Amiable chap. Downside: son who paints nude self-portraits in the bath.
6. Jimmy Carter. Upside: has playbook memorized. Keeps lust in his heart, not in his pants. Downside: wrong playbook.
5. Hillary Clinton. Upside: comes to camp in shape and well prepared. Downside: Off-field issues include grandstanding spouse.
4. Rosalynn Carter. Upside: deceptively tough. Keeps her locker clean. Downside: too obvious that she's smarter than her longtime coach.
3. Barack Obama. Upside: cool under pressure, impressive swagger in crisis. Downside: doesn't respect opponent. Gets blindsided.
2. Michelle Obama. Upside: commanding presence. Like other presidential wives, higher I.Q. than husband. Downside: After observing armies of idiots in our nation's capital for eight years, she has no desire to suit up for presidential game.
1. Barbara Bush. Upside: tell-it-like-it-is straight-shooter who doesn't suffer fools, including her own progeny. (When asked if she thinks Jeb should run, Big Bar opines that the nation has had too many Bushes in the White House.) Downside: certain to tell visiting heads of state to go fuck themselves.
In related news, the most popular attraction at the Bush Shrine is a nude portrait of Barney getting a bath.
D.P. Sorensen writes a satire column for City Weekly.