Page 2 of 8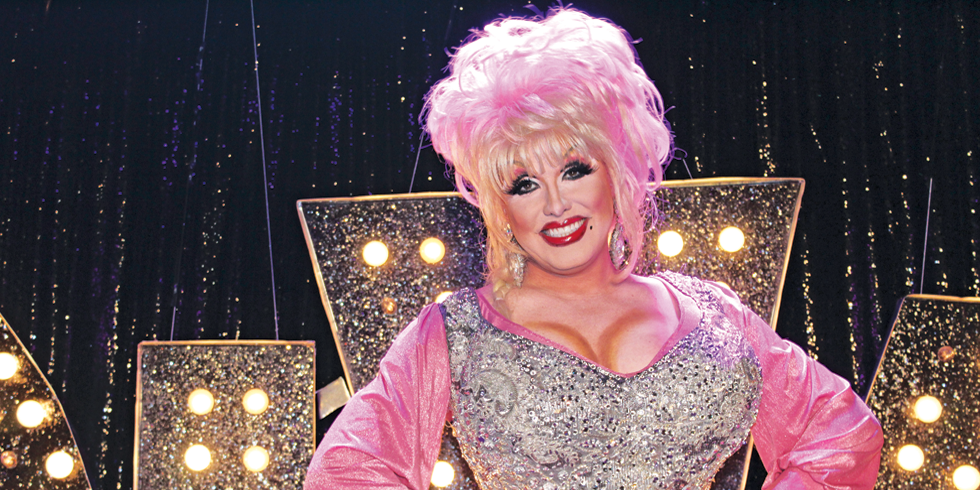 Hello, Jason!
From Magna to the world, Jason CoZmo is redefining local drag.
Story and photos By Enrique Limón
The setup backstage at Club X, home of the Viva La Diva show and Broadway Divas brunch, includes all the basic accoutrements you'd expect of a drag review—wigs galore, endless containers of pressed powder, a few cans of glitter spray, mile-long false eyelashes peering from jewel cases and ... power tools?
"We built all this set and the catwalk, and we put it all up and take it all down every week," diva matron Jason CoZmo says, as he overdraws his brows. "Every table, every chair ... I wash every one of those fucking tablecloths."
Ever the perfectionist, CoZmo (a portmanteau of his last name, Zambos, and cosmos, "a cluster of stars") adhered to a 9:30 a.m. call for the 2 p.m. show. Along with arranging the seating, the three hours it takes him to complete his transformation are factored in. "People are like, 'Why isn't brunch earlier?' Bitch, does it look like I'm ready to start painting at four in the morning?" he jokes.
The day's show is an homage to Disney characters—a full-circle moment we'll get to later. And though CoZmo and cast have performed the numbers twice before, he makes sure to follow a certain ritual and is methodic about prep. "I'm a very old-school, superstitious theater person," he says, adding that he also has to shave in the same sink and park his car in the same spot on show days. "Because, then if you don't, something goes wrong, and you go, 'I should have shaved in that other fucking sink'—that's why."
Pre-performance rites also include a general meeting where everyone involved in the production, from performers to crew, assemble in a circle. "I think it's important that we're on stage and bring that energy in together," he says. "Even if you're doing a solo, we're all still working together—they're running the lights and the sound, they're opening the curtain—so we're all still a team and we all need to, like, come together before a show."
An affinity to burn sage has earned him the nickname "Campfire CoZmo" around the bar. "It gets the gunk outta the air; I'm a big believer in energy," the also-host of Miss City Weekly, says. "I can go out and recite the script, but [audience members] can sense. They feel your energy."
Taped next to an oversize vanity mirror is a piece of paper with an extensive list of looks and looks-within-looks. You'd assume it's the full cast's runsheet, but it's just CoZmo's. From a raunchy Tinker Bell to Mary Poppins to a frothy Snow White and Frozen's Elsa, he'll perform 10 numbers in the show he conceived, produced and staged. He'll also emcee, play den mother to the cast and cut them all a check at the end of day.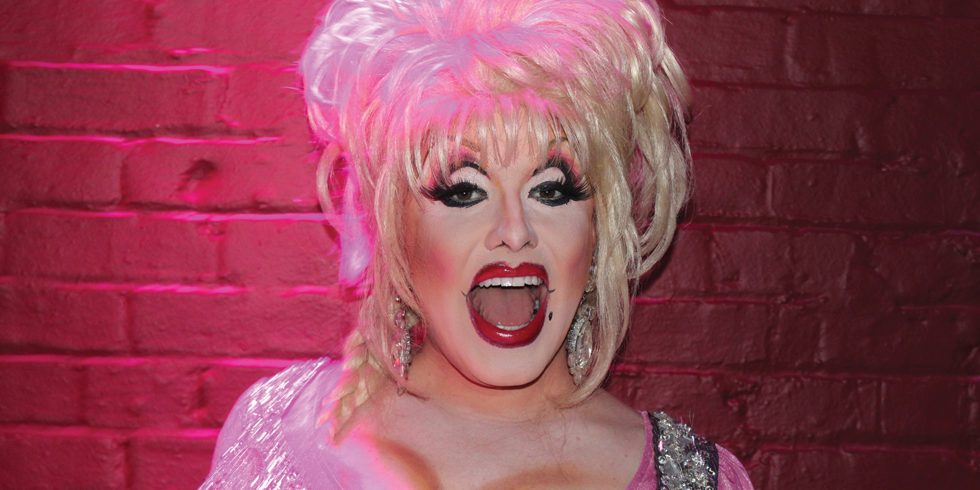 Queen of Starts
"This show is extra, extra nuts for me," CoZmo muses, noting that he grew up as "that awkward gay boy who danced around my room listening to Disney records and playing every character. It's ironic now, because my parents would say, 'It's a phase, he'll grow out of it,' and here we are," he says with an infectious laugh.
Coming of age in Magna during the '80s was rough, he admits. Aside from wanting to grow up to be a fairytale princess, his family didn't identify as LDS or Republican. "A lot of the kids in my neighborhood weren't even allowed to play with me because I wasn't Mormon," he says. "And on top of it, I didn't play sports, so I just did not fit in. But I'd turn on those Disney records, and that was it."
By middle school, differences intensified. "Not only was I awkward and a theater nerd, but now I had braces and glasses and zits, and I didn't fit in," he says. "I went through a really dark time, like so many teenagers do, and I fell into theater, and that was it. That was the ballgame."
Having found his niche, he performed in every production he could, and eventually got a musical theater full-ride scholarship at Weber State University.
The deconstruction process that was part of the curriculum didn't gel. "I was excited to further my craft, and they were, like, 'Nope. Forget everything you know and we're gonna train you our way,'" he recalls. Six months later, he quit. "Even then, I was going to march to the beat of my own drum."
Back to the drawing board, the Salt Lake County theater kid looked back to his living room origins and decided to go after his dream of becoming either a Disney animator or actor. A two-hour flight to Southern California later, he gave it his all.
"In my head, I was so Disney and so right," he says about attending that first open "cattle call" for Disneyland cast members among 500 other hopefuls. "My attitude was, like, 'Here I am. You've been waiting, are you ready?'"
Bolstered by self-confidence, he made it through the first cut. An across-the-floor dance routine followed. A number he'd performed at Salt Lake Community College's Grand Theater a few days earlier betrayed him, turning his step-behind-ball-change movement into a step in front, and he was cut.
As he was being escorted out of the property, and pressed by a fight-or-flight instinct, he came up with the need for an urgent restroom visit, went into the men's room, changed shirts, pinned his casting call number back on and went for another go. "I did the routine again, was there for two days of call-backs and got hired," he boasts.
Park producers pegged him as a dead-ringer for Peter Pan, but when CoZmo heard climbing ropes was part of the gig for the pyrotechnic extravaganza Fantasmic!, the idea was nixed. His acting experience and natural expressiveness, however, led him to be cast as the Mad Hatter, and CoZmo came into his own in more ways than one. "I dated five different Aladdins. And Goofy? His feet are that big," he says belting out a chuckle.
Tragic Kingdom
CoZmo went on to celebrate very merry unbirthdays for five years. "It was amazing. Everyone was, like, 'You're gonna be disillusioned by it all, this and that, and I wasn't," he says. "People ask me if I regret dropping out of college and the answer is no, because I knew I was going to be a performer and Disneyland was like college. I mean, they are so strict and so professional and they really just whip you into shape. Then 9/11 happened ..."
He was scheduled to work that Tuesday, but following the terrorist attacks in New York City, Washington, D.C., and Shanksville, Pa., the Walt Disney Co. closed their domestic theme parks for the day.
"As horrible an event as it all was, I had some major turning points," he reflects, "because on Sept. 12, we had to go in to work and do the parade, and for that whole time, I was in shock." CoZmo had heard rumors of Disneyland being a terror target, and maybe the draft making a comback, reflecting the day's gloomy zeitgeist.
"I was scared; no one knew what was going on. It felt inappropriate to be playing these happy characters," he says. "I'll never forget that parade: We went out, and the audience was so different. People had obviously planned their vacations, so they were there. It was this huge sense of release—these people needed to escape—they needed to not think about it, and that's when I was, like, 'Oh, this is what I do. This is why I'm here. I can't go out and fight, but I can help people escape their troubles and real life, and it clicked."
A Drag Star Is Born
Calling the moment a "surreal realization," and with Disneyland brass anticipating a drop in visits, they cut performers' hours. Now a newly minted part-timer, CoZmo found a job at famed restaurant Hamburger Mary's, where dishes are accompanied by a side of drag.
"I was this little twink serving my burgers and beer and flirting with everybody," he reminisces. Along with American fare, the restaurant served up a weekly amateur drag contest, which left the budding performer unimpressed. "I said, I could do this in my sleep!"
Aladdin No. 5 taught him a dance routine to Chicago's "All That Jazz" and CoZmo mustered the courage to compete. This wasn't his first time at the glam rodeo. For Halloween '99, he'd dressed up as Alice to balance out his chi, and the following year, some members of Disney's parade department thought to dress up as dead celebrities. CoZmo purchased a cheap Wilma Flintstone wig, copied the Snow White makeup chart ("I made the eyebrows orange, and that was it," he notes), put on a polka dot dress and went as Lucille Ball.
At Mary's, he won the amateur contest his maiden try, but still, it was a far stretch to consider drag as a viable option. "I wasn't a drag queen and I wasn't looking to create this persona, but I'd done musical theater all my life and I loved all these female, diva heroines." Personifying Rizzo from Grease and Carol Channing's Hello, Dolly!, CoZmo went on to win the competition for a month straight and was offered his own Saturday night show.
By 2005, having left his mark in the Long Beach and West Hollywood scenes, CoZmo visited New York for the first time, and knew that'd be his next step. "New York's a different beast, and it'll chew you up and spit you out," he says. "But unlike so many other places, if you're ambitious, you can go out and make it work—and I did. I hit the pavement." For the first six months, that involved hitting the contest circuit hard, and participating in whatever competitions he came across.
Word got out and he secured his own night at a bar in Hell's Kitchen, graduated to the original Lips restaurant in the Village and later the Stonewall Inn, all without the help of a campy stage name. "To me, it was just me as somebody, not this character as somebody," he says.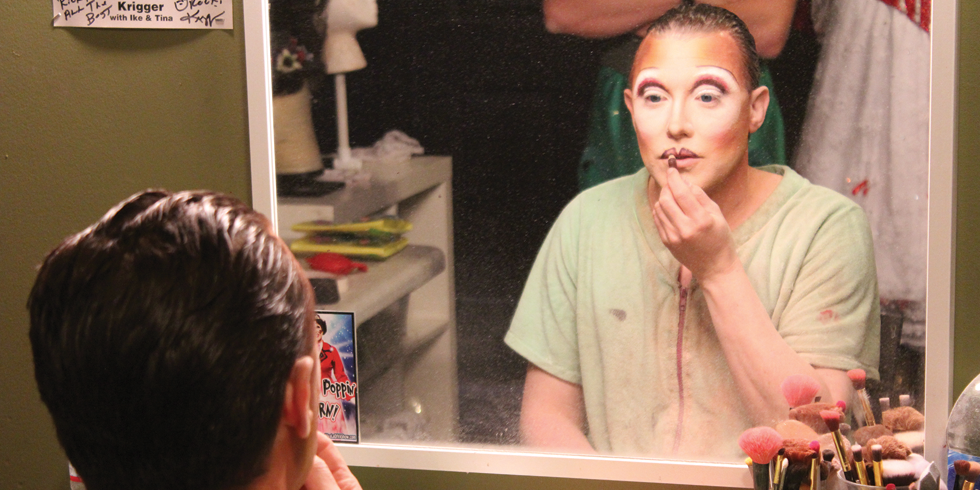 9 to 5
Lucy and Liza had become his bread and butter by the time he put on that first wispy blond wig and gave Dolly Parton a go. "Everywhere I worked, there was a Dolly, and drag queens get very territorial—'Well, that's my character,'" he says in a gravelly voice.
He remembers applying the makeup to resemble the country queen and thinking, "That's too much. Then I put the wig on and said, 'It needs more.'"
He did just one number that night, lip synching 1978's "Two Doors Down," a move dubbed by a friend as "the biggest cock-tease ever," and Parton soon became one of his more popular characters.
Cue a casino tour across the Southwest, and buzz started to grow. Upon his return to the Big Apple, a Good Morning America producer called, said they were having the Tennessee songstress on the show and asked if they could use one of CoZmo's pictures as her during a segment. "I was like, 'Oh my God, what if she says I'm fat or ugly,'" he remembers.
Parton, famous for quotes like "It's a good thing I was born a girl, otherwise I'd be a drag queen," didn't bat a 301 eyelash when asked if that was her in the picture, and "then the other gigs started to come in," CoZmo says.
"Atlantic City was kind of getting its second wind. It used to be the shit back in the '80s and '90s," he says of his next move, and is quick to point out that this was in Dennis Gomes' Atlantic City and not Donald Trump's. "He was like the Walt Disney of Atlantic City," CoZmo says of the former.
With Gomes' blessing, and with a no-end contract in sight, CoZmo channeled all his energy to perfecting his Parton act. He remembers being the youngest cast member in the review "by 20 years. They'd been doing these impersonation shows since I was born," the 38-year-old says. "It took me a while to gain their respect. It was not easy. Then, when I was good, it didn't make it any easier either."
Friendless and in a new market, CoZmo started studying Parton obsessively—her movies, music videos, live performances, interviews, anything he could get his hands on. After each show, he'd go straight home and "fall into the Dolly Parton rabbit hole."
Channeling Parton was a no-brainer. "My definition of drag is a woman with an exclamation point. I mean, who's draggier than Dolly?" he says of his muse. "She just exudes the definition of femininity."
With Dolly paying the bills, CoZmo soon realized impersonating the seasoned diva held the key to the drag fountain of youth. "I've always said, the best way to stay young is to play people 30 years older than you—you'll always look good," he says.
Some 20 custom dresses and a dozen or so wigs (each consisting of two or three wigs sewn together, he points out) now comprise his Dolly arsenal. "Miss Dolly Parton was not lying when she said, 'It costs a lot of money to look this cheap.' I bet my cheapest costume is $500 and my most expensive is about three grand," he says.
Performances were selling out six nights a week at the boardwalk hotel. "I'm thinking, 'We're set,' CoZmo says. Then, casino owner Gomes died unexpectedly following back surgery.
"We were in limbo for a few months," CoZmo says. The Mohegan Sun Tribe acquired the property alongside Jimmy Buffett following the impresario's passing. "We were the longest-running show in over 30 years in Atlantic City ... and I'm thinking, they're business people and we're bringing in a lot of business," he says. "It didn't matter, we were fags in dresses."
Homecoming
Drag was out, Margaritaville was in.
"Nobody saw that coming, it was devastating," CoZmo says about receiving his notice. He'd given up his gigs, apartment and life in New York, and again, found himself back at square one.
"I was in a dark, dark place," he says. "I struggled. All these queens that you'd given a job to are your best friends, and as soon as you're not paying 'em, you find out who your real friends are real quick."
CoZmo landed a gig on Fire Island, and when other queens he'd worked with before suddenly become unavailable, he made lemons into Smoky Mountain lemonade and developed his own one-man show. His hustle was reignited.
Pop culture had again shifted toward drag queens thanks to RuPaul's Drag Race, which CoZmo considers "a blessing and a curse."
"It's brought drag back into the mainstream," he says about the reality competition TV show, "but it only helps those queens. They're making thousands of dollars to show up and do 10 minutes, and I'm trying to get booked doing a show by myself for two hours and begging [venue owners] to let me keep the door."
He took his Coat of Many Colors show across several "obscure, little towns," and soon experienced another turning point. "When I left Utah, I was, like, OK, I'm gay, I'm a performer, I'm a drag queen. For me to live and have a social life and a career, I need to be in LA or New York. Well, then I started going to all these towns and meeting the local queens and the local people."
Realizing fabulosity existed in pockets outside the two coasts, and harkening back to that little kid miming "Some Day My Prince Will Come" in his living room, CoZmo would sporadically return home. During one trip, his grandmother saw a video of him as Lucy, and she convinced him to perform on the patio for her and her friends. Nana's squad, who CoZmo lovingly refers to as "the Golden Girls," had pull at a local bar, and she arranged for her grandson to start his own night there. "She didn't ask the bar owner," CoZmo says. "She told him."
"We broke every record in Magna," he unironically says. "We had 200-and-some people in there. They ran out of beer, they ran out of ice—it was nuts." The move planted a seed CoZmo would later revisit.
A burgeoning drag brunch had already sprung without his involvement. "It was good some weeks and it was bad some weeks and just kind of all over the place," CoZmo says. "It was all kind of a clusterfuck."
He came in and cleaned house. The working relationship with his inherited cast was going nowhere. CoZmo was called a has-been and told his Broadway concept was tired. "I thought, 'Those are the local queens?' So I made new local queens."
Into His Own
Corsetted, made-up and ever resplendent, a little spritz of White Diamonds seals the deal and CoZmo is ready to take the stage. "It goes with all my characters," CoZmo says of Elizabeth Taylor's signature scent.
Under the lights, any awkwardness he might have presented as a youth is out the emergency exit and CoZmo lets brunch-goers have it. "It's Sunday morning and you're all fucking sinning 'cause you are here," he tells the audience. "This is a lot more fun though, isn't it? Now I'm gonna take all your tithing."
The group's comprised by just about every LGBTQ subculture, the Golden Girls table which includes CoZmo's mom and grandma, and a gaggle of whoo-hoo girls with their boyfriends in tow. "I figured it out—straight women in Utah love two things: Hobby Lobby and drag," he says.
Not skipping a beat, CoZmo delves into a 40-plus minute no-holds-barred monologue. "Utah, you need this. You may not realize it, but you need it," he says. "This is not the Davis County Roadshow."
Groupon cheapskates, Provo conservatives, a wayward Dallas Cowboys fan and a table of folks from Kearns are all targets of his trademark barbs. "Don't give them a hard time," he says of the latter. "Someone's keeping Valley Fair Mall in business. God bless you for that."
In a moment of clarity, CoZmo shares the abridged version of his personal journey with the audience and mentions how detractors warned he wouldn't be able to pull off a monthly variety drag show in Salt Lake City.
"They were right. It doesn't work once a month" he says. "It works once a week, bitches."