Page 6 of 8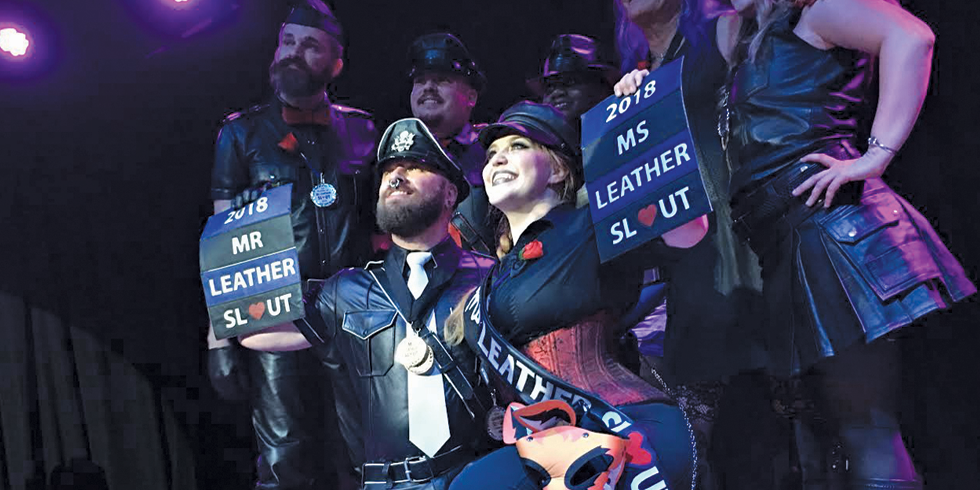 Hell-Bent for Leather!
The first Utah Leather Pride fest was a bonding experience of fashion and fetish.
By Rich Kane
"How many people think they're not in Salt Lake City anymore?" Michael Sanders asked a geared-up crowd that gathered May 20 at the Sun Trapp tavern for the first annual Utah Leather Pride fest. "How many feel that they've teleported to a place where this isn't a big thing?"
But from the approving crowd hoots and hollers, this was, in fact, a big thing. More than 500 leather-lovers fluttered in and out of the bar during the afternoon. Part of 100 South was blocked off to traffic. Food truck chefs sold their grub. A Toyota dealership gave away branded tchotchkes.
And at the 15-plus vendor tables was a wide selection of for-sale swag you'd never find at your local Deseret Industries store—bondage ropes, hand-stitched spanking paddles, dog collars not necessarily meant for your pooch, steel cock cages and T-shirts that proudly proclaimed, in rainbow-flag colors, NOT TEMPLE WORTHY.
Sanders, the event organizer, looked the fashionable part in his black leather officer's cap, black leather vest, black knee-high motorcycle boots and a MR. LEATHER SL,UT tank. He's the reigning Mr. Leather Salt Lake, after all, and later that evening, he would give a farewell speech as the new Mr. and Ms. Leather Salt Lake were revealed.
Leather lifestyle groups have existed in Utah before. But when Sanders, a New York transplant, arrived in the Beehive State in 2008, he found the scene disorganized. So he decided to build a bigger, better one.
"It's a lot of work and people don't want to do it a lot of times," Sanders said. "I thrive off that."
It took plenty of flogging to make it happen. There were obstacles along the way, including ones put up by some members of the local LGBTQ community, who Sanders said stopped his attempt a few years ago to have a leather and fetish area at the annual Utah Pride Festival, something many other Pride fests around the country have.
"A couple of very uptight gay men got super squeaked-out by it," Sanders reminisced. "I know this is Utah, and we're not in San Francisco on Folsom Street. We were going to be a separate 21-and-over section with privacy fencing. But one of these gentlemen sent emails out to the major Pride Center donors and said there was going to be nudity and fisting and all these things that are absolutely illegal to do at an event like that."
That pearl-clutching reaction spoke to the infighting that's been a part of gay life since the 1969 Stonewall riots, which were spurred not only by drag queens and trans people of color, but leather men as well. Since those revolutionary times, the LGBTQ rights movement has often been called out by minorities-within-the-minority, accused of being too white, too male, and spreading too much of a hey-look-we're-just-like-straight-people assimilation gospel in issues like marriage and adoption.
Sanders said that's a very sex-negative viewpoint that ignores basic LGBTQ history.
"The gay leather community has been a visible force since the very first protest marches," he said. "We're all reaping the benefits today of what our people did back then, so you can la-dee-da down the street with your husband and adopted baby to your white picket-fenced house and live your little hetero-normative life. You gained that privilege through the work and bravery of gay leather men, gay trans people, gay hustlers and the people who started the movement."
The gay leather scene can historically be traced to World War II, when homosexuality was very much illegal and could get a young man from small-town Utah (and every other state) booted out of the military on a "blue" discharge.
"These men who were discharged couldn't just go back home, because it was printed in their hometown newspapers, so they were dropped off in these major port cities like New York, San Francisco and Los Angeles," said Sanders, who has also taught leather history classes.
"They formed communities of their own in these cities, which eventually grew to have huge gay populations," Sanders said. "They were already entrenched in the hierarchy traditions of military rank, uniforms and motorcycle culture. And what did you wear on a motorcycle back then? Usually leather."
The 1953 Marlon Brando biker film The Wild One further popularized leather—especially black leather—as both fashion and fetish, which slipped easily into the rock 'n' roll culture that followed. Countless musicians like Elvis Presley, the Ramones, and queer icons-to-be George Michael and Judas Priest's Rob Halford all adopted the look.
"And gay men just went bananas," Sanders said. "Leather is sexually appealing and can feel very liberating. There's just something about the smell and look of leather and leather gear."
So when you spot the Utah Leather Pride folks marching along the Pride Parade route this Sunday, remember that it's not just a fashion and a fetish—it's a whole lot of queer history. As Sanders put it in his speech, "Ya'll motherfuckers need leather Jesus! Can I get an amen?"