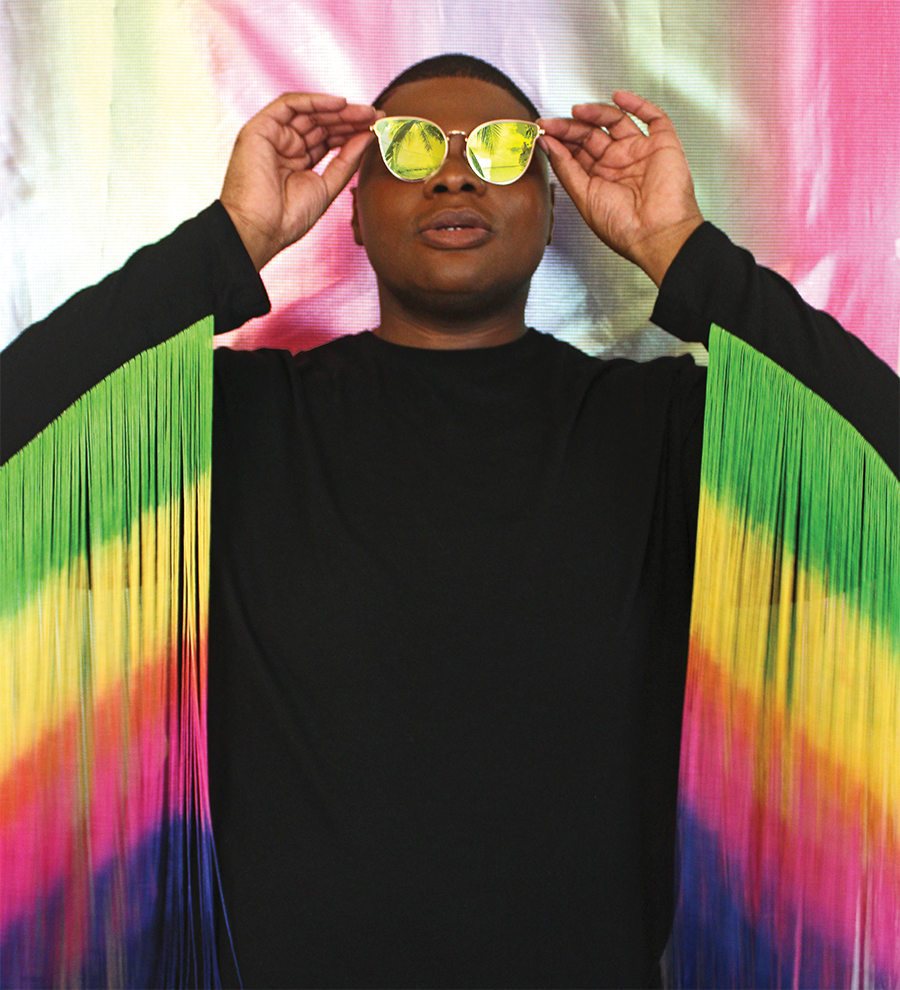 It was a moment of Zion Zen following last year's Pride parade: After a charged exchange with anti-LGBTQ demonstrators (hey, sometimes I do it just to feel alive), I turned to my friend Grayson and said: "Isn't it something to see how far we've come?" Shitty political climate aside, the fact that nearly 50,000 souls had congregated along the parade route (most with laudable intentions) made for an introspective, American Beauty-esque plastic bag scene.
Like many, my personal journey to come into my own, embrace my factory settings and live my truth, was no cake walk. Yet, there I was, marching alongside my best friend and coworkers, a permanent cat-that-ate-the-canary grin on my face, taking in the Technicolor sights—and even though City Weekly has never been known for having the most ostentatious of floats—being on the receiving end of a roaring tidal wave of love from the community.
Once inside the festival grounds, and still on a rainbow high, I summoned the spirit of the giants who made it all possible: Marsha P. Johnson, Sylvia Rivera—and countless other defiant individuals history has forgotten—who lit the Molotov spark that fueled the Gay Liberation Movement, affording the rest of us, all these years later, the opportunity to live out our own "normal."
"Marsha who?" Grayson asked. A five-alarm fire going off in my head and a state of gay emergency declared, we rushed back to his place and watched The Death and Life of Marsha P. Johnson on Netflix. The documentary served as an educational respite and doubled as an air-conditioned refuge to wash away the runny coat of sunblock and third-party glitter that had quickly accumulated on our bodies.
Fifty years since the NYPD busted out the batons at the Stonewall Inn, and 44 after Salt Lake City hosted its first austere Pride, the transgressive nature of the movement's equality pioneers lives on in this year's theme, "Exist. Resist. Persist."
Courtesy Connell O'Donovan
Local activist and historian Connell O'Donovan was there for the early days of Pride in the Beehive. He can be seen pictured above, behind the bullhorn outside the City and County Building, offering a rallying cry to a small but mighty Pride crowd in 1991—which included neo-Nazi protesters. During O'Donovan's Lifetime Achievement Award acceptance speech earlier this month at the ritzy Pride Spectacular, he put it best:
"I invoke our blood ancestors who give us stories of dissension, stories of compassion, stories of resistance, stories of long-suffering, stories of hope," he said, holding his award. "I invoke our heart and soul ancestors who have passed on but leave us their stories of pain and joy, of despair and of hope, of oppression and of dissent and rebellion. I call upon all these ancestors to gather around us here tonight. With all this power, with all this love, with all this intention we reach out to all the Utah school children who are being harassed and bullied and beaten, that they might find strength and hope and relief. We reach out to all the elderly who are still closeted and fumbling and stumbling on their way toward the closet door that they may find ways to resist, persist and exist in their truth. We reach out to the Baby Queers who need to know that we love them, embrace them and fight for them until they can fight for themselves. We reach out to all who struggle with their bodies, with their gender, with their sexuality, with their desires. Stonewall happened 50 years ago but it happened for all of them, for all of us."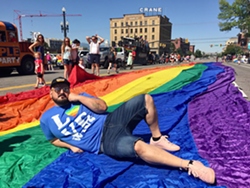 It's true the first Pride was a riot. In that spirit, my LGBTQ+ brethren, whatever your personal act of defiance is—holding hands with your partner in public, bringing them along to a family dinner, inviting your parents to the parade or standing up for someone who's being backed into a corner—own it extra hard this weekend. Be unabashedly you. Be loud. Be fierce. And more importantly, be proud.

—Enrique Limón, editor


---



A Proud History
Tracing the Utah Pride Festival back to its origins.
By Kelan Lyons
It wasn't symbolism, imagery or beauty that made Connell O'Donovan decide to finish the second annual Gay and Lesbian Pride March at Washington Square, the esteemed park and home of the jaw-droppingly gorgeous City and County Building. It was the horses.
The previous year, in 1990, O'Donovan had organized Salt Lake City's first Gay and Lesbian Pride March, commemorating the 21st anniversary of the Stonewall riots. The day after Gay Pride Day in Sunnyside Park, about 200 people congregated on the state Capitol's steps to hear speeches from prominent gay and lesbian leaders, then marched down Main Street, turned right onto South Temple and passed the Salt Lake Temple. "It was important to me to kind of flip the finger at that church. I grew up Mormon—and they tortured me, and wounded me really deeply," O'Donovan says in a conference room in the Utah Pride Center's Main Street digs, almost 30 years later. "I wanted to make a statement."
But when, on that June day, the crowd turned onto South Temple and passed Temple Square's south gate, things went buck-wild. "There used to be a stop at the horses and carriages. We terrified the horses: they were bucking and stuff, and the police were freaking out about it. So we had to divert the parade," O'Donovan recalls. The march ended at the amphitheater just south of Abravanel Hall, and the police later contacted O'Donovan and told him they couldn't pass the horses the next year. So, the route—from the Capitol to Washington Square—changed in 1991, foreshadowing the City and County Building's status as a sort of focal point for LGBTQ pride, and continues to serve as ground zero for this year's festival.
The roots of the Utah Pride Festival—which includes the Pride Parade, the state's second-largest behind the Days of '47 procession—stretch back to 1974, when Joe Redburn, owner of the former Sun Tavern, sponsored an event in which some 200 people went to the Great Salt Lake's "Bare Ass Beach" to celebrate Gay Pride in Utah. "One of the reasons they went out there, was they didn't think they could have a public gathering of that many gay people who wanted to be seen," Ben Williams, retired schoolteacher and writer for QSaltLake Magazine, says. The following year, the Gay Community Service Center organized the first community-wide sponsored pride celebration, shuttling people from local gay bars to and from City Creek Canyon, where the "Gay Freedom Day" was held.
"[In] the early Pride days, it was a statement for people to even attend," Williams says of the few people who were "brave enough" to go. Prior to Jeff Freedman, Bruce Harmon and Rev. Bruce Barton reinventing the Pride March and Rally and morphing it into a Gay Pride Parade in 1994, Williams says Gay Pride Days in Utah were more political. But once Jeff Freedman was elected to the chair of the Gay and Lesbian Community Council of Utah's Gay Pride Day committee in the mid-'90s, he made the events more celebratory, increasing turnout.
O'Donovan says the '90 and '91 marches he organized were "more of a protest kind of experience rather than a celebration," but also a "presence, to show that we're here, we're queer," Williams says, finishing O'Donovan's sentence from his seat across the table.
Their presence also attracted more sinister protesters: In 1991, the first year the marchers ended in Washington Square, neo-Nazis were standing on the steps of the City and County Building, waiting for them. "People were really freaked out," O'Donovan says, but he and Williams say things stayed largely peaceful. Recognizing the pair's work as keepers of Utah's queer history, O'Donovan and Williams were recently awarded lifetime achievement awards during the center's annual Pride Spectacular.
Freedman favored bringing celebrations back into Salt Lake City's downtown, Williams recalls, moving Pride Day to the Gallivan Center and then, around 1997, to Washington Square, where it has been ever since. Wilson says "there's no symbolism to [the festival] being at Washington Square. It's just the practicality. And it's visible now." But Liz Pitts, the center's director of community engagement, sees symbolism in the square playing such a big role in the celebrations.
For a person who has recently realized they're gender queer or identify as trans to stand outside a government building, Pitts says, in a "beautiful square" during the Utah Pride Festival, surrounded by allies and members of LGBTQ communities, is "truly celebratory."
Despite the celebrations, Pitts still sees the march and rally as the "activist arm of the week," noting that the festival is "a party, but there's always room for getting out in the streets and being visible."
O'Donovan says the march he organized in 1990 was all-inclusive by design. But past center board member Joni Weiss, who also is former vice president of TransAction, says it took until 2009 before a separate Trans March was held in Salt Lake City, after Valerie Larabee, then-executive director of the center, OK'd it. "I pushed strongly for it at the time," Weiss says. "Up until that point, and still to some extent today, the trans community had been kind of invisible, as far as we're not the people they put out front to talk about or portray the LGBTQ community. That's changing quite a bit, actually, but back then it was worse than it was today."
Weiss says her and the other organizers' goal was to increase visibility of the local trans community, to give them a platform and help Utahns "to know who we are. That we're just regular people."
Jocelyn Johnson, director of this year's march and rally, says that over time, the demonstrations have become more inclusive and less focused on single-identity politics; the Dyke, Trans and Interfaith rallies and marches, previously separate demonstrations, were merged in 2015, and a space was created so people who identify as bisexual and pansexual, and who are in polyamorous relationships, had a voice. "We combined all of the rallies into a single rally that represents multiple identity groups," Johnson says.
"The most important thing to emphasize in this area is the intersection of identities," she adds. "Someone is not simply queer; they may be queer and a person of color. They may be queer and a woman. A parent, an older person or a younger person. We're seeing more awareness of the intersection of identity now."
"It's not very often that a person in the queer community is just queer," Johnson explains. "Often they may be attracted to people of the same sex, or maybe attracted to people regardless of their biological sex, but also they may be women, or they may be people of color, or they may identify strongly as a member of a social class ..."
This year's march disbands on the north side of 400 South, at 200 East, mere steps from Washington Square, where O'Donovan and the roughly 500 proud Utahns ended their march 27 years ago. Symbolic or not, the City and County Building continues to play a key role in the celebration of Utah's LGBTQ communities, serving as a recurring presence as leaders, organizers and visionaries pass the torch to future generations.
The significance of the space is not lost on Pitts, who says, "It really is the city center ... to me, this building represents, if it were a small town, a town square. It's the middle of the community."

A version of this piece appeared in our May 31, 2018 issue. Article has been updated and expanded.


Milestone Pride Events
1969: Eastern Regional Conference of Homophile Organizations adopts a motion to commemorate the New York City Stonewall Inn riots.
Rhododendrites via Wikimedia Commons
1970: First LGBTQ pride marches held to honor the first anniversary of the Stonewall riots.
1974: First celebration of Stonewall rebellion in Salt Lake City, when Joe Redburn, owner of the former Sun Tavern, brought more than 200 people to a beach at the Great Salt Lake.
1975: Gay Community Service Center organizes the first community-wide sponsored Gay Freedom Day in Utah, held in City Creek Canyon.
1977: The Salt Lake Coalition for Human Rights celebrates Gay Freedom Day with a three-day symposium. Organizers bring in Air Force Sgt. Leonard Matlovich as the keynote speaker, the first openly gay person on the cover of Time, or any other U.S. magazine, and an ex-Mormon.
1983: Individuals from the Royal Court of the Golden Spike Empire revolutionize Gay Pride Day's concept; a Tavern Guild committee organizes a "Basket Social" in Fairmont Park.
1986: Gay and Lesbian Pride Day is held in Pioneer Park.
1987: The Gay and Lesbian Community Council of Utah takes over Pride days. Donnie Eastepp, chair of Pride Day Committee, presents a Community Service Award to Dr. Kristin Ries for her dedication to treating AIDS patients when no other Utah doctors would. Eastepp also moves the event location to Sunnyside Park, where it remains until 1991.
1988: Ben Williams makes a motion that there should be a sign noting that it's, "Gay and Lesbian Pride Day," because, "How can we be leaders of this community if we're timid? We need to be celebrating what we're doing. So, I made a big ol' banner and put that up."
1990: First Gay and Lesbian Pride March held in Salt Lake City, organized by Connell O'Donovan. Before this, Williams says, "nobody was marching or parading."
1991: Connell O'Donovan organizes a second march that ends at the City and County Building, the first time the landmark government building served as a gathering space during a Pride march. Neo-Nazis show up and stand on the building's steps.
1994: Bruce Harmon, Rev. Bruce Barton and Jeff Freedman organize the first Pride Day Parade. Barton sews the 100-yard Gay Pride flag carried during the parade.
1995: Pride events switch from political demonstrations to more of a party. Freedman takes over and moves everything back to the city, first to the Gallivan Center; Dr. Kristen Ries named first Grand Marshall.
1997: Pride activities move to Washington Square, where it's been held ever since.
2002: First Pride Interfaith Service held at the Cathedral Church of St. Mark. Participating religious groups included the Episcopal Church, Affirmation (LGBTQ Mormons and their families), Buddhist, Congregation KOL AMI, LDS Family Fellowship, Holladay United Church of Christ, Native Americans, Pagan Community and the Sacred Light of Christ (then the Metropolitan Community Church).
2003: Utah Pride Center takes over Pride Festival. Dyke March added to the annual parade.
2009: First Trans March held in Salt Lake City.
2015: Dyke, Trans and Interfaith marches and rallies are merged.
April 2018: The Utah Pride Center moves to a sprawling location at 1380 S. Main.
June 2019: Commemorating 50 years after the Stonewall riots and 44 after its own inception, Utah Pride dawns anew.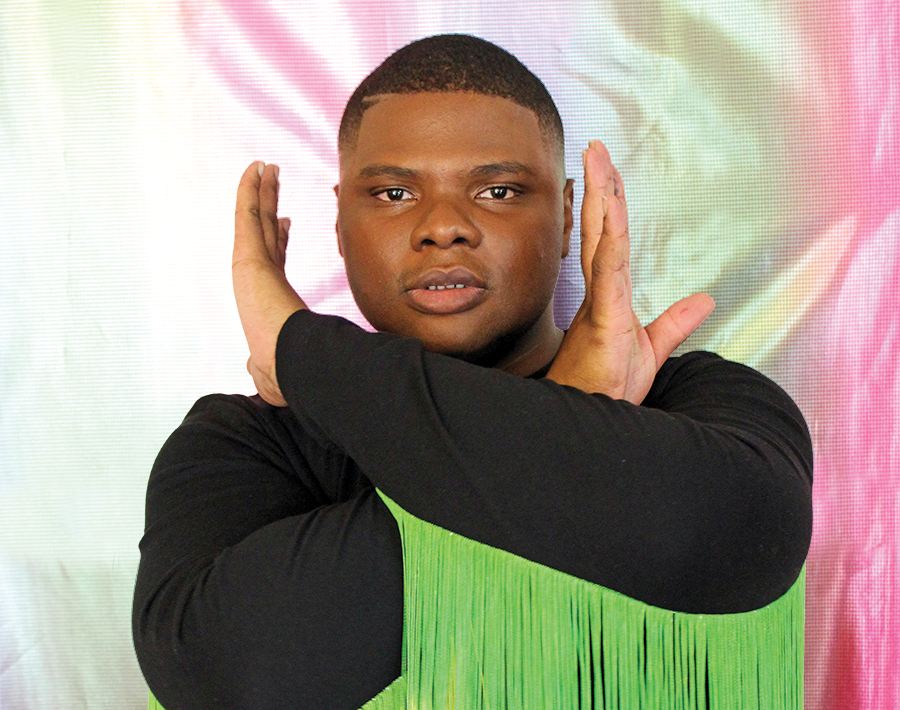 Wil Power
From West Jordan to the world, Wiltavious is here to preach about inclusivity, Cardi B and being a child of yes gawd.
Story + photos by Enrique Limón
Inside his West Jordan apartment, a world away from the stage lights, Wil Wilson, aka Wiltavious, appears subdued—a stark difference from his bombastic onstage presence. A copy of Dreamgirls sits by his TV and the scent of freshly made Rotel dip (his contribution to an office potluck later that day) seeps from the microwave. On top of a sectional rest a few clothing options for a photo shoot: a leopard print number, an acid-wash jean jacket and a black long sleeve shirt adorned with interminable rainbow fringe. That item holds a special place in his closet, as it was used during his first big gig. "In the South, when you wear fringe, you mean business," the 26-old says, belting a guttural laugh.
The tepidness layer cracked, an endless cache of quick-hit life lessons follow. Nuggets like, "I like to exude confidence every time I'm out and about. No matter if I'm looking like Beyoncé or if I'm looking like a hobo, I'm gonna make sure you know I'm that bitch wherever I motherfuckin' go, OK?" which he punctuates with a Cardi B-inspired "eeeooowww!" ("I love how she just lives her ratchet true-life," he says of the "Bodak Yellow" hitmaker.)
Appearances aside, the road to coming to terms with his own identity—and helping others face theirs—has been a winding one. "My fabulousness comes just from within, honey. This did not come overnight; just from finding myself growing up as a black, queer man in the South," the Lanett, Ala. native says. "And, you know, you really have to figure out who you are, because in the South, it's very conservative. I just decided one day, I'm just sick and tired of trying to live for everybody else, and now I'm just living for myself, following my dreams."
That homespun aplomb is evident in tracks like "Chanel Bag Swag" and "Drop Dat." ("If you a big fine bitch gone drop it to the floor, tell them skinny bitches, 'Hit the fucking door,'" he sings in the latter, with the buoyancy of a freshly popped bottle of bubbly.)
"I get my confidence a lot from, just, I guess, reminding myself that I'm beautiful and that I don't have to answer to anyone. Also, music. I like good music." Most days start off with Bey or Gucci Mane. "They kind of get my mood going," the former Baptist choirboy says in his Dixie drawl.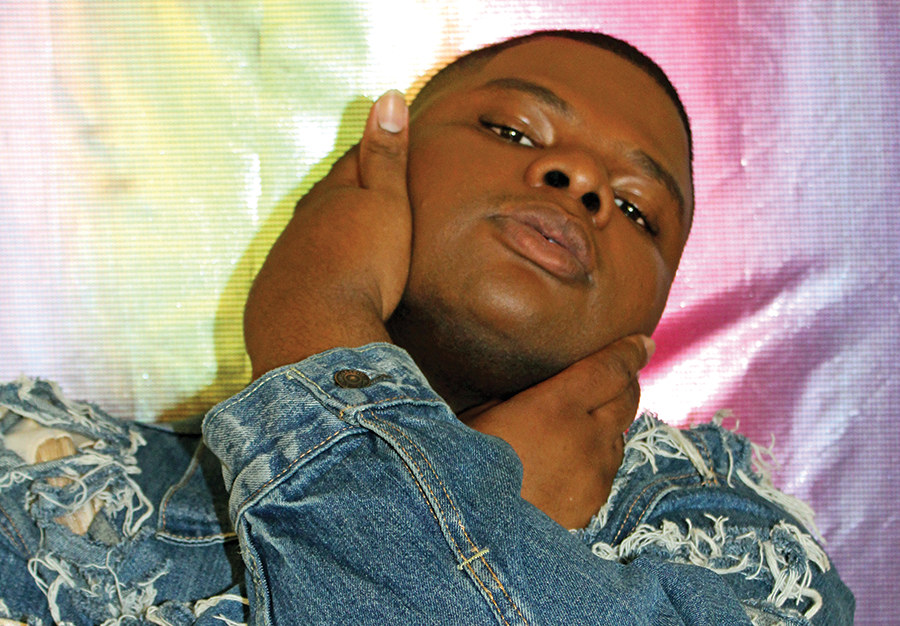 Still, Salt Lake County? "Oh, my goodness. I mean, it was a good change, but it took me a minute to adjust," the payment services specialist by day says about life in suburbia. "The culture is very different out here ... it's more liberal." Record scratch. "The system's kind of bipolar, out here," he quickly clarifies with a chuckle, "but for the most part, I feel like it's pretty liberal from what I've experienced back home, as far as living your truth or being yourself. The South is the Bible Belt, so it's either their way or the highway ... the Lordt's highway."
A second hold the phone moment happens when he shares why he picked Utah from the map: aspirations for a higher education at LDS Business college. "I guess I was just looking for purpose," the LDS convert says. "I was going through a lot. I'd lost my grandma, and so I was going through a lot of depression." From there, he aimed "to be that light and example for everybody."
Still considering himself a member of the flock, Wilson's self-acceptance message has only amplified with recent Church of Jesus Christ of Latter-day Saints anti-LGBTQ headlines, clearing a cathartic path for his performer self. "It's really been making me feel a certain type of way," he says. "So I just decided I'm gonna live my truth, and if nobody likes it, oh freakin' well, because I'm Wiltavious and at the end of the day, I know I'm a child of God and he loves me for who I am. Ain't nothing wrong with me."
Recognizing he's "not the traditional" Mormon, the conflicting mixed messages are not lost on him. "I just do me. I feel like no matter what religion I'm a part of, I can still be myself. I'm not ashamed of it," he says. And while no fellow ward members have gone to see him perform live, "they eat it up," he says. "Some of them follow me on Instagram and they see me being a badass."
The first blending of his faith and identity took shape in "Dontplaywitme," a self-produced song based on Bryson Tiller's "Don't." The newly minted Wiltavious shared a recording of it on LDS Daily's Facebook page in 2016, shortly after moving to the Beehive State. With lyrics like "Jesus, won't you come my way?/ Got some things I want to say/ People judging me because I'm gay," the gut-wrenching track serves up a powerful statement. "I made the song not only for myself, but for other people who are going through the same thing in the church—being gay and open or trans," he says.
Self-reflective follow-ups like "Peace Be Still" and "Needed Me" came soon after. "After then, one thing led to another," he says, and through a mutual friend, he ended up performing at Metro Music Hall last February as an opening act during Aja's record release party. Clad in rainbow fringe glory, Wiltavious lit up the stage.
"It felt so liberating," he says of his splashy debut. "At first, I didn't know what to expect. I was like, 'these bitches don't know me.' They're probably gonna be like, 'Who is you? Get off the stage!' But as soon as I walked up, everybody started screaming and I was like, 'OK, I can do this.'"
Attendees ate it up, and the feeling was mutual. "I feel like the crowd is the No. 1 reason why we are there, so I want to make sure that they have a good time," he says about that onstage symbiosis. "I want to make sure you're getting your life. I want to make you laugh. Hell, I even want to make your ass cry if I can."
Not surprisingly, a legion of diehard fans soon sprouted. "I call them Baddie Gang, 'cause we baddies and we some fat fatties," the rapper says, accompanied by a trademark, boisterous laugh.
The gang's expected to come out in droves over the weekend, as the self-proclaimed "queen of Salt Lake" is slated to open up for RuPaul's Drag Race royalty Naomi Smalls Friday at Metro, reteam with Aja Saturday night on the Pride festival's main stage and go for broke on Sunday with his own 20-minute set at Pride's Stonewall stage.
"This is probably the biggest moment in my life," he says about the upcoming gigs, which will double as an informal record release for his recently unleashed eight-track Queentavious. "All I can say is that I'm gonna bring it, and they better get ready."
Permeating through Wiltavious' message of unabashed conviction, body-positivity and self love, is a deep sense of gratitude. "I'm one of the blessed ones," he says, reflecting on the unexpected encouragement he's received from his siblings, cousins and his mom, Benita. "Being in the South now, people are very old-school, so it took my mama some time to really accept me. I feel like people, they should have the right to change their views on things."
He hopes the local back-to-back Pride appearances might open the doors to other, larger festivities like Atlanta Pride, which is about an hour-long car ride for Benita, his biggest fan. "She basically told me that I don't have to fight no more," he recalls. "She was like, 'As long as your mama accepts you, fuck everybody else.'"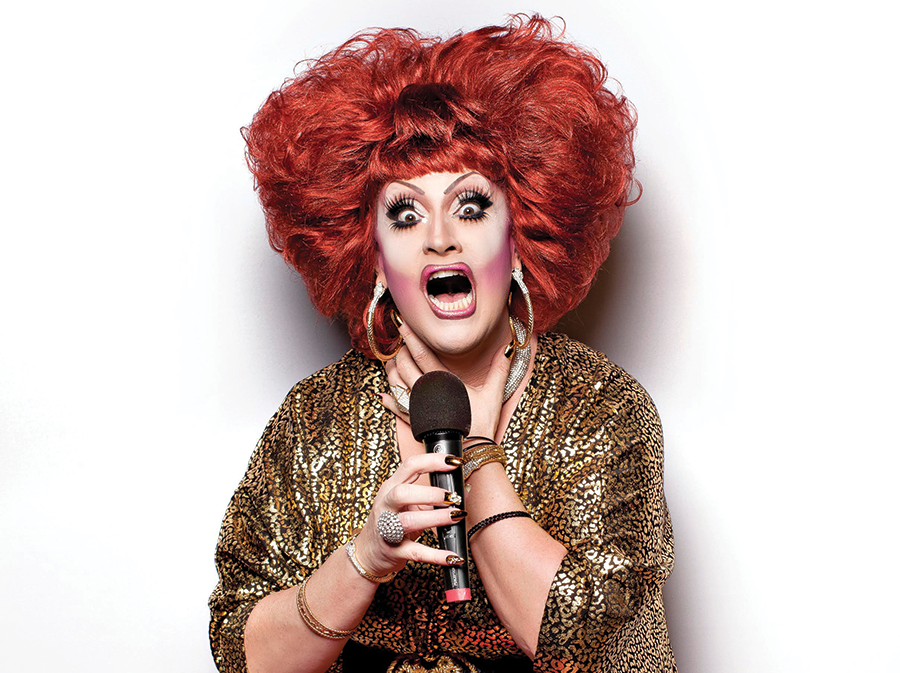 You Can t Stop the Beat
The iconic Jackie Beat talks cancel culture, being a nice asshole and how to avoid becoming "the McDonald's of drag."
By Enrique Limón
Salt Lake City has made it through the systemic erasing of its original dwellers, cricket infestation of early settler crops and the Flood of '83. But will it survive in the aftermath of drag legend Jackie Beat's hosting gig at the 10th annual Miss City Weekly? Only time—and copious amounts of penicillin—will tell.
"She kind of invented drag," RuPaul's Drag Race superstar Alaska Thunderfuck says about Beat, her co-star in the 2016 song, "I Invented That." ("Have your fun, 'cause it's all been done," Beat asserts on the track.)
Armed with a lifetime supply of sass and one-liners, the veteran performer is a kick-ass, take names (for legal reasons) and then mock the shit outta you kind of gal. Chatting with City Weekly from her Southern California home, Beat (née Kent Fuher), didn't disappoint. From praising the wonders of fry sauce to underscoring the subversiveness of drag and reading yours truly, the self-proclaimed "Thomas Edison of drag" took no prisoners.

You've visited SLC before. What's your impression?
What's not to love? Mormons, fry sauce ... It's actually very similar to where I grew up in Arizona, so I feel right at home there. After doing drag for almost 30 years and traveling all over the world, I have learned one thing: There are nice people and assholes everywhere. And Salt Lake City is no different. Personally, I pride myself on being a very nice asshole.
Anyone who follows you knows that you're not afraid to get political. Let's talk about the intersectionality of drag and politics.
Was that a question? If so, my answer is yes, let's talk about it!
In this day and age, is doing drag still an act of political defiance?
It should be. And I don't mean that every performance should be some annoying in-your-face attack on the far-right. We are entertainers first and foremost. But we are also artists and warriors, and we need to speak truth to power and hold up a mirror to society—even if it's a warped, fun house mirror. I don't understand this new trend of being all-ages, family-friendly and completely non-threatening. Honey, when you try to appeal to everyone, you end up appealing to no one. I always tell my friends who are struggling in show business, McDonald's is the most popular hamburger in the world. Is it the best? Hell no! It's just familiar, cheap and consistently mediocre. Don't be the McDonald's of drag.
In the wake of Alabama's stringent abortion laws, you posted a message on Instagram urging "famous TV drag queens" to speak up for women's rights. Did you see any RPDR girls take action?
Many speak out on a regular basis and it's so important. But sadly, way too many just refuse to 'go there.' For some reason, they feel the need to pretend we live in a world with no problems. I get it, you are there to make people smile and laugh, but your silence is essentially saying, 'This is normal; this is right.' The one thing I will not do, is pretend that this Trump circus is normal. It ain't. And when they start stripping away rights from women, LGBTQ folk and others? The children are watching and listening and we need to loudly and clearly say, 'No. This is not right!' What's the worst that can happen? You lose a few easily offended fans who are on the wrong side of history? Honey, if they agree with all this bullshit, I say good riddance, buh-bye ... Enjoy your horrible Kid Rock concert or your boring Elaine Lancaster drag show.
What are your thoughts on drag becoming mainstream?
I have mixed emotions. I mean, it's great that you can now see drag on TV and drag queens can walk down the street without being harassed or beat up, but we have definitely lost some of the special, underground magic that drag used to have. It used to be that a very special kind of person became a drag queen. The drama geek who knew every line of dialogue from the gayest movies. The people who, within the already misfit gay community, are even bigger misfits. Now, kids watch Drag Race and think, 'I can make money doing this!' When I started, no one did it because they thought they would make money or become famous. Hell, there was literally six of us: Me, Sherry Vine, Lady Bunny, Coco Peru, Varla Jean Merman and some whore named RuPaul, lol!
How would Jackie's Drag Race be different?
It would focus more on true artistry. They spell out that naughty word, saying the girls are being judged on their Creativity, Uniqueness, Nerve and Talent, but I see very little of that. I see branding, catch phrases and cat fights. And don't even get me started on the death drops, shablams and splits. Honey, I remember when the whole point of doing drag was not falling, lol! But I also realize it's a reality TV show. People want drama, arguments and easily digestible drag.
Like McDonald's?
Yes. And just so you know, I am totally craving a McDonald's cheeseburger right now, so I get the appeal!
How do you stay current? Every day, it seems, social media has a new five-alarm topic du jour.
I watch the news and, like you said, the latest breaking news is all over the internet and difficult to avoid. The problem with this is that something major happens, people react and then a new story comes along and a new headline pops up. This is how Trump is running the country more like a stupid reality TV show more concerned with ratings and getting attention than an actual country with real citizens and real problems. I would just like to say right now that I promise to be much funnier when people come to see me in Salt Lake City. You are asking serious questions!
One of the recent talking points is cancel culture. Any brushes with it?
Yes. And again, I get it. It's so easy to make someone go away with just a push of a button. Everything is black or white, there is no gray area, and no one is capable of critical thinking these days. You are either Mother Theresa or Hitler. And then you add to the situation the fact that you cannot really accurately read a tone in a short social media post and you have all the ingredients for knee-jerk outrage. I always say that people want their comedians to push the envelope and be outrageous, but the moment their big toe goes over the line, everyone is screaming, 'Get a rope!' Unfortunately, you can't always detect irony or sarcasm in a post. But I will say this: People are poised, just waiting for someone to slip up and it is very rare that a comedian accidentally reveals themselves to be a racist, homophobic, misogynistic, transphobic monster. They made a joke. Maybe it was lousy, maybe it went too far. But that's how comedy works. It's like sex. People say they want it rough and then they freak out the moment you pull their hair a little too hard.
You've recently vented on Twitter against young fans who call you "Mom." What's your advice to nubile queens and baby gays?
It's just lazy and dismissive. Listen, I know how old I am but it's like screaming, 'Yasssss queen!' It's just this annoying Drag Race 101 thing. It's very ageist, patronizing and usually said in an attempt to invalidate a post—'you're old, shut up.' It started out as a cute thing a younger drag queen might say backstage to poke fun at me, but now it's complete strangers who think because they watch a TV show they have the lingo down and can say anything they want.
Finally, the expected question, what can people look forward to at Miss City Weekly?
A lot more fun and laughs than this fucking interview, I promise!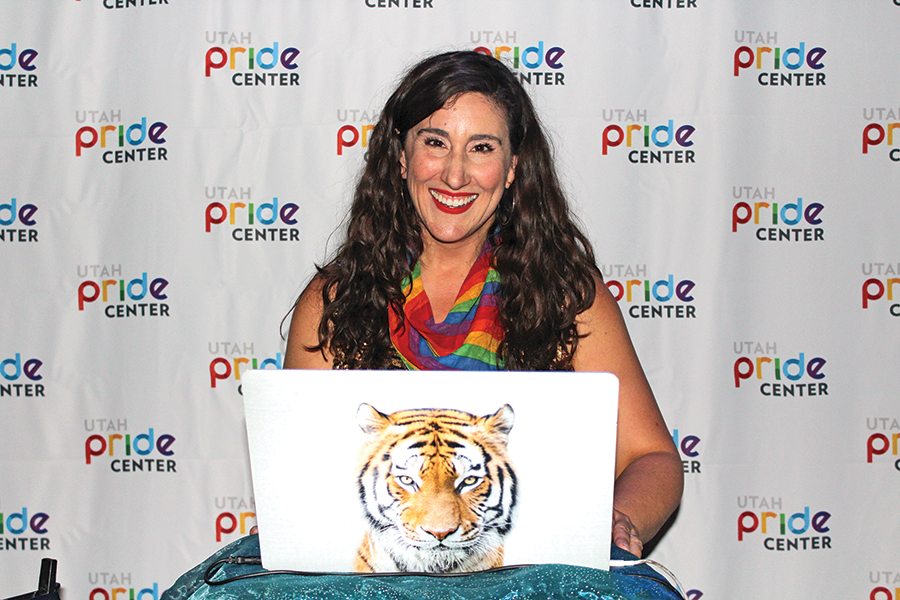 She's Got Legs
Shireen Ghorbani isn't just a gifted political campaigner—she also has a musical alter ego.
By Kelan Lyons
Despite running in three consecutive political races over the course of a single year, Shireen Ghorbani hasn't taken much of a rest—she says she's still working "almost full time" at the University of Utah as a communications professional, and she spends between 15 and 20 hours per week, on average, working on local issues as a Salt Lake County councilwoman. But there's another reason to suspect Ghorbani doesn't sleep: her hit-playing alter ego, DJ Legs.
Hot on the heels of her performance at the Pride Spectacular afterparty, Ghorbani will play some sick beats at the Pride Festival on Sunday, June 2, starting at 5 p.m. City Weekly caught up with the coalition-building Democrat to talk about what tunes make her tick.

How long have you been dabbling in turntable-spinning?
I do not use turntables. I'm more of a digital DJ. And it started about five or six years ago at a friend's wedding. They had not hired a DJ. They had an iPad and the dance portion was not taking off. And I was like, 'I can get this party going.' And I jumped in, started working on the playlist I had in front of me, and had a great time. And then a couple of other friends asked me to do the same.
Where does the name DJ Legs come from?
One time I was singing karaoke, and an individual from the audience told me that I should name myself after a different part of my body, and I informed him that I was 'Legs,' and 'Legs' was here to stay.
What kind of music do you play?
I am here to play the hits. I love danceable, 'shake your body' pop music. So with me you're not gonna get to hear my eclectic tastes. I'm not there to share my personal interest in different songs. But if it's funky and you can get down and it's generally pretty poppy, I'm your girl.
Who inspires you?
A great example is Lizzo, who just came to town. I love really big, powerful, funky danceable, inviting-kind of open music that just feels very accessible. Lizzo is a great example. When her songs come on, I just can't help myself, I just want to get down.
What do you bring to the (turn) table, as a DJ?
My particular DJ skillset, I like it when people are on a dance floor and you can see them near the end of the song, they're gonna exit the dance floor. And then I hit that next song, and they're like 'Oh no.'
... I want to keep people dancing the whole time I have them. I keep the energy up, I keep the hits coming. My greatest desire is, you do not want to leave the dance floor.
How does your DJ'ing complement your political skills?
I think I've learned a lot about how those two things are connected because so much of it is about listening and watching the crowd. Are they with me, are they having a good time, do they get where I'm going, are they coming with me? It's really about being responsive, listening and going somewhere together. It's about a relationship.
I'm so busy trying to watch and see what's really working and then just keep moving in that direction until people are just maniacally sweating and dancing their brains out.
Do you see any parallels between your DJ and political lives?
I would say in both cases I like to have a lot of fun. I think it's important not to take—for me, my approach is not to take myself too seriously. I like to be playful and have a good time, and create an atmosphere that just feels really positive and really fun.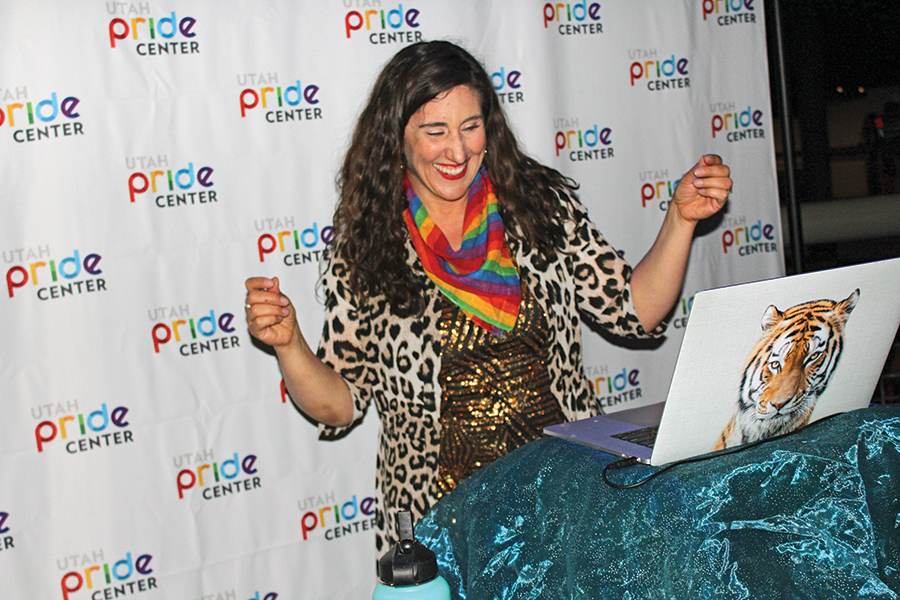 The Magnificent (and Fabulous) Seven
A DJ Legs-approved Pride playlist guaranteed to get you moving.
In need of a jolt for Pride? Or are you just curious what might get the people going at your festivities? DJ Legs, aka Shireen Ghorbani, has a few suggestions—as well as a few reasons why:

"Juice" by Lizzo
"Because if I'm shining, everybody's gonna shine."
"Queen" by Perfume Genius
"No family is safe when I sashay."
"Make Me Feel" by Janelle Monáe
"It's like I'm powerful with a little bit of tender."
"We Can't Stop" by Miley Cyrus
"Because we can kiss who we want, we can see who we want and we can love who we want."
"Midnight Radio" from Hedwig and the Angry Inch soundtrack
"For all the strange rock 'n' rollers, you know we're alright."
"Dancing on My Own" by Robyn
"This is a dedication in memoriam to my friend Ben Holdaway. Ben worked in HIV/AIDS prevention and was a fierce advocate for the creation of a free HIV prevention clinic at the University of Utah, which exists today (slcprepisfree.org)."
"Turn Back Time" by Cher
"You may remember my tag line from last year's Pride: 'Health care, clean air, more Cher' ... I stand by that."
—Ray Howze
LGBTQuotes
SLC notables on what 'Pride' means to them.
"Pride: Coming together to proudly celebrate our past victories, remembering those that walked this path before us and reaffirming the commitment to continue the fight for our civil rights and sexual freedom."
—Michael Sanders, Utah Leather Pride founder


"For me, especially during trying political times, Pride is a time to remember and find strength in our differences and diversity, so we can not only resist, but rise."
—Jackie Biskupski, Salt Lake City mayor


"Pride is unashamedly showing up for yourself and owning your space. It's choosing courage over comfort and saying 'Yes!' Yes to loving yourself, yes to being yourself and yes to fearlessly standing up by your community."
—Moudi Sbeity, co-owner Laziz Kitchen

"Pride is a commemoration of years of struggle to get to where we are and a reminder that we still have a long way to go."
—Hillary McDaniel, Utah Pride Festival director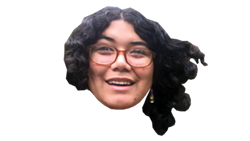 "Pride is the yearly excuse for capitalist logos to change their colors to rainbow, while keeping their homophobic practices the same. It's a party, a riot, an eye roll, a reminder to the world that we exist."
—Mariella Mendoza, badass artivist


"Pride is accepting and loving yourself when others don't think you should."
—Luna Slipstream, drag entertainer, "time traveling space-pirate gypsy-cyborg from 5057"


"Pride to me means a safe place, one of the only times a year I get to feel comfortable in my skin and not worry that being myself won't be accepted."
—Maren Caldwell, organizer Black Lives Matter Utah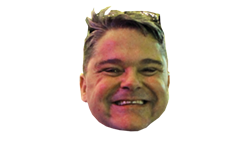 "Pride to me, means to celebrate a variety of peoples, identities and communities. I firmly believe—in the spirit of the South African term ubuntu—that in order for me to have pride in who I am, I have got to be proud and celebrate who other people are. A space like the Pride Center (and Pride Festival and Parade) celebrates who you are and through that celebration, we are able to celebrate ourselves, our accomplishments and our hopes for the future."
—Rob Moolman, Utah Pride Center executive director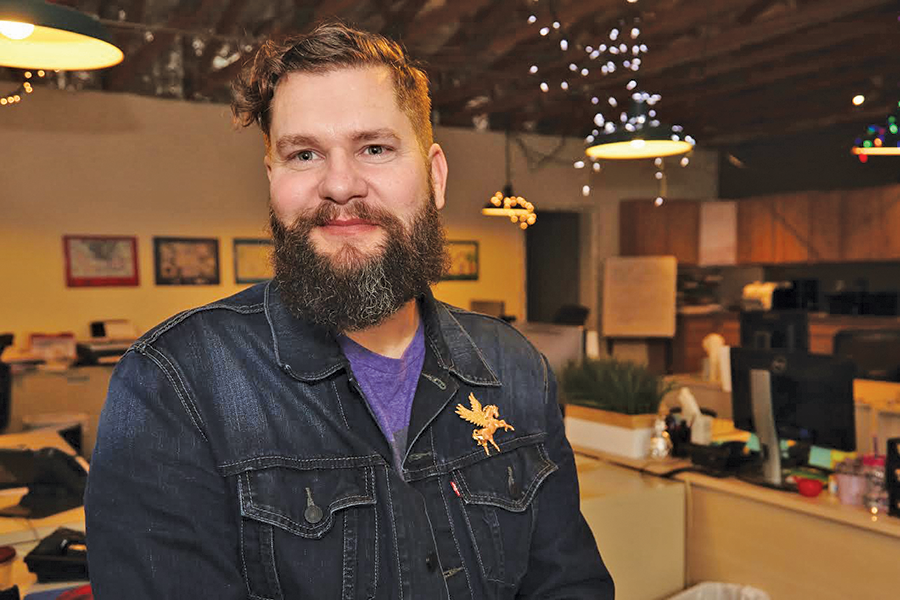 The Fight Isn't Over
Modern medicine is making inroads into HIV treatment—but testing still is the key.
By Lance S. Gudmundsen
The rapacious monster AIDS—which decimated an entire generation of gay and bisexual men in the 1980s and '90s—did not die in the burning mill. It's alive in 2019. Not as scary, perhaps, but nonetheless still a menace.
That's the assessment of medical and health professionals on the eve of Utah's Gay Pride celebration.
They say new treatment strategies and medications have dulled the fangs of the once lethal virus which, according to the Centers for Disease Control, has claimed some 700,000 Americans—more than the Civil War.
"It's what we consider a chronic illness—like high blood pressure or diabetes," explains Dr. Nathan M. Spivak, a physician at the University of Utah Infectious Disease Center, or "Clinic 1A." Currently handling 1,800 patients, the facility treats the majority of HIV cases in Utah.
Make no mistake, he adds. HIV hasn't been eradicated. It's still a bona fide public-health threat.
The Utah Department of Health reports 117 newly diagnosed cases in 2017—the majority in Salt Lake County. But here's the rub: Of the approximately 3,395 Utahns infected with the HIV virus, 25% are unaware they have it and can spread the disease through unprotected sex and IV drug use. Thus, the new infections.
The majority of new cases in Utah, the department notes, are linked to male-to-male contact, principally anal sex.
While infection rates have "declined significantly" since the height of the AIDS/HIV epidemic, they've remained relatively stable over the past decade, the health agency says.
"Getting tested is the key," Jared Hafen, programming director at the Utah AIDS Foundation, says. "The only way to know your status is to get tested."
During June, the agency is offering free HIV and STI testing Mondays and Thursdays from 5 to 7 p.m.
"We use the fourth-generation test—a finger prick—and the results come back in 20 to 30 minutes," Hafen explains. "We test about 2,000 people a year." Of those, he says, about 1% are positive for HIV. ("That's one every three days," he says). Between 5 and 19% of clients test positive for other STIs—chlamydia, gonorrhea and syphilis. Chlamydia is the most common diagnosis.
While there's no cure for HIV, its transmission can be thwarted by pre-exposure prophylaxis or PrEP. To that end, the U launched a free prevention clinic—second in the nation—some 15 months ago. Co-founded by Spivak and his colleague Dr. Susana W. Keeshin, the clinic currently sees 160 at-risk persons. With 10 medical providers and a support staff of some two dozen volunteers, "we're adding an evening clinic," Spivak says, "and expect to see an influx after Pride."
A key PrEP treatment component is Truvada. The once-a-day pill, containing two medications, is taken by HIV-negative persons who are at risk for contracting the disease through unprotected sex and IV drug use.
Manufactured by Gilead Sciences Inc. in California, Truvada is expensive: $1,800 for 30 pills in the U.S., Spivak points out. "In Australia, the exact same 30 pills cost $8, and that's without insurance," he adds. A Congressional hearing recently addressed the massive price discrepancy "but it didn't resolve anything."
But there's a "backdoor to go around the issues of cost," Spivak explains. "I can petition Gilead on behalf of the patient who cannot afford the medication ... and they will provide the medicine for free."
The U clinic has a case manager to navigate the paperwork. "So all of the patients at our free clinic are on Truvada, and they don't pay anything."
In addition to marching in the downtown parade, the U. free clinic will operate a booth at the Pride festival. "We'd love to chat with anyone who wants to talk about HIV, safe sex and PrEP," Spivak declares. In addition to HIV testing, "we have free condoms, free lubricant and will be setting people up for appointments at our free PrEP clinic."
He urges persons with questions about the clinic to visit the U's website at slcprepisfree.org.
Another effective strategy in combating HIV is known as "treatment as prevention," the physician says.
For example, if an HIV-positive person undergoes treatment and their viral load drops into the "undetectable" range, there's virtually no possibility that they can transmit the disease to an HIV-negative partner.
The AIDS Foundation's Hafen agrees: "It's called 'Undetectable Equals Untransmittable' (U=U)," he explains. "If somebody who is HIV-positive adheres to their medications and has an undetectable viral load—and there's no trace of the virus in their bloodstream—there's just no way they can transmit the virus."
However, only about half of infected persons fall into the "undetectable" category, according to the HIV Medicine Association, which says that U=U "can be transformative for people ... and their interpersonal relationships. This affirms that they are not disease vectors and can be touched and loved."
Hafen says that while U=U prevention generally has been accepted by the medical community for 15 years, "most people don't understand it." One study, he adds, has shown "over 158,000 condom-less sex acts and not one transmission."
Sharing syringes among IV drug users is the most-risky behavior in transmitting HIV, Hafen says. That's followed by anal sex and vaginal sex. "Oral sex is the least risky," he adds.
Education, too, is another tool in the arsenal to fight HIV. But Spivak laments the dearth of sexual education in Utah schools. "There just doesn't seem to be any impetus to have a conversation around this." And the "continuing stigma" surrounding the LGBTQ community muffles any meaningful discussion.
Many medical providers, too, lack up-to-date information on screening for HIV and the PrEP protocol. "PrEP wasn't approved until 2012, so it wasn't part of many physicians' training," Spivak says.
Any account of HIV/AIDS in Utah is incomplete without acknowledging the pioneering work by Dr. Kristen Ries and her physician assistant and wife, Maggie Snyder. Ries arrived in Utah in 1981 at the onset of the AIDS outbreak, and was the first doctor to treat victims of the disease. At that time, life expectancy was only one year.
She watched, appalled, as her fellow physicians turned their backs on AIDS patients. "One of my colleagues even told me, 'Your patients deserve it,'" reflecting the widespread bias against LGBTQ persons, Ries told KUTV Channel 2 in a 2017 interview.
Stories abound of the couple making "house calls" and holding patients' hands while they died at the height of the epidemic.
Now retired, Dr. Ries says, "I think it took us two years to realize we probably had post-traumatic stress. We feel really good about what we did, and wish we could do more even now."


Welcome to the Big Top
Artist Dallas Rivas finds creative therapy in poppy, personal paintings.
By Scott Renshaw
Some creativity is born out of a deep emotional need for communication. Some creativity is born out of pragmatism. For Dallas Rivas, it's both.
Rivas—a Texas transplant who also is a Transgender Education Advocates of Utah trustee—has had his donated paintings exhibited at the Utah Art Center. He also designs LGBTQ-themed T-shirts under the moniker Dallas Ian's LGBTees & Queer Gear. Both creative outlets suggest his cheeky sensibility, with a personal twist.
The paintings, including his "Gender Freakshow" series portraying people of a variety of sexual and gender identities as carnival acts, turn mainstream perceptions about LGBTQ people into objects of satire. "I believe life is fun—and it is more satirical than serious," Rivas says. "People see us [transgender people] as freaks and are afraid to know more about it. We're pretty normal and boring people."
But Rivas also acknowledges that works like these are a way to process feelings he might not otherwise have a way to express. "I am not an emotional person who expresses myself, so painting releases some of my thoughts onto canvas," he says. "Creativity in any form helps me and is therapeutic."
Another kind of needed help inspired the creation of LGBTees several years ago. Boasting messages like "I'm the gay uncle everybody talks about" and "NOT Temple Worthy," they originated as a way to raise funds for the transgender activist group TransAction and its social activities.
Whether intended to raise money or raise his own spirits, Rivas' works also succeed at raising eyebrows and raising issues. According to Utah Pride Center executive director Rob Moolman, "Dallas' work is a great conversation starter for a lot of people who come through the center because of how he managed to play with the ideas of gender. His art has caused a tremendous amount of conversation, and he does it in such a playful manner."
For now, art is only a sideline for Rivas, who works for UPS by day. "I would love to quit and do art full time," he says. "One day." For now, he's able to demonstrate that "normal and boring," at least for him, might be a bit of humble understatement.


Phil Roeder via Wikimedia Commons
United We Stand
CNN's W. Kamau Bell on Mormonism, passing the microphone and being a diversity surrogate.
By Kylee Ehmann
W. Kamau Bell is a comedian and host of the Emmy Award-winning CNN documentary series United Shades of America, where Bell explores the cultures and challenges facing different communities across America. In the upcoming episode "Out and Proud in Salt Lake," airing June 2, Bell and his crew explore the often contentious relationship between The Church of Jesus Christ of Latter-day Saints and SLC's growing LGBTQ community.

Before you came to Utah for this upcoming episode, what was your understanding of Mormonism in general?
I think I had a pretty thin understanding of Mormonism. I did see
The Book of Mormon, but I didn't expect that to be a primer in the religion. But, you know, I grew up during the era where you saw The Church of Latter-Day Saints commercials on TV when you were watching cartoons, but I actually didn't really know that was the same thing as the religion of Mormonism until later in life. So, I think I had a pretty thin understanding, but maybe more than most, just because I'm a naturally curious person. But I think I had only knowingly met one Mormon in my life before we went there.
You mention a few times in your episode that a lot of religions have a strained relationship with LGBTQ folk. What was it that got you and your team interested in focusing on the relationship between Mormonism and LGBTQ folk in particular?
I think it's because when you think about Salt Lake City, for most of us who don't live there, we think about the Mormon religion. And then you think about the things connected to that—Donny and Marie Osmond. That and skiing. And then every time I would talk to people from there, they would say it's way more diverse than you think, it's actually got a really burgeoning LGBTQ+ community, and then you're like, how does that work? So, one thing the show I think does really well, is that we go investigate and talk about those things. To go to Salt Lake City, and maybe just talk about the religion, you'd be missing another huge story, especially now that Salt Lake City is not majority Mormon anymore. For me, I was really excited to actually meet and talk to Mormons and learn more about that religion, but then also this other story, the growing LGBTQ community. And also, the thing that I understood before I went there was oh, there's a growing LGBTQ+ community and it sounds like oh, happy LGBTQ+ people, but then when you realize, what about people who are born into the religion, or people who are Mormons who are LGBTQ+, what is their experience?
Were you nervous at all to approach an episode that was so centered around religion—especially one that isn't super well-known to those outside of it?
I mean, I'm basically nervous for every episode. This one I was nervous because there's so much going on in it. If we had just done an episode about the religion, I think I would have been less nervous. But the show is only 42 minutes long, so we're really trying really to pack a lot in and tell a lot of different stories and have a diverse cast of people tell those stories. And also, I was nervous about, as I say in the episode, Mormonism is one of the few religions that you can feel free to make fun of and Mormons are generally like, 'OK'—whereas other religions can get litigious about it. So, I didn't want it to look like I was coming in to make fun of their religion and the faith, whether I agree with different tenets of it or not. I felt extra-sensitive about really trying to make sure that it didn't look like I was coming in to take cheap shots that people have taken with the Mormon faith a lot over the years.
The episode shows a lot of the joy and resilience of Salt Lake City's LGBTQ population and a lot of the pain many have suffered from the LDS church. How did you and your team go about striking this balance in such a short amount of time?|
We interviewed a lot of people, and a lot of stuff didn't make it in the episode. Then we sat back with all the pieces we had and we're, like, OK, what is the best version of this? What tells the best version of the story? For this one we had like, four or five different versions of the episode. We kept going nope, that's not it, move that around here, take that over here. It really becomes like alchemy. Like, Dan Reynolds [of Imagine Dragons] is an outside presence so, you don't want to hear from him right away, because then it weights down the whole episode. But then you also don't want to wait too late and feel like we're giving the straight, cisgender white guy the last word. So, it's like, where do you put the rock star? I had a great conversation with [ex-BYU and NBA basketball player] Shawn Bradley and his wife, but we just didn't have time for it in the episode, so it'll go up online. And that was a painful cut, because I was really excited to talk to him and didn't want him and his wife to think I wasted their time.
Dan Reynolds is in the episode quite a bit. What was it like hanging out with a rock star in a space like Encircle?
I think he did a really good job. We sort of walked into Encircle and once we sat down with the young people, he did a good job of knowing how to be quiet. I think he's aware of his presence as a rock star, and I think he's probably even gotten feedback that maybe he's taking up too much space. It's hard when you're a person of note and you want to help, because it's very easy to sort of make it look like it's all about you, and I think he did a good job of trying to make it not about him while at the same time, what's the point of having all this fame and fortune if you're not going to help people and help shine a light?
You talk a lot about suicide among Utah's LGBTQ youth while visiting Encircle, and that's a hard topic to cover respectfully in such a short amount of time? How did you approach this topic to avoid dipping into sensationalism?
Trying to be sensitive and trying to not be exploitative, and also trying to let the people tell their own stories and stay out of the way. I think the best thing I can do on the show is pass the microphone to people and let them tell their version of the story and just be there to help the story get out. So, I think a lot of the time, the less I talk in things like that, and the less spiel I do, the better it's going to be. If it feels like I'm telling too much of the story, then it's not going to come off well. Don't always be a comedian trying to make a joke, don't always try to get to the next question. Let people talk.
Speaking of Encircle—you spend a lot of time with groups like New Tribe, Mama Dragons and Encircle. Why did you want to focus on groups like those that bridge between Mormonism and the LGBTQ population instead of ones that are more focused on just the LGBTQ community?
This is the challenge of every episode. You know, there should be a weekly series just about these issues in Salt Lake City, you know what I mean? We decided to focus on specifically the intersection of this religion, which has an outsized presence in this town, and this community, which has a growing presence in this town and also has members who feel like they don't know where they fit or feel comfortable in their faith anymore, or are sometimes kicked out of the faith. Certainly, there are LGBTQ+ people in Salt Lake City who are just living their lives—but even those people, like what we talked about in the coffee shop with the one barista, end up somehow having intersections with the faith, because it has such an outsized presence in the town. The challenge is that you cannot tell all the stories in 42 minutes, but you do want to be at least accurate to the stories that you're telling.
You seemed to approach so much of your visit to Salt Lake City with such an open-mindedness, but was there anything about Salt Lake City's LGBTQ community or Salt Lake City in general that surprised you while you were visiting?
I really enjoy cities that don't feel like carbon copies of other cities. In America right now, because of capitalism, everybody's got a Chipotle, so you know, things can start to seem very same-y. So, the thing I like about Salt Lake City is the thing I also like about New Orleans, is like, this feels different. You know, like when you walk into the bar and there's a sign that tells you all the different alcohol things and what you're able to do there. I like cities that make me pay attention in a new way.
Also, I want to be clear about the fact that yes, every major religion that I can think of has its own issues and has not done a good job of embracing the LGBTQ+ community, but these are the issues that are specific to this religion. I don't want to just forgive, but I also don't want to act like that Mormons are the only ones. Dan [Reynolds] says this is a religion that can actually update its operating system, and I think that's an important thing to know about. Because not all religions are able to do that. Even since we left there's been some updating of the operating system, but it certainly doesn't go far enough.
What did you personally get out visiting with Salt Lake City's LGBTQ community?
You can go online and read about this stuff, but until you're standing in the New Tribe dance space and dancing with people and laughing and learning how to whack, like it's very different than just being at home and watching it on TV. And that's why I'm glad to sort of be the surrogate for the people who are watching, like I'm just throwing myself into it. I didn't expect to see a lot of people of color there, and to hear right off the bat like no, no, no, we got a lot of people from the Pacific Islands. So, for me, that was like the first thing that I did when I got to town, like, oh this is not what I expected. Unfortunately, I think many people in America see 'this is not what I expected, run,' or 'destroy it,' and I'm a big fan of 'this is not what I expected, let me sit down and learn something and keep my mouth shut.'
I understand this is a national show and your audience is everyone, but is there anyone in particular you hope watches this episode?
I hope the members of the church who are maybe the most suspicious of it actually watch it. You know, I think there are probably people who are going to assume that they know what the episode is going to be about because I'm some sort of West Coast, black, leftie comedian who is going to make jokes about their faith. And I hope that they sit down and watch it, because I believe there are things about their community that they will learn. And on the other side, I hope members of the LGBTQ+ community feel like I did right by them in this episode. We've talked about the LGBTQ+ community a lot over the course of the show, but we decided to actually define the letters. That was a big deal to go like, let's stop assuming that everybody knows this. You know, that's one of the best things about this show is that it's
Sesame Street for grownups. So, I hope that people feel like we didn't exploit them, and I hope that people feel like they actually were, as my friend Alicia Garza, the one who co-founded Black Lives Matter, says, not an ally but co-conspirators, that I'm in the fight with them.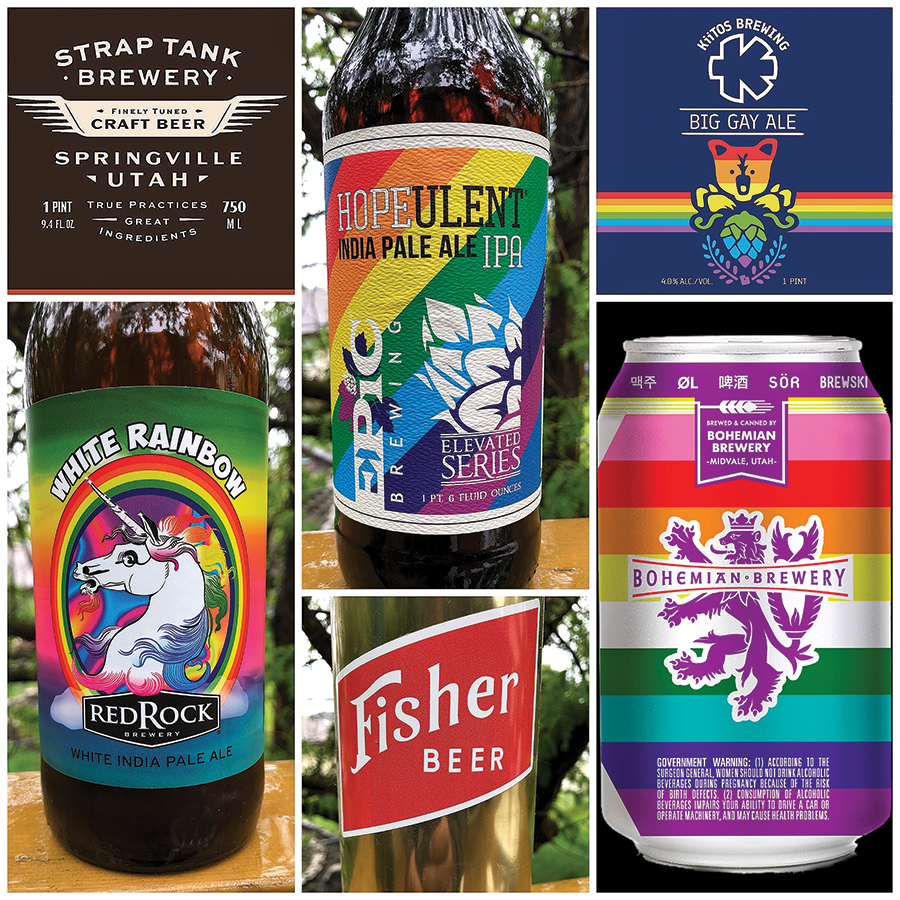 Prideful Pints
A selection of local brews that shine bright with Pride.
By Mike Riedel
New to the Utah Pride Festival fold? Get ready for a Mardi Gras-like affirmation of what makes the state's LGBTQ community special, served up with an explosion of independence, identity and jubilant celebration. In keeping with the theme, many of our local breweries realize the party portion of the weekend requires beverages that reflect the spirit of those who celebrate. Here's a handful of prideful beers to ensure your experience shines a little bit brighter:
Red Rock Brewing Co.'s White Rainbow

This White IPA has a medium, creamy and cream-colored head that sits atop a hazy, yellow-orange body. The aroma is of orange peel, some barley malt and a bit of hop sting. Tastewise, expect dank citrus, slightly turned fruit, mustiness, malt and bread, accompanied by a subdued hop bitterness. The mouthfeel is medium, and finishes semi-dry and ragged. As a bonus for those who enjoy it, 20% of sales go to the local LBGTQ community.
Kiitos Brewing's Big Gay Ale

This beer has a nice fuchsia appearance with an aroma of hibiscus and lemon. The taste is somewhat similar; the hibiscus drives this beer for the most part, with some light citrus-like hops in the end. If you head over to the brewery's pub, you'll also have the added option of getting your Big Gay Ale dosed with edible glitter. That's right: At some point you'll have a disco party during your morning constitutional. A portion of the sales go to Utah Pride and Volunteers of America.
Epic Brewing Co.'s Hopeulent
This beer pours a bright clear gold with a solid head. The aroma is classic through and through, with notes of grapefruit pith, orange peel, pink grapefruit flesh and pine. The flavor is utterly clean and classic, with bold bitterness, grapefruit and orange peel, dry pine, juniper and dry caramel. The mouthfeel is medium to full-bodied with plenty of carbonation and a dry, bitter finish. Overall, it's a spectacular beer. Part of the proceeds from each bottle goes to the Utah Pride Center.
Fisher Brewing/Strap Tank Brewery Collab
Mysteriously unnamed yet, this collaboration created exclusively for Pride involves two beers instead of one. Taking a cue from the Black-and-Tan (the most famous beer blend in the world), the two breweries will serve their beers "stacked." The Strap Tank beer, called "Slay," will be a kettle-soured ale made with edible glitter. It is straw gold in color, and uses mosaic hops and apricots to give it a big stone fruit aroma and flavor. The Fisher part will be a pink-hued beer that will be more hop forward. If all goes according to science, both beers should be layered in a single glass, on top of each other. As of press time, the beers have not yet been completed, so no tasting notes are available. I'm as excited to try it as you are.
Bohemian Brewery/Bar X's Helles
With a clear, light straw-yellow color and a dense, off-white head that falls off rapidly leaving little lacing, this looks solid. The nose has a beautiful, soft breadiness and a touch of grassy, earthy hops. Remarkably clean and focused, the palate opens mildly bitter with grass, earth, a little mint and a wonderful bready, grainy, mildly straw-like character. Light in body and crisply carbonated, this beer finishes clean and mildly bitter. A portion of the sales is destined to benefit the Utah Film Center's Damn These Heels LGBTQ Film Festival, happening July 12-14.
As with the much-talked-about Five Husbands vodka over in spirits land, most of these beers are in a limited run, and were produced exclusively for Pride. Your best bet for acquiring them are at their above-mentioned sources. As always, cheers!

Mike Riedel's Beer Nerd column appears in every issue of City Weekly. Follow him on Twitter @utahbeer.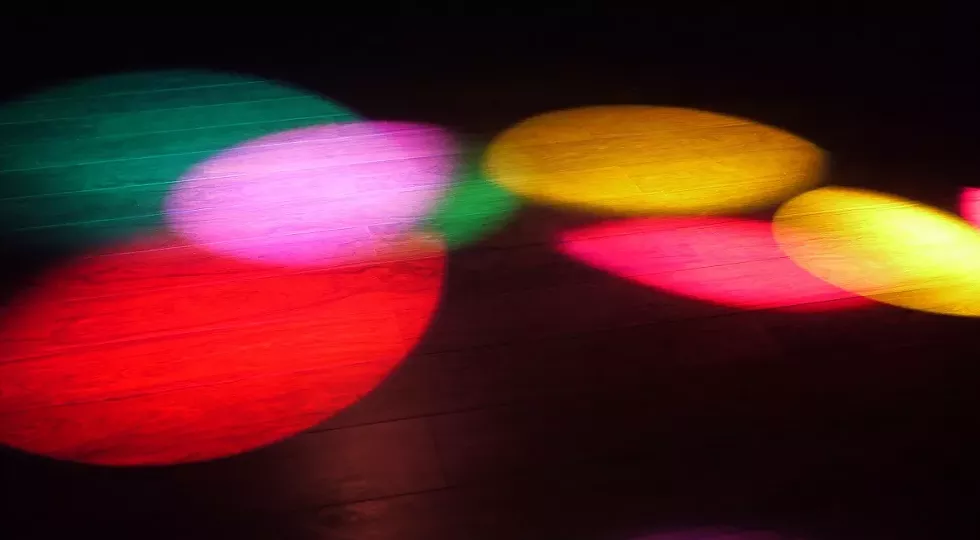 Pride Little Black Book
Make the most of your Pride weekend by checking out these standout events:
THURSDAY, MAY 30
Interfaith Service
Kick off the weekend by feeding into your spiritual side. All are welcome.
Christ United Methodist Church, 2374 E. 3300 South, 7 p.m., all ages, free
Miss City Weekly
Hosted by the legendary Jackie Beat, our annual Pride fierceness pageant turns 10.
Metro Music Hall, 615 W. 100 South, 7 p.m., 21+, $12 in advance; $20 at the door

FRIDAY, MAY 31
Youth Pride Dance
An energetic celebration designed for those ages 14-20 (w/ID).
Utah Pride Festival grounds, 451 S. State, 8-11 p.m., $5
Naomi Smalls
What's on the menu? Some sick'ning contortions and hot fashions, that's what.
Metro Music Hall, 615 W. 100 South, 9 p.m., 21+, $20 GA; $40 VIP
Shine Party
DJ Wondercat does their thing behind the ones and twos.
The Sun Trapp, 102 S. 600 West,
9 p.m., 21+
Bottoms Up!
SLC's newest LGBTQ space kicks off its opening weekend with performances by Aphrodeity, London Skies and Sophia Azul.
579 W. 200 South, 9 p.m., 18+
Bear Pride Night
Where the wild things are.
Club Try-Angles, 251 W. Harvey Milk Blvd., 9 p.m., 21+

SATURDAY, JUNE 1
Outdoors and Proud
Come sweat all the vodka off at this 5K.
Jordan Park & Peace Gardens, 1060 S. 900 West, 8-11 a.m., all ages, $45 onsite registration
Pride Festival
She's perfect, she's beautiful, she's Aja and she headlines Day 1 of the Pride fest.
Washington Square and Library Plaza, downtown, 1-11 p.m., $10
Pride March and Rally
Rally at the Capitol is followed by a march to the Festival grounds.
Utah State Capitol, 350 N. State,
1-3 p.m., all ages, free
Kim Chi
The Kawaii queen of RuPaul's Drag Race returns to SLC.
Metro Music Hall, 615 W. 100 South, 9 p.m., 21+, $20 GA; $40 VIP
Pride After Party
Come for the "coldest, cheapest and biggest drafts."
Club Try-Angles, 251 W. Harvey Milk Blvd., 9 p.m., 21+
Gurlesque
Vega Starr hosts this fabulous night of glam and camp.
The Sun Trapp, 102 S. 600 West,
11 p.m., 21+

SUNDAY, JUNE 2
Utah Pride Parade
It's a little like the Days of '47 Parade, but, you know, way more fabulous.
Starts at West Temple and 200 South, 10 a.m.-noon, free
Rooftop Block Party
Partly like royalty alongside Princess Kennedy.
The Green Pig Pub, 31 E. 400 South, 10 a.m. on, 21+
Pride Festival
Day two continues with oodles of good food and entertainment, including cover boy Wiltavious.
Washington Square and Library Plaza, downtown, 11 a.m.-7 p.m., $10
16th Annual Pride Steak-Fry
Cap-off your weekend with some juicy, sizzling meat.
Club Try-Angles, 251 W. Harvey Milk Blvd., 3 p.m., 21+
—Enrique Limón