Page 3 of 11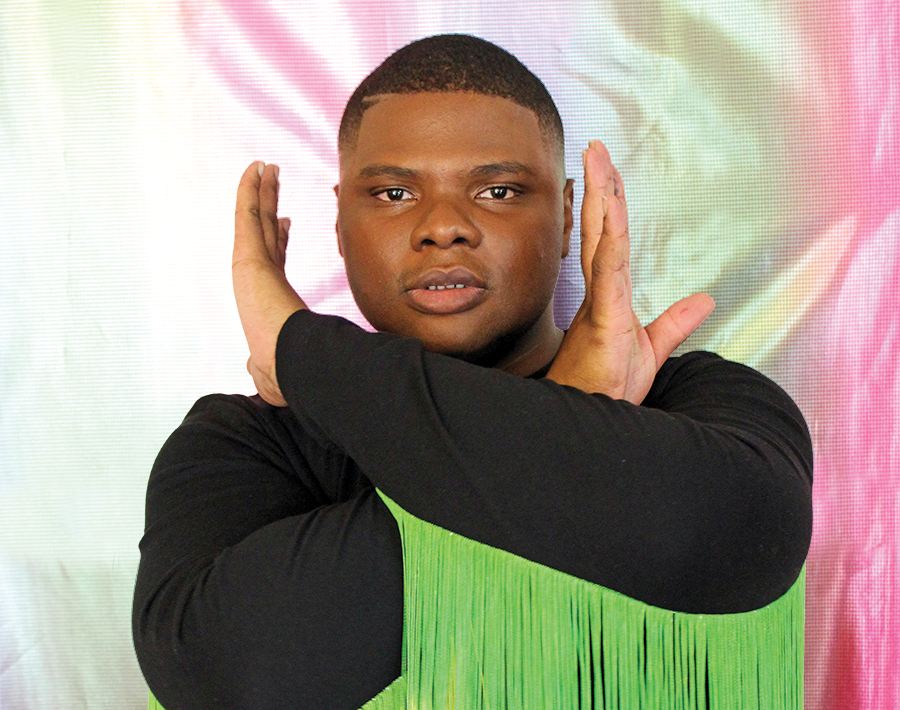 Wil Power
From West Jordan to the world, Wiltavious is here to preach about inclusivity, Cardi B and being a child of yes gawd.
Story + photos by Enrique Limón
Inside his West Jordan apartment, a world away from the stage lights, Wil Wilson, aka Wiltavious, appears subdued—a stark difference from his bombastic onstage presence. A copy of Dreamgirls sits by his TV and the scent of freshly made Rotel dip (his contribution to an office potluck later that day) seeps from the microwave. On top of a sectional rest a few clothing options for a photo shoot: a leopard print number, an acid-wash jean jacket and a black long sleeve shirt adorned with interminable rainbow fringe. That item holds a special place in his closet, as it was used during his first big gig. "In the South, when you wear fringe, you mean business," the 26-old says, belting a guttural laugh.
The tepidness layer cracked, an endless cache of quick-hit life lessons follow. Nuggets like, "I like to exude confidence every time I'm out and about. No matter if I'm looking like Beyoncé or if I'm looking like a hobo, I'm gonna make sure you know I'm that bitch wherever I motherfuckin' go, OK?" which he punctuates with a Cardi B-inspired "eeeooowww!" ("I love how she just lives her ratchet true-life," he says of the "Bodak Yellow" hitmaker.)
Appearances aside, the road to coming to terms with his own identity—and helping others face theirs—has been a winding one. "My fabulousness comes just from within, honey. This did not come overnight; just from finding myself growing up as a black, queer man in the South," the Lanett, Ala. native says. "And, you know, you really have to figure out who you are, because in the South, it's very conservative. I just decided one day, I'm just sick and tired of trying to live for everybody else, and now I'm just living for myself, following my dreams."
That homespun aplomb is evident in tracks like "Chanel Bag Swag" and "Drop Dat." ("If you a big fine bitch gone drop it to the floor, tell them skinny bitches, 'Hit the fucking door,'" he sings in the latter, with the buoyancy of a freshly popped bottle of bubbly.)
"I get my confidence a lot from, just, I guess, reminding myself that I'm beautiful and that I don't have to answer to anyone. Also, music. I like good music." Most days start off with Bey or Gucci Mane. "They kind of get my mood going," the former Baptist choirboy says in his Dixie drawl.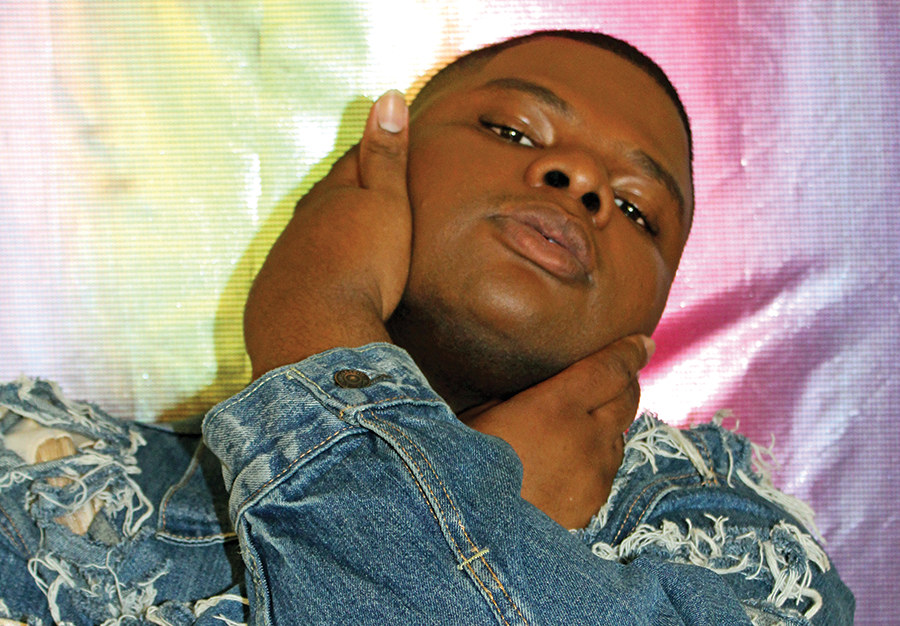 Still, Salt Lake County? "Oh, my goodness. I mean, it was a good change, but it took me a minute to adjust," the payment services specialist by day says about life in suburbia. "The culture is very different out here ... it's more liberal." Record scratch. "The system's kind of bipolar, out here," he quickly clarifies with a chuckle, "but for the most part, I feel like it's pretty liberal from what I've experienced back home, as far as living your truth or being yourself. The South is the Bible Belt, so it's either their way or the highway ... the Lordt's highway."
A second hold the phone moment happens when he shares why he picked Utah from the map: aspirations for a higher education at LDS Business college. "I guess I was just looking for purpose," the LDS convert says. "I was going through a lot. I'd lost my grandma, and so I was going through a lot of depression." From there, he aimed "to be that light and example for everybody."
Still considering himself a member of the flock, Wilson's self-acceptance message has only amplified with recent Church of Jesus Christ of Latter-day Saints anti-LGBTQ headlines, clearing a cathartic path for his performer self. "It's really been making me feel a certain type of way," he says. "So I just decided I'm gonna live my truth, and if nobody likes it, oh freakin' well, because I'm Wiltavious and at the end of the day, I know I'm a child of God and he loves me for who I am. Ain't nothing wrong with me."
Recognizing he's "not the traditional" Mormon, the conflicting mixed messages are not lost on him. "I just do me. I feel like no matter what religion I'm a part of, I can still be myself. I'm not ashamed of it," he says. And while no fellow ward members have gone to see him perform live, "they eat it up," he says. "Some of them follow me on Instagram and they see me being a badass."
The first blending of his faith and identity took shape in "Dontplaywitme," a self-produced song based on Bryson Tiller's "Don't." The newly minted Wiltavious shared a recording of it on LDS Daily's Facebook page in 2016, shortly after moving to the Beehive State. With lyrics like "Jesus, won't you come my way?/ Got some things I want to say/ People judging me because I'm gay," the gut-wrenching track serves up a powerful statement. "I made the song not only for myself, but for other people who are going through the same thing in the church—being gay and open or trans," he says.
Self-reflective follow-ups like "Peace Be Still" and "Needed Me" came soon after. "After then, one thing led to another," he says, and through a mutual friend, he ended up performing at Metro Music Hall last February as an opening act during Aja's record release party. Clad in rainbow fringe glory, Wiltavious lit up the stage.
"It felt so liberating," he says of his splashy debut. "At first, I didn't know what to expect. I was like, 'these bitches don't know me.' They're probably gonna be like, 'Who is you? Get off the stage!' But as soon as I walked up, everybody started screaming and I was like, 'OK, I can do this.'"
Attendees ate it up, and the feeling was mutual. "I feel like the crowd is the No. 1 reason why we are there, so I want to make sure that they have a good time," he says about that onstage symbiosis. "I want to make sure you're getting your life. I want to make you laugh. Hell, I even want to make your ass cry if I can."
Not surprisingly, a legion of diehard fans soon sprouted. "I call them Baddie Gang, 'cause we baddies and we some fat fatties," the rapper says, accompanied by a trademark, boisterous laugh.
The gang's expected to come out in droves over the weekend, as the self-proclaimed "queen of Salt Lake" is slated to open up for RuPaul's Drag Race royalty Naomi Smalls Friday at Metro, reteam with Aja Saturday night on the Pride festival's main stage and go for broke on Sunday with his own 20-minute set at Pride's Stonewall stage.
"This is probably the biggest moment in my life," he says about the upcoming gigs, which will double as an informal record release for his recently unleashed eight-track Queentavious. "All I can say is that I'm gonna bring it, and they better get ready."
Permeating through Wiltavious' message of unabashed conviction, body-positivity and self love, is a deep sense of gratitude. "I'm one of the blessed ones," he says, reflecting on the unexpected encouragement he's received from his siblings, cousins and his mom, Benita. "Being in the South now, people are very old-school, so it took my mama some time to really accept me. I feel like people, they should have the right to change their views on things."
He hopes the local back-to-back Pride appearances might open the doors to other, larger festivities like Atlanta Pride, which is about an hour-long car ride for Benita, his biggest fan. "She basically told me that I don't have to fight no more," he recalls. "She was like, 'As long as your mama accepts you, fuck everybody else.'"