Page 4 of 11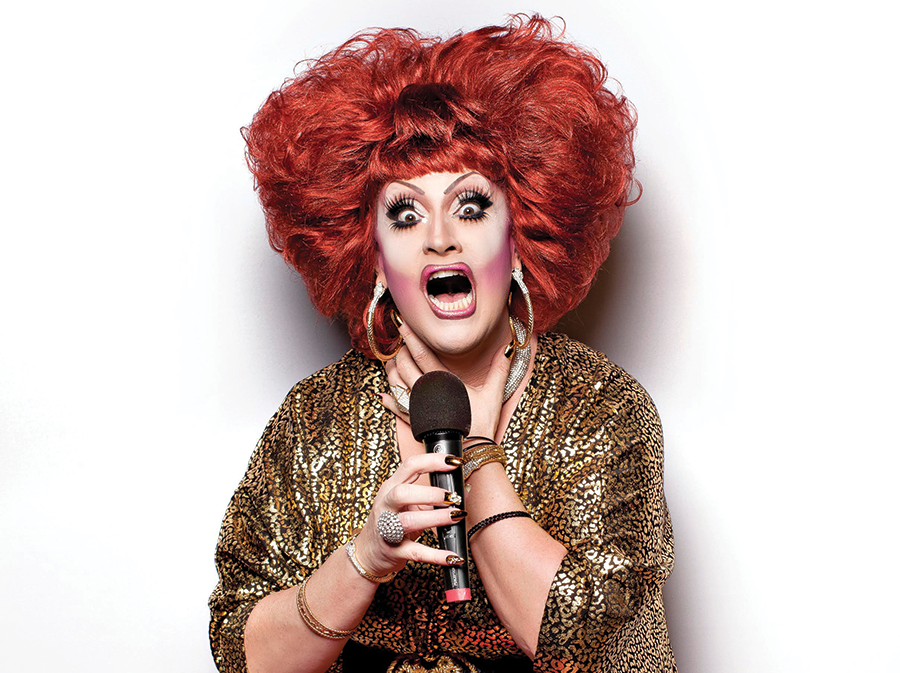 You Can t Stop the Beat
The iconic Jackie Beat talks cancel culture, being a nice asshole and how to avoid becoming "the McDonald's of drag."
By Enrique Limón
Salt Lake City has made it through the systemic erasing of its original dwellers, cricket infestation of early settler crops and the Flood of '83. But will it survive in the aftermath of drag legend Jackie Beat's hosting gig at the 10th annual Miss City Weekly? Only time—and copious amounts of penicillin—will tell.
"She kind of invented drag," RuPaul's Drag Race superstar Alaska Thunderfuck says about Beat, her co-star in the 2016 song, "I Invented That." ("Have your fun, 'cause it's all been done," Beat asserts on the track.)
Armed with a lifetime supply of sass and one-liners, the veteran performer is a kick-ass, take names (for legal reasons) and then mock the shit outta you kind of gal. Chatting with City Weekly from her Southern California home, Beat (née Kent Fuher), didn't disappoint. From praising the wonders of fry sauce to underscoring the subversiveness of drag and reading yours truly, the self-proclaimed "Thomas Edison of drag" took no prisoners.

You've visited SLC before. What's your impression?
What's not to love? Mormons, fry sauce ... It's actually very similar to where I grew up in Arizona, so I feel right at home there. After doing drag for almost 30 years and traveling all over the world, I have learned one thing: There are nice people and assholes everywhere. And Salt Lake City is no different. Personally, I pride myself on being a very nice asshole.
Anyone who follows you knows that you're not afraid to get political. Let's talk about the intersectionality of drag and politics.
Was that a question? If so, my answer is yes, let's talk about it!
In this day and age, is doing drag still an act of political defiance?
It should be. And I don't mean that every performance should be some annoying in-your-face attack on the far-right. We are entertainers first and foremost. But we are also artists and warriors, and we need to speak truth to power and hold up a mirror to society—even if it's a warped, fun house mirror. I don't understand this new trend of being all-ages, family-friendly and completely non-threatening. Honey, when you try to appeal to everyone, you end up appealing to no one. I always tell my friends who are struggling in show business, McDonald's is the most popular hamburger in the world. Is it the best? Hell no! It's just familiar, cheap and consistently mediocre. Don't be the McDonald's of drag.
In the wake of Alabama's stringent abortion laws, you posted a message on Instagram urging "famous TV drag queens" to speak up for women's rights. Did you see any RPDR girls take action?
Many speak out on a regular basis and it's so important. But sadly, way too many just refuse to 'go there.' For some reason, they feel the need to pretend we live in a world with no problems. I get it, you are there to make people smile and laugh, but your silence is essentially saying, 'This is normal; this is right.' The one thing I will not do, is pretend that this Trump circus is normal. It ain't. And when they start stripping away rights from women, LGBTQ folk and others? The children are watching and listening and we need to loudly and clearly say, 'No. This is not right!' What's the worst that can happen? You lose a few easily offended fans who are on the wrong side of history? Honey, if they agree with all this bullshit, I say good riddance, buh-bye ... Enjoy your horrible Kid Rock concert or your boring Elaine Lancaster drag show.
What are your thoughts on drag becoming mainstream?
I have mixed emotions. I mean, it's great that you can now see drag on TV and drag queens can walk down the street without being harassed or beat up, but we have definitely lost some of the special, underground magic that drag used to have. It used to be that a very special kind of person became a drag queen. The drama geek who knew every line of dialogue from the gayest movies. The people who, within the already misfit gay community, are even bigger misfits. Now, kids watch Drag Race and think, 'I can make money doing this!' When I started, no one did it because they thought they would make money or become famous. Hell, there was literally six of us: Me, Sherry Vine, Lady Bunny, Coco Peru, Varla Jean Merman and some whore named RuPaul, lol!
How would Jackie's Drag Race be different?
It would focus more on true artistry. They spell out that naughty word, saying the girls are being judged on their Creativity, Uniqueness, Nerve and Talent, but I see very little of that. I see branding, catch phrases and cat fights. And don't even get me started on the death drops, shablams and splits. Honey, I remember when the whole point of doing drag was not falling, lol! But I also realize it's a reality TV show. People want drama, arguments and easily digestible drag.
Like McDonald's?
Yes. And just so you know, I am totally craving a McDonald's cheeseburger right now, so I get the appeal!
How do you stay current? Every day, it seems, social media has a new five-alarm topic du jour.
I watch the news and, like you said, the latest breaking news is all over the internet and difficult to avoid. The problem with this is that something major happens, people react and then a new story comes along and a new headline pops up. This is how Trump is running the country more like a stupid reality TV show more concerned with ratings and getting attention than an actual country with real citizens and real problems. I would just like to say right now that I promise to be much funnier when people come to see me in Salt Lake City. You are asking serious questions!
One of the recent talking points is cancel culture. Any brushes with it?
Yes. And again, I get it. It's so easy to make someone go away with just a push of a button. Everything is black or white, there is no gray area, and no one is capable of critical thinking these days. You are either Mother Theresa or Hitler. And then you add to the situation the fact that you cannot really accurately read a tone in a short social media post and you have all the ingredients for knee-jerk outrage. I always say that people want their comedians to push the envelope and be outrageous, but the moment their big toe goes over the line, everyone is screaming, 'Get a rope!' Unfortunately, you can't always detect irony or sarcasm in a post. But I will say this: People are poised, just waiting for someone to slip up and it is very rare that a comedian accidentally reveals themselves to be a racist, homophobic, misogynistic, transphobic monster. They made a joke. Maybe it was lousy, maybe it went too far. But that's how comedy works. It's like sex. People say they want it rough and then they freak out the moment you pull their hair a little too hard.
You've recently vented on Twitter against young fans who call you "Mom." What's your advice to nubile queens and baby gays?
It's just lazy and dismissive. Listen, I know how old I am but it's like screaming, 'Yasssss queen!' It's just this annoying Drag Race 101 thing. It's very ageist, patronizing and usually said in an attempt to invalidate a post—'you're old, shut up.' It started out as a cute thing a younger drag queen might say backstage to poke fun at me, but now it's complete strangers who think because they watch a TV show they have the lingo down and can say anything they want.
Finally, the expected question, what can people look forward to at Miss City Weekly?
A lot more fun and laughs than this fucking interview, I promise!