Page 5 of 11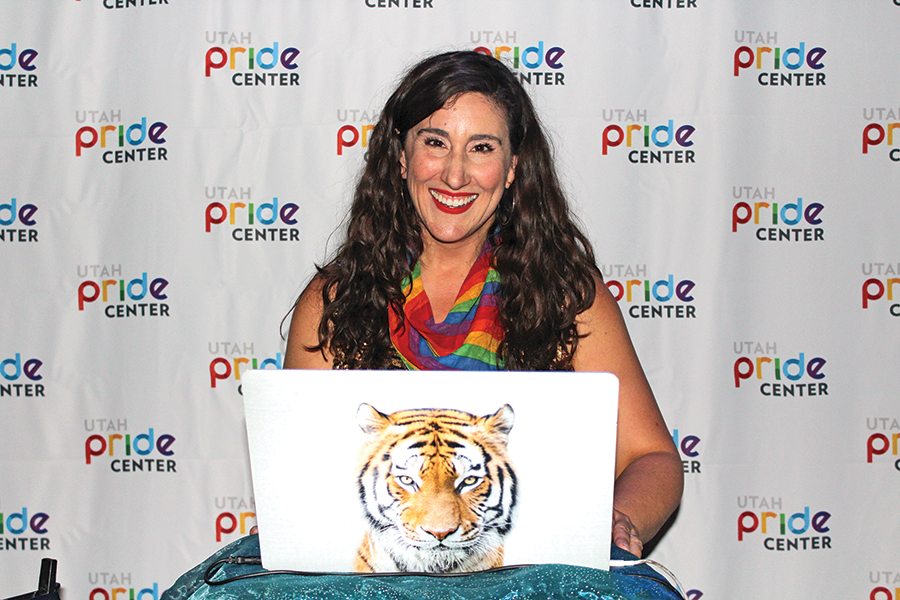 She's Got Legs
Shireen Ghorbani isn't just a gifted political campaigner—she also has a musical alter ego.
By Kelan Lyons
Despite running in three consecutive political races over the course of a single year, Shireen Ghorbani hasn't taken much of a rest—she says she's still working "almost full time" at the University of Utah as a communications professional, and she spends between 15 and 20 hours per week, on average, working on local issues as a Salt Lake County councilwoman. But there's another reason to suspect Ghorbani doesn't sleep: her hit-playing alter ego, DJ Legs.
Hot on the heels of her performance at the Pride Spectacular afterparty, Ghorbani will play some sick beats at the Pride Festival on Sunday, June 2, starting at 5 p.m. City Weekly caught up with the coalition-building Democrat to talk about what tunes make her tick.

How long have you been dabbling in turntable-spinning?
I do not use turntables. I'm more of a digital DJ. And it started about five or six years ago at a friend's wedding. They had not hired a DJ. They had an iPad and the dance portion was not taking off. And I was like, 'I can get this party going.' And I jumped in, started working on the playlist I had in front of me, and had a great time. And then a couple of other friends asked me to do the same.
Where does the name DJ Legs come from?
One time I was singing karaoke, and an individual from the audience told me that I should name myself after a different part of my body, and I informed him that I was 'Legs,' and 'Legs' was here to stay.
What kind of music do you play?
I am here to play the hits. I love danceable, 'shake your body' pop music. So with me you're not gonna get to hear my eclectic tastes. I'm not there to share my personal interest in different songs. But if it's funky and you can get down and it's generally pretty poppy, I'm your girl.
Who inspires you?
A great example is Lizzo, who just came to town. I love really big, powerful, funky danceable, inviting-kind of open music that just feels very accessible. Lizzo is a great example. When her songs come on, I just can't help myself, I just want to get down.
What do you bring to the (turn) table, as a DJ?
My particular DJ skillset, I like it when people are on a dance floor and you can see them near the end of the song, they're gonna exit the dance floor. And then I hit that next song, and they're like 'Oh no.'
... I want to keep people dancing the whole time I have them. I keep the energy up, I keep the hits coming. My greatest desire is, you do not want to leave the dance floor.
How does your DJ'ing complement your political skills?
I think I've learned a lot about how those two things are connected because so much of it is about listening and watching the crowd. Are they with me, are they having a good time, do they get where I'm going, are they coming with me? It's really about being responsive, listening and going somewhere together. It's about a relationship.
I'm so busy trying to watch and see what's really working and then just keep moving in that direction until people are just maniacally sweating and dancing their brains out.
Do you see any parallels between your DJ and political lives?
I would say in both cases I like to have a lot of fun. I think it's important not to take—for me, my approach is not to take myself too seriously. I like to be playful and have a good time, and create an atmosphere that just feels really positive and really fun.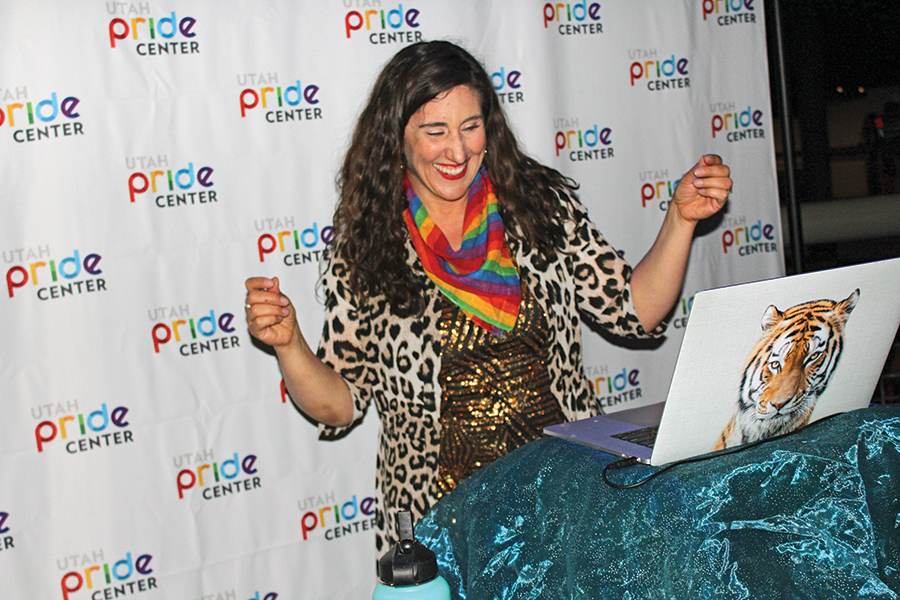 The Magnificent (and Fabulous) Seven
A DJ Legs-approved Pride playlist guaranteed to get you moving.
In need of a jolt for Pride? Or are you just curious what might get the people going at your festivities? DJ Legs, aka Shireen Ghorbani, has a few suggestions—as well as a few reasons why:

"Juice" by Lizzo
"Because if I'm shining, everybody's gonna shine."
"Queen" by Perfume Genius
"No family is safe when I sashay."
"Make Me Feel" by Janelle Monáe
"It's like I'm powerful with a little bit of tender."
"We Can't Stop" by Miley Cyrus
"Because we can kiss who we want, we can see who we want and we can love who we want."
"Midnight Radio" from Hedwig and the Angry Inch soundtrack
"For all the strange rock 'n' rollers, you know we're alright."
"Dancing on My Own" by Robyn
"This is a dedication in memoriam to my friend Ben Holdaway. Ben worked in HIV/AIDS prevention and was a fierce advocate for the creation of a free HIV prevention clinic at the University of Utah, which exists today (slcprepisfree.org)."
"Turn Back Time" by Cher
"You may remember my tag line from last year's Pride: 'Health care, clean air, more Cher' ... I stand by that."
—Ray Howze