Page 7 of 11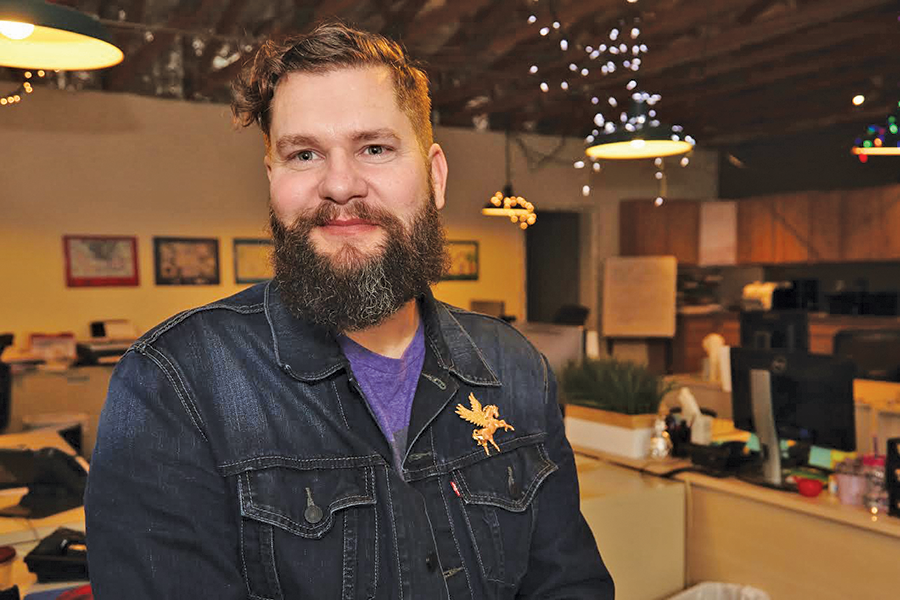 The Fight Isn't Over
Modern medicine is making inroads into HIV treatment—but testing still is the key.
By Lance S. Gudmundsen
The rapacious monster AIDS—which decimated an entire generation of gay and bisexual men in the 1980s and '90s—did not die in the burning mill. It's alive in 2019. Not as scary, perhaps, but nonetheless still a menace.
That's the assessment of medical and health professionals on the eve of Utah's Gay Pride celebration.
They say new treatment strategies and medications have dulled the fangs of the once lethal virus which, according to the Centers for Disease Control, has claimed some 700,000 Americans—more than the Civil War.
"It's what we consider a chronic illness—like high blood pressure or diabetes," explains Dr. Nathan M. Spivak, a physician at the University of Utah Infectious Disease Center, or "Clinic 1A." Currently handling 1,800 patients, the facility treats the majority of HIV cases in Utah.
Make no mistake, he adds. HIV hasn't been eradicated. It's still a bona fide public-health threat.
The Utah Department of Health reports 117 newly diagnosed cases in 2017—the majority in Salt Lake County. But here's the rub: Of the approximately 3,395 Utahns infected with the HIV virus, 25% are unaware they have it and can spread the disease through unprotected sex and IV drug use. Thus, the new infections.
The majority of new cases in Utah, the department notes, are linked to male-to-male contact, principally anal sex.
While infection rates have "declined significantly" since the height of the AIDS/HIV epidemic, they've remained relatively stable over the past decade, the health agency says.
"Getting tested is the key," Jared Hafen, programming director at the Utah AIDS Foundation, says. "The only way to know your status is to get tested."
During June, the agency is offering free HIV and STI testing Mondays and Thursdays from 5 to 7 p.m.
"We use the fourth-generation test—a finger prick—and the results come back in 20 to 30 minutes," Hafen explains. "We test about 2,000 people a year." Of those, he says, about 1% are positive for HIV. ("That's one every three days," he says). Between 5 and 19% of clients test positive for other STIs—chlamydia, gonorrhea and syphilis. Chlamydia is the most common diagnosis.
While there's no cure for HIV, its transmission can be thwarted by pre-exposure prophylaxis or PrEP. To that end, the U launched a free prevention clinic—second in the nation—some 15 months ago. Co-founded by Spivak and his colleague Dr. Susana W. Keeshin, the clinic currently sees 160 at-risk persons. With 10 medical providers and a support staff of some two dozen volunteers, "we're adding an evening clinic," Spivak says, "and expect to see an influx after Pride."
A key PrEP treatment component is Truvada. The once-a-day pill, containing two medications, is taken by HIV-negative persons who are at risk for contracting the disease through unprotected sex and IV drug use.
Manufactured by Gilead Sciences Inc. in California, Truvada is expensive: $1,800 for 30 pills in the U.S., Spivak points out. "In Australia, the exact same 30 pills cost $8, and that's without insurance," he adds. A Congressional hearing recently addressed the massive price discrepancy "but it didn't resolve anything."
But there's a "backdoor to go around the issues of cost," Spivak explains. "I can petition Gilead on behalf of the patient who cannot afford the medication ... and they will provide the medicine for free."
The U clinic has a case manager to navigate the paperwork. "So all of the patients at our free clinic are on Truvada, and they don't pay anything."
In addition to marching in the downtown parade, the U. free clinic will operate a booth at the Pride festival. "We'd love to chat with anyone who wants to talk about HIV, safe sex and PrEP," Spivak declares. In addition to HIV testing, "we have free condoms, free lubricant and will be setting people up for appointments at our free PrEP clinic."
He urges persons with questions about the clinic to visit the U's website at slcprepisfree.org.
Another effective strategy in combating HIV is known as "treatment as prevention," the physician says.
For example, if an HIV-positive person undergoes treatment and their viral load drops into the "undetectable" range, there's virtually no possibility that they can transmit the disease to an HIV-negative partner.
The AIDS Foundation's Hafen agrees: "It's called 'Undetectable Equals Untransmittable' (U=U)," he explains. "If somebody who is HIV-positive adheres to their medications and has an undetectable viral load—and there's no trace of the virus in their bloodstream—there's just no way they can transmit the virus."
However, only about half of infected persons fall into the "undetectable" category, according to the HIV Medicine Association, which says that U=U "can be transformative for people ... and their interpersonal relationships. This affirms that they are not disease vectors and can be touched and loved."
Hafen says that while U=U prevention generally has been accepted by the medical community for 15 years, "most people don't understand it." One study, he adds, has shown "over 158,000 condom-less sex acts and not one transmission."
Sharing syringes among IV drug users is the most-risky behavior in transmitting HIV, Hafen says. That's followed by anal sex and vaginal sex. "Oral sex is the least risky," he adds.
Education, too, is another tool in the arsenal to fight HIV. But Spivak laments the dearth of sexual education in Utah schools. "There just doesn't seem to be any impetus to have a conversation around this." And the "continuing stigma" surrounding the LGBTQ community muffles any meaningful discussion.
Many medical providers, too, lack up-to-date information on screening for HIV and the PrEP protocol. "PrEP wasn't approved until 2012, so it wasn't part of many physicians' training," Spivak says.
Any account of HIV/AIDS in Utah is incomplete without acknowledging the pioneering work by Dr. Kristen Ries and her physician assistant and wife, Maggie Snyder. Ries arrived in Utah in 1981 at the onset of the AIDS outbreak, and was the first doctor to treat victims of the disease. At that time, life expectancy was only one year.
She watched, appalled, as her fellow physicians turned their backs on AIDS patients. "One of my colleagues even told me, 'Your patients deserve it,'" reflecting the widespread bias against LGBTQ persons, Ries told KUTV Channel 2 in a 2017 interview.
Stories abound of the couple making "house calls" and holding patients' hands while they died at the height of the epidemic.
Now retired, Dr. Ries says, "I think it took us two years to realize we probably had post-traumatic stress. We feel really good about what we did, and wish we could do more even now."