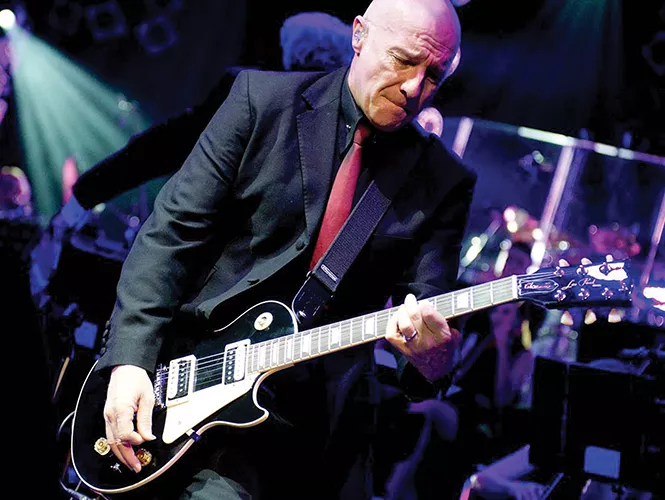 Midge Ure has never lacked for success. Having originally made his mark as part of Britain's so-called New Romantic movement from the mid-'70s to the early '80s, he played a key role in a number of iconic musical outfits. He initially emerged as a member of one-hit wonders Slik (their single "Forever and Ever" made waves on both sides of the Atlantic), but is best known as the singer-guitarist of the second iteration of new wave/synthpop band Ultravox, whose classic albums Vienna (1980), Rage in Eden (1981) and Lament (1984) established the band as a worldwide phenomenon.
Along the way, the Scottish musician played an essential part in Rich Kids (with former Sex Pistol Glen Matlock), the stylish but short-lived Visage and a later incarnation of Thin Lizzy. He also co-wrote (with Bob Geldof) and produced (with Trevor Horn) the all-star Band Aid charity single "Do They Know It's Christmas," which still ranks as the second best-selling song in British pop history. Add his membership in the Order of the British Empire and five honorary doctorates, and clearly Ure has more than proven his musical mettle.
Today, Ure remains the perpetual journeyman rocker. He's carved out several solo albums, including the soundtrack to the 1998 film Went to Coney Island on a Mission from God... Be Back by Five. Among these releases are a hit cover of the Tom Rush classic "No Regrets" and a distinctive take on David Bowie's "The Man Who Sold the World," which are indicative of Ure's constant quest to innovate and invent, without relying on his past successes or allowing them to inhibit his efforts at forward motion. "If you constantly use what you have done as a kind of level, you will never progress," Ure tells City Weekly in a telephone interview. Keeping things fresh, he continues, is more interesting than "recreating something I did 30 years ago."
To underscore that point, Ure has embarked on several solo tours in recent years, including one that found him driving himself from city to city here in the States—sans tour manager, backing musicians or anything more than a rental car and his guitar. "I did it to show young aspiring musicians how hard things are for them in the industry today," he says. "It's not something I would choose to do, but I felt it was necessary. Strangely, because I was doing it for a specific reason, I found it very self-satisfying and enjoyable." Yet when asked why he continues to tour at such a frantic pace some 40 years after his bigger breakthroughs, he puts his reason succinctly: "I'm useless at everything else."
Ultravox reunited briefly in 2009, touring and releasing Brill!ant (Chrysalis, 2012), "of which I am very proud," Ure says. However, he remains fixated on the future, not the past. "Everything has a finite lifetime, and it was just Ultravox's time to call it a day," he says, adding "it seems unlikely we will do anything live again."
Still, a slight twinge of nostalgia is all but unavoidable. "I loved being part of a band because all the pressure isn't all on your shoulders," he says. But he maintains that there's nothing quite as exhilarating as the ability to work on his own, "because it pushes you further than you believe you can go, especially if you want to create something better than you have before."
It's also an artist's right not to let the past define them. Ure grew up on the outskirts of Glasgow listening to the only radio station within earshot, absorbing everything it aired, from Sinatra to the Beatles. These influences resonate throughout his discography, so it's understandable that, even now, Ure takes a bit of umbrage at the suggestion that his earlier acts fit whatever tidy niche that the press was so eager to pin them with. "Any description placed on an artist is usually conceived by the media, and not the artists themselves," Ure says. "Ultravox were in existence way before the term 'New Romantic' was coined, so I always thought it inappropriate. But I can see why the term was used to describe Visage, because of [late singer] Steve Strange's involvement."
With a new album in the works that features orchestral versions of his signature songs, Ure insists that his only choice left is to keep plying his craft the way he always has. "Commercial success allows you the good fortune to keep creating, but it's not what I make music for," he says. "If someone hears something of mine in 100 years' time, it would be lovely to have them think I cared and spent time creating that. Success disappears as quickly as it arrives. To attain longevity—you have to earn that." And the method, he says, is to "progress, progress, progress."