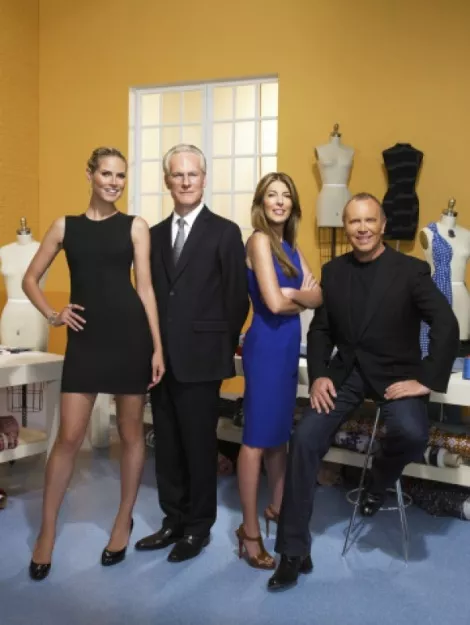 Project Runway Thursday, Aug. 20 (Lifetime)
Season Premiere: Now that the corpse-stink of Bravo's DOA Project Runway replacement The Fashion Show has wafted out of the room (well, most of it), welcome back Heidi Klum and Tim Gunn! Or just Tim, if you prefer. Judges Nina Garcia and Michael Corrs are also back, but the fashion action has now been moved from New York City to Los Angeles—other than that, same show, same array of bitchy-to-mousy designers. But, will viewers follow the highest-rated reality-competition show on cable (I know; I could have sworn it was Fox Reality's Battle of the Bods) from Bravo to Lifetime? Downside: Incessant Army Wives ads. Upside: No Flipping Out ads with that doucheclown Jeff Lewis. Good trade.

Jockeys Friday, Aug. 21 (Animal Planet)
Season Premiere: Yes, it's a reality-soap about little people (Dwarves? Micro- Americans? What's the latest P.C. term?) who race horses—that's why it's on Animal Planet, 'cause they gots ponies. In the high-stakes, high-drama, high-stepstools world of professional horse racing, jockeys face death and dismemberment every day, not to mention poverty (you don't place, you don't get paid) and weight-requirement pressures (there's probably more rampant bulimia on Jockeys than on the entire CW network). So, you'd think Animal Planet could get a far more interesting show out of it than this, which too often just feels—here it comes—stilted. But, at least it's better than Gerbil Wranglers: Fresno.
Phantom Racer Saturday, Aug. 22 (SyFy)
How to credit Greg Evigan? The star of B.J. & the Bear? My Two Dads? TekWar? And how long has this guy been doing TV, anyway? In the SyFy cheeseoid Saturday-night movie Phantom Racer, he and his girlfriend (Nicole Eggert—I know; I could have sworn she was dead, too) are on the run from his former racing rival who died in a crash 17 years ago, but now is back (with his car, natch) to exact phantomized revenge upon B.J., the Bear and every underpaid extra along a nondescript stretch of road in Canada (posing as somewhere not Canada). Any similarities to Ghost Rider, The Wraith or Scooby-Doo & the Haunted Hybrid are purely coincidental.

Kourtney & Khloe Take Miami Sundays (E!)
New Series: How did I miss this premiere last week? Two of the most fascinating people on earth, together in one show? Oh! My! God! Full spelling, no OMG! For those of you woefully out-of-touch, Kourtney and Khloe Kardasian (sisters of the equally interesting Kim, as if I even have to tell you) are opening their own Dash clothing boutique in South Beach, Fla.—but how will they balance that and the Miami party scene at night? Kuandry! See what I did there? Anyway, Kourtney & Khloe Take Miami explores the hardships of running your own business, something everyone (even those with butts smaller than a Volvo) can relate to—they're like, Norma Rae squared! And you thought The Only TV Kolumn That Matters™ was just going to dismiss them as a pair of worthless Kunts.

Nurse Jackie Monday, Aug 24 (Showtime)
Season Finale: Even more so than United States of Tara before it, Showtime's Nurse Jackie has flown mostly under the buzz radar after a big critical opening, plugging along for months while Weeds and HBO's True Blood snag all of the premium-cable ink. In a mere 12 episodes, star Edie Falco has nicely chipped away at the memory of Carmela Soprano, playing morally fluid ER nurse Jackie Peyton with head-on realism and a disregard for "likeability" that makes TNT's Hawthorne—the summer's other nurse series—look like even more of a joke than it already is. Catch up now; come back for Season 2 next year.