Page 2 of 6
Man of Visions
According to late historian Ogden Kraut's book John H. Koyle's Relief Mine, John Hyrum Koyle was born in 1864 into a family of Mormon pioneers among the first to settle in Utah. Brought up n Spanish Fork, Koyle was exposed to the rigors of frontier life, even watching helplessly as a quarry landslide buried his father alive. Koyle was 9 years old at the time and quickly became head of the household.
He lived a Spartan existence, farming, going to church, marrying young and starting a family. While faithful, he held doubts about his religion and wanted a solid LDS Church testimony. He dedicated himself to prayers of forgiveness and understanding, which ultimately brought his first vision.
It was about a cow.
It seems Koyle had been missing a heifer and, one night after prayers, had a dream. He saw his cow with a broken horn in a field adjacent to a nearby railroad track. The next day, Koyle set out to find this spot and found his cow in the pasture, broken horn and all—a perfect mirroring of his dream. He no longer doubted and promised God that if he would direct him in his visions, he would be a most dedicated servant. Little did Koyle know the things the Lord would ask of him.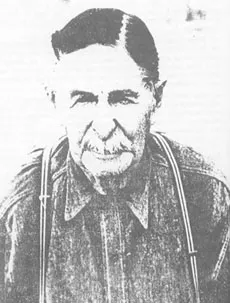 Koyle acquired the gift of dreams, Kraut's book recounts, and the most important dream of all came to him Aug. 27, 1894. On that date, an angel visited Koyle in a fitful dream, urging him to dig a mine.
This mine would lead to nine vaults filled with the treasures of the Nephites, descendants of Lehi, an Israelite prophet in the Book of Mormon. Lehi's son, Nephi, is best known for rescuing the golden plates—from which the Book of Mormon would eventually be translated—and for leaving Jerusalem for the Americas.
The angel guided Koyle through the mountain itself. They passed effortlessly through miles of rock and dirt, which revealed rich veins, tunnels and the vaults.
Climbing the mountain several days later, Koyle saw a strange circle of light on the hill—the very halo of light the angel told him would mark his first dig.
Koyle would have numerous visions—from predicting two world wars, the Great Depression and nearly every development in the progress of the mine before it happened.
The Dream Mine was incorporated in 1909, and 114,000 shares of stock issued. Shares were $1.50 but were promised to be worth more than a $1,000 each when the mine came in. Most miners never drew a dime from their labor but preferred working at the rate of three shares of stock per day.
At one time, an estimated 20,000 to 30,000 people from the region were associated with the mine. But Koyle's visions were the kind reserved for anointed LDS prophets, and the groundswell of interest in the mine raised the church's suspicions.
According to the LDS Doctrine and Covenants official revelation in the LDS Church follows a chain of command: Individuals may receive divine guidance for themselves or their families and bishops may do so for their congregations. Only church presidents may revelate for the entire church.
Koyle's prophetic claims thus provoked renowned church apostle (and a geologist) James E. Talmage. He was certain the mine was worthless and that Koyle was a deceiver.
"I say to you that the misrepresentations that have been made in selling stock of the Koyle Mine are of the Evil One," proclaimed Talmage in a 1928 issue of the Spanish Fork Press.
Battle lines were drawn. The mine became a target for church authorities who perceived Koyle as a threat. They made the distinction clear: loyalty to the mine was loyalty to the devil.
But old beliefs die hard, and the mine withstood the pressure until January 1947, when Koyle was summoned to a high council and told to sign a statement repudiating his visions and work.
Fearful of losing membership in the church he loved, Koyle, 84 at the time, begrudgingly signed. Later, he told of instantly regretting it.
Koyle defiantly continued with the mine. In April 1948, he was excommunicated. He died in Payson less than a year later. Labeled a false prophet and a con man for having sold tens of thousands of dollars in allegedly worthless stock, Koyle died poor, just as he had lived.
Believers still await the day when the mine will redeem their fallen prophet and produce riches. Then, as Koyle was fond of saying (as noted in Norman Pierce's The Dream Mine Story), "… in rapid sequence, the church, state and nation will be brought up a standin' to judgment like a wild colt to a snubbin' post."