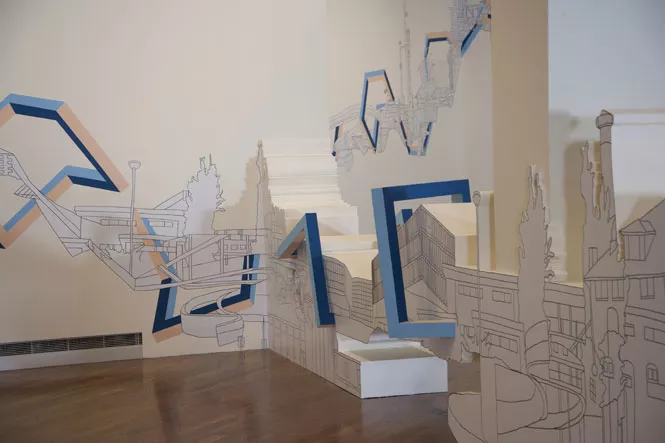 We live in an architectural environment—a world shaped by humans—but we tend to overlook the most meaningful details, the ones that have the most power to shape our lives. Los Angeles artist Kim Schoenstadt uses the overlapping structures of history, memory and geography to retrace the significance of sites and situations that are, in some cases, so familiar that their contours and outlines have disappeared from our view, our mental landscape.
The BYU Museum of Art is hosting Schoenstadt's Block Plan Series: Provo, which had its official opening Nov. 7. Her architectural wall drawing—installed the first week of August by a crew of local volunteers—incorporates acrylic, pen, vinyl and three-dimensional objects, superimposing images of Provo landmarks with geometric patterns in a kind of "ode to Provo." The work re-imagines the city as a somewhat hyper-modern though still historically resonant site, inspired by its "Silicon Slopes" notoriety as a new technology hub.
"Place is important to all of us," says Jeff Lambson, BYU's curator of contemporary art, who adds that the work in this show touches upon its Provo environs in a unique way. "The places and buildings that surround us become a part of us, a part of our identity," he says. Schoenstadt's work is biographical, he says, but her Provo is a "new and exciting landscape, helping us to see our place with new eyes, and pause to re-examine what we do and why we do it."
Schoenstadt first gained local exposure when she was awarded the Doctorow Prize for Contemporary Painting by the Utah Museum of Contemporary Art in Salt Lake City in 2011. The UMOCA exhibition featured a projected drawing of the museum layout on the museum wall, overlaid with drawings and painted elements from a variety of different sites, incorporating elements of architecture and geography to create an idiosyncratic statement about place—both specific and universal—and the way we live in it.
The Doctorow helped support the Los Angeles-based artist, and last year, she moved "off the wall" to produce 3-D works. Coming from a city with a large animation industry, she became interested in the BYU animation department when planning this show. She got a tour, and "was struck by how much drawing was involved," she says. Another thing caught her interest and eventually made its way into the show: the wire-frame process "where a grid or wire frame is placed over a shape to create points which can push or pull to make it move," she says. "The show has these two visions of reality. On one side of the gallery, [there's] my drawing/mash-up, and then the wire-frame version on the opposite side. I used existing and past architecture from Provo, and mashed them up on a giant light table to create the drawing."
The more-than-130-foot-long work is large not only in scale, but also in terms of the labor required to create it. "We had too many volunteers, and what we had scheduled to [take] four days of painting happened in two," she says.
Lambson notes that the exhibit was both inspired by Provo and "created with the help of the community, further reinforcing the site-specific nature of the work."
The exhibit has already engaged local residents. "At the opening, a multi-generational family was examining the wall drawing, sharing diverse experiences and memories about the buildings, ranging from roller-skating carhops to a first kiss at the Malt Shoppe," Lambson says. "Older generations may remember the 'turtle-shell' building as an ice-skating rink from the 1960s, or later as a Reams grocery store with a cavernous roof, or as the world's largest seller of Tony Lama boots. The building has since been torn down, and the current generation of Provo only knows the building through a street name, Paul Reams Avenue."
Through her re-imagining of familiar aspects of the town, Lambson says, Schoenstadt has "played with our notion of time, memory, and place, asking us to imagine alternate futures and realities that might have been."