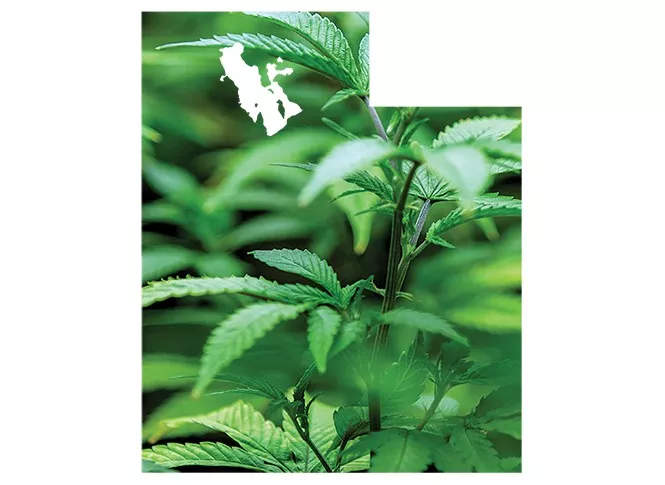 Bearded and tattooed, clad in a red undershirt and suspenders, Mike Carlson approached the mic last Thursday and thanked the Utah Department of Agriculture and Food representatives for hearing out the "thugs, punks and druggies" in the crowd.
Speaking as a "person that sees miracles on a daily basis," the CEO of Kaysville's Green HoriZen—a natural health shop that sells products containing cannabidiol—told the representatives that the "worst thing that can happen to you with any kind of cannabis, is you get caught with it."
"This is a great opportunity for Utah to be in a leadership position," Carlson said.
The entrepreneur and the 30 people who spoke at UDAF's three public-input meetings last week talked passionately about CBD, cannabis-based treatment and industrial hemp—"They're having profound results," Daniella Lucero, local business owner, said of her customers who have purchased products infused with CBD isolates and hemp extract—as the department held listening sessions to get citizens' thoughts on House Bills 195, 197 and 302, as well as Senate Bill 130, cannabis and hemp bills passed during the last legislative session and slated to go into effect in May.
The bills bring Utah a step closer to legal cannabis by giving terminally ill patients with six months to live the option of cannabis-based treatment; providing for the sale and use of CBD products under certain circumstances, and allowing individuals and universities to cultivate, process and market industrial hemp products—provided they're licensed with UDAF.
Jack Wilbur, the department's information and social marketing specialist, said the meetings were called to get the agency's "ducks in a row." Last week's meetings weren't a required step for the UDAF, since the bills haven't yet gone into effect. "We just think it's important enough to hear what people have to say," Wilbur said. He added the sessions will help the state agency to set rules and guidelines. After those are written, he says another meeting seeking public comment will be scheduled. Members of the public who didn't make it last week are encouraged to email agriculture@utah.gov while the rules are still being drafted.
Attendees gave public comments at three meetings: "Cultivation of Industrial Hemp," where farmers, business owners and concerned citizens spoke about hemp's value; "Cannabidiol Products," in which business representatives and CBD product users spoke of the need for clear labeling and the value those products have had on their lives; and "Cannabis Cultivation Amendments," which centered on the administration of medical cannabis to terminally ill patients with just a few months left to live. Citizens' viewpoints were heard by a panel of four UDAF officials, plus an assistant attorney general from the state's agency counsel division. Scott Ericson, the UDAF's deputy commissioner, said at the end of the first meeting that UDAF is merely at the stage of gathering information from stakeholders before drafting rules on hemp cultivation. "There is very little, if any, chance the rules will be in place for this growing season," he said.
Public comments in the hemp meeting emphasized the importance of quality standards, mindfulness of what is placed in the soil near hemp, since it is a "natural sponge," and the preference for low taxes, because they represent "a really big deal in this industry," among other concerns.
Tatia Nelson asked that the cost of health food products not be drastically increased, so the "common Utahn" can continue to use hemp products, which come in a variety of forms, like body moisturizers and hair and scalp treatments. A number of people also asked for standards so that consumers could be sure that the products they're using actually contain CBD; the Utah Poison Control Center issued a news release in December warning the public about people becoming ill after ingesting products labeled as CBD oil, noting that their "symptoms are not consistent with" such products.
Wilbur said he doesn't believe any businesses are currently licensed to sell CBD products, "because there hasn't been a mechanism for them to be licensed." No decision has been made regarding CBD and whether the UDAF will license products, facilities or sales outlets, he added.
A number of speakers told panelists about "medical miracles" wrought by CBD. Chiropractor Rick Madsen, 60, spoke of his stiff joints, sore muscles and nerve pain, a period he called "a horrendous time" in his life. Placed on several prescription medications and worried about kidney damage, Madsen said a friend told him about CBD. "The first night I took it, my symptoms disappeared," he declared.
"You really have no business telling me what I can and can't put in my body," Madsen told the experts. "I'd like to see you guys step away from this and leave us alone."
Madsen wasn't the only person who spoke highly of CBD treatment: "I take a lot of CBD with a lot of THC," a man who identified himself as "Doc" told the panel. "With the CBD, I'm able to function," he continued. "I'm able to be there for my kids."
Multiple people cited the benefits of CBD on their high blood pressure, anxiety, anger issues and pain. Supporters spoke of children with autism spectrum disorder and epilepsy who benefitted from such products; even pets, some speakers said, can benefit from CBD. ("Dogs that couldn't walk are walking again," one man told the panel.)
Wilbur says the personal testimonials on the alleged benefits of CBD, are "compelling," but don't necessarily factor into the state agency establishing rules and guidelines, "but we realize this is a very important issue to a lot of people."
"We don't want to discount that," Wilbur said about CBD's purported medical benefits.
A number of local business owners voiced concern about regulations and standards raising costs so high that consumers couldn't afford CBD products. "As retailers, we want to know what we have to do to keep the products in stores," one local employee in the "pet CBD market" told the panel.
"People are afraid they're going to lose this," Char Owen, employee at Green HoriZen, said of consumers' worry over a possible price hike. "They trust us," she said. "We're providing a life-changing product for them." Fans of the free market also cautioned against too much regulation, asking the panel not to "stop the innovators."
Lucero, who co-owns M Soaps by Marguerite with her mother Marguerite Blakey, in Gardner Village, says she's anxiously waiting for the state's rules and regulations. "If Utah's going to make it too hard, the licensing and stuff, we're out," she later told City Weekly, referring to the potential price hike on the CBD products her West Jordan shop sells. "It's 50 percent of our sales right now, easy," she says, noting that the "huge market" for CBD products is "too lucrative" for her business not to continue pursuing. If the cost to sell such goods gets too high in Utah, Lucero says, they could relocate out of the state, "which is sad, because we pay money into our community here."