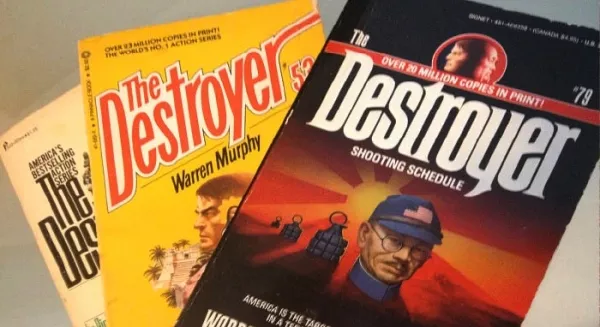 As a young lad, I read every book I could get my grubby little hands on. I blew through The Hardy Boys books in first grade, and graduated to Sherlock Holmes by the second. My parents couldn't keep enough books in the house for me to read, so I began to sneak into the books higher up on the shelf—stuff that wasn't exactly meant for me, but was exactly what I wanted to be reading.
When I was still in elementary school, I discovered the world of men's adventure books. These books were cheap paperbacks, ubiquitous in bookstores in the '70s and '80s, that were short, one- or two-sitting novels that had everything a young, growing geek could want: action, adventure, sex and violence, all wrapped up in a blanket of popular-culture references and satire.
There were many on the shelves—stuff like Able Team, The Executioner and Mack Bolan—but my absolute favorite was The Destroyer, by Warren Murphy and Richard Ben Sapir. The Destroyer, about an assassin named Remo Williams who works outside the confines of the American government, is something you know a little bit about, even if you don't think you do. It is a book series from the '70s that is still coming out with new volumes. The first book was adapted into a movie with Fred Ward in the 1980s called Remo Williams: The Adventure Begins. You'd recognize it as the VHS cover with the picture of a guy dangling off the Statue of Liberty.
These books were exciting, topical and full of all kinds of forbidden and lurid pulp material that may well have deformed my brain as a kid, but in all the right ways. Since the books were so short and since there were so many of them, I would spend weeks wrapped up in the world of Remo Williams, reading as he defended the country from robots, terrorists, evil oil barons, competing assassins, aliens and anyone else who wished the United States of America ill will. And who could forget Chiun—the Master of Sinanju himself, Remo's master and trainer in the deadly arts of being an assassin? Played in the film by the "pale piece of pig's ear" Joel Grey, the Korean master worked for the highest bidder so that he wouldn't have to drown the children of his village for want of food. The relationship between the two, with a cultural barrier and lack of respect in both directions, leads to some of the best moments in the books.
Over the years, I've been fortunate enough to cobble together a reasonably complete set of tomes by Warren Murphy and Richard Ben Sapir. They aren't always easy to find, but this is why I love living in the age of digital technology. It is easier than ever to jump into this stuff. The first book in the Remo Williams saga—Created, The Destroyer—has been free for Amazon's Kindle off and on for the past few weeks. And further digital installments are dirt-cheap as well. In fact, they might even be cheaper now digitally than they were in the first place in print. And there's a never-ending supply of them.
Books like these are perfect for geeks and genre fans to dive into. I've been revisiting at least a Destroyer novel or two a year for the past 20 years, and they're perfect for light reading. There's nothing more refreshing than picking up a fun book in between heavy reads. And since they're all in that pocket-size range, they're done in the time it takes you to read the prologue of a George R.R. Martin book.
So, my advice to you is this: Take some leisure time and revisit the worlds of men's adventure fiction. Yes, it's a bit anachronistic at times, but the enjoyment to be had is well worth it.
Bryan Young is editor-in-chief of BigShinyRobot.com.