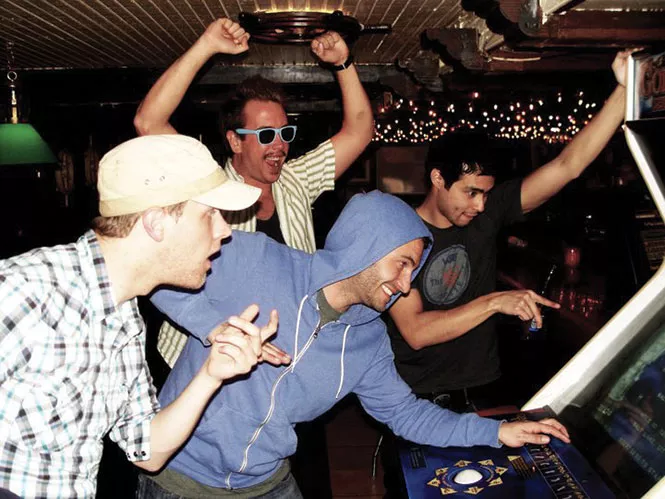 'Tis the season to celebrate... the season! And there's not a more unlikely crew to host a holiday festivity than local punk band Racist Kramer. The ensemble of 20-somethings is sardonically named after a 2006 incident in which actor/comedian Michael Richards, known as Kramer on TV's Seinfeld, unleashed the N-word on a heckler during a stand-up performance. The incident might be almost forgotten in the short-attention-span world of the 24-hour news cycle, but the name stuck with the band, which formed shortly after.
Singer/guitarist C.J. Coop admits the name started out as a joke. "A few members of the band didn't even like the name, but we just kept it because it was catchy. We were going to change it, but then we had a show booked and didn't give the promoter a name. We decided it would get the most laughs." The band is keeping alive the hallowed tradition of ridiculous-sounding band names in punk-rock music.
They started playing together in 2007 with a few friends, and turned toward an upbeat, poppy punk sound inspired by bands like Bad Religion, NOFX, Lagwagon and others. Coop says, "We started writing our own music, and it turned out to be really loud and fast!" The band has recorded a seven-song disc with studio whiz Andy Patterson, but Coop says they mostly demo their music and share it with friends. It's part of the old DIY punk-rock spirit.
Punk Rock Xmas started several years ago as a gathering of friends during the holidays. Drummer Jared Mackay says they called it Friends-mas. "All our friends shared the same love of punk-rock music. It started as a get-together. Then it became, 'Why don't we have some of our friends play and put on a show?'" It evolved into an actual event, and this year will be held at Urban Lounge.
Punk-Rock Xmas has been in its present form for three years. Last year's was held at Bar Deluxe. The band's members bemoan the loss of clubs like it and Burt's Tiki Lounge. "There's really no more places like it that would host a lot of the punk-rock shows that came through town," Mackay complains. They were glad when Urban Lounge owners Lance Saunders and Will Sartain, who are friends with bassist James Peterson, stepped up to host the show, but they still gripe about the lack of punk venues in town.
The band's energetic music should be a bracing alternative to the usual seasonal musical fare around town. They've played the Warped Tour, and though a number of their performance videos are on YouTube, they joke that a cover of Disconnected's "Face to Face" is "our best song." At a time of year when hope and good cheer are mandatory, it's an encouraging sign that someone is keeping old-school punk-rock alive and, even more so, that they don't take it too seriously.
In addition to Racist Kramer, the show on Dec. 23 will feature the band I'm a Monster, and members of local bands Fail to Follow and Wasnatch (who just might have the most awkward album cover of all time) sitting in on a program including lots of covers of punk songs of the '90s, as well as original material. You can be assured it'll all be as irreverent as their name. "We'll be playing a couple of punk-rock- style Christmas covers," Coop explains, "kinda goofy holiday satire."
In a strange way, Racist Kramer's Punk-Rock Xmas is an endearing and heartfelt musical gift to local music fans, especially the punk-rock scene. Coop jokes, "A lot of drunk, lonely friends who don't have anywhere else to go—this is for them."