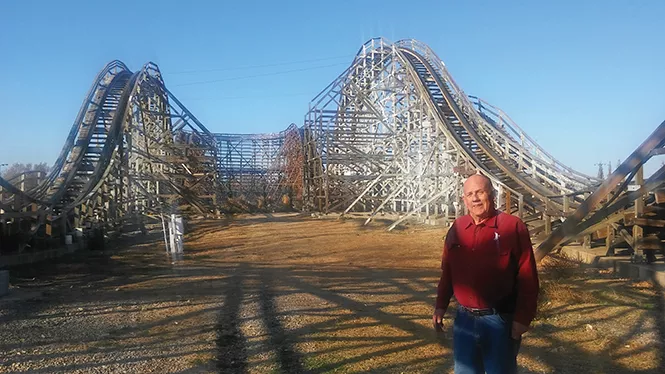 What goes up, must go down ... and just about nothing embodies this axiom like a roller coaster. For a quarter century, Mark Cheney has tended the iconic wooden White Coaster at Lagoon in Farmington. The 74-year-old talks about the amusement park's Grand Dame—and some of her other newer mechanical siblings.
Isn't the Lagoon roller coaster one of the oldest rides anywhere?
It was built in 1921, and designed by John Miller of Coney Island fame. There are only five coasters in the U.S. that are older.
Why is it called the "White Coaster"?
It was painted white for many years. It is gradually turning brown as the painted white boards are replaced with treated wood that will last much longer. This wood was not available when the coaster was first built.
What is its height and speed?
The roller coaster is 60 feet high. Its average speed is 30 mph. It accelerates and pauses intermittently in order to play with the riders' sense of motion. This creates its unique mental thrill.
Why do you think it's still popular?
Lagoon has worked hard to preserve its unique original geometry, which is responsible for the mental and physical thrill of the riders' body mass in motion.
Is it safe?
Yes. Rider safety on the coaster has been continually upgraded over the years. The safety restraints are the equal to Lagoon's most modern rides. A carpenter walks the entire length of the roller coaster every day during the season to make certain that it is safe. I did this for many years.
Is it an anachronism in the era of more modern rides?
All rides tend to do the same thing. Some just do more of it or less of it. The White Coaster still does what it was designed to do and does it particularly well. The coaster has received the A.C.E. Classic Coaster Award.
Over the years has it had any famous passengers?
Yes! My parents courted at Lagoon beginning when my mother was 14 years old, all the way through its early years and the Big Band era. It's certain that many celebrities who came here to entertain rode the coaster. Currently, there is a John Miller Wooden Coaster Fan Club that flies in periodically. They spend a couple of days on the park riding the coaster again and again.