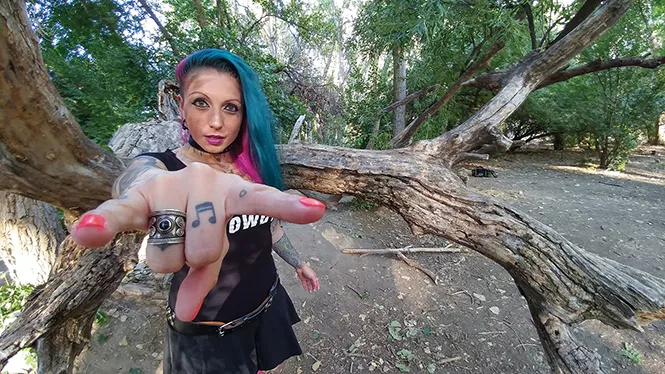 Brew "Brewja" Lira is relaxing in her West Jordan yard. It's Monday evening, and she just returned from Los Angeles, where she performed with her band Darklord, the night prior. Exhausted, she still got up and went to her job as a project coordinator at a structural engineering firm. But as soon as he clocks out, the feisty 34-year-old founder of the now-defunct Salt City Derby Girls league returns to her normal life playing in a band, training as an MMA fighter, modeling—and practicing witchcraft.
Tell me about your background.
I was born in Santa Barbara, Calif., and we moved to Utah in '92. My mom came here when she was eight months pregnant with me, and my parents didn't speak any English. It was difficult. I don't wanna get too political, but pretty much, I'm an immigrant. I'm 100 percent pure-blood Mexican, but they used to call me the milkman's daughter because I look so white—and I feel that that has granted me certain privileges. I'll leave it at that.
How do you fit a full-time job into your life with so many extracurriculars?
I've worked professionally in offices forever. I like office work. I'm good at it. And it facilitates communication through email so I can do everything else I gotta do.
At what age did you start playing music?
My whole family is musical, so I grew up with it. Ever since I was a kid, my parents had me playing piano, violin, saxophone, dancing. My dad's a professional Mexican folkloric dancer and salsa dancer; my mom was a singer and a dancer. I was 19 or 20 years old when I picked up the bass. My very first band was Xolotl. Before that, I ran Instant Booking from 2001-2004.
How did you get into roller derby and MMA?
I was born with a fire in my heart. I felt like I wanted to fight. When I was 18, I started working and I paid for taekwondo lessons myself ... I loved it. I was preparing to test for my black belt when I met this chick at a bar who told me about roller derby. I was like, 'Wait a minute—do you mean to tell me that there's a group of chicks who all go out and beat each other up, then go out and have beers after?' Sign me up. I dove headfirst into it. I stopped doing taekwondo and I worked my ass off and became a professional roller skater, and then the league happened. Then 10 years happened; bullshit happened. The Salt City Derby Girls had their final goodbye in 2015. But I still had to fight, because I like that shit. At the time, MMA gyms started coming out. So I checked out a few gyms and I dove into that. This is my fourth year. I go every day and I work my ass off.
Your name in Spanish means "witch." Do you practice witchcraft?
I've always gone by Bruja, but in derby, white people kept mispronouncing my name, so I changed it to Brew Haha. Eventually, someone said I should mix the two versions and thus Brewja was born. Witchcraft is more like using the earth's energies and resources to invoke desires. I'm a natural witch; it's in my blood. But yes, I like to light candles and say a few words.