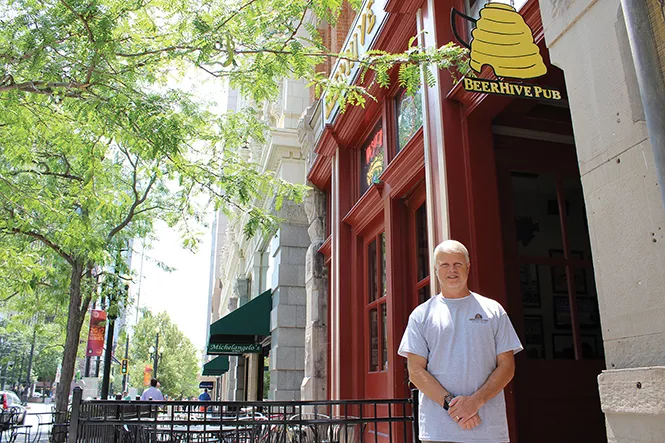 Want to talk beer? Just belly up to the bar at downtown Salt Lake City's Beerhive Pub, and chat with affable owner Del Vance. The aficionado and expert has even written a 356-page book about Utah's long and rich history with suds: Beer in the Beehive—a History of Brewing in Utah (Dream Garden Press). In its beer heyday, the state was home to no less than 15 breweries, Vance says. After all, something had to quench the thirst of early-day moiling miners ... and it wasn't Diet Pepsi.


Pioneers entered the valley in 1847. When did beer?
Beer arrived with the Mormons. The pioneers bootlegged beer on their way to Utah, picking it up in the states along the way. Kind of like today!
Was SLC ever a "Little Milwaukee"?
Salt Lake City never achieved Milwaukee status. However, it was one of the largest producers of beer in the Mountain West.
What was the LDS church's initial attitude toward suds?
The Mormon church was fairly liberal when it came to beer consumption in the new territory. Brigham Young understood that to fund his new oasis in the desert, he'd need a steady flow of tax money—most of which could come from alcohol.
When did the state become involved in regulating beer sales?
The state took over total control of alcohol sales after Prohibition. The 21st Amendment gave all states the right to regulate alcohol as they pleased. Utah really took this opportunity to the extreme.
What's the origin of 3.2 beer?
A big misconception about alcohol is the way it's measured. 3.2 beer is measured by weight. The world standard, including the U.S., is to measure by volume, which makes Utah beer 4 percent. This low-alcohol beer came about at the end of Prohibition. At first, it was a federal requirement for all states.

When did microbreweries appear here?
Many people consider Anchor Brewing and Sierra Nevada to be the first 'microbreweries.' Anchor was making 'craft' style beers in the late '60s and early '70s, and Sierra Nevada opened in 1979.

Any predictions about the future of brewing in Utah?
The future for local, Utah beer is bright. Over 90 percent of the beer sold in the state still is brewed by the big commercial brewers, so there's plenty of room for craft-beer growth. The key is getting beer drinkers to appreciate the local brewers—and the exciting taste of freshly brewed beer.