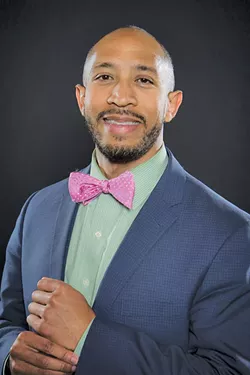 Eight years ago, Salt Lake City resident James Jackson III founded the Utah African American Chamber of Commerce—a key resource for small businesses owned by members of the local black community, as well as other minority groups. Their mission is to foster accessibility, networking and education. This week, they're kicking off Black History Month and raising money for their organization with an event called Evening in Harlem (Friday, Feb. 3, 7:30 p.m., Utah Cultural Celebration Center, 1355 W. 3100 South, West Valley City, $10-$15, uaacc.org).
As the founder of the UAACC, what was your experience like?
Interesting. There was a black chamber of commerce originally, and then it was kind of slowly fading away. So, being where I was at the time, I wanted to help build it, but then I ended up going off on my own. So I networked with other chambers in the community, like the Asian chamber. I helped with guidance and structure, and ... We've been steadily building it. The first five years were tough because it was just me, but now I have an active board, so that helped a lot. Over the past two years, we've doubled in growth.
What does your job entail on a daily basis?
The chamber is a volunteer organization at the moment, so we don't have any full-time staff. Everybody's a volunteer, including myself. My main responsibilities are seeking out corporate sponsorships and taking up members, and kind of being the point person for people who want to gain access or information regarding the chamber.
What does Black History Month mean to you personally?
It's a way to celebrate the accomplishments of people in the black community—not only in the nation but also locally.
Whom do you look up to in the black community here?
Now, I kind of look up to Pastor Davis of the Calvary Baptist Church. I was born and raised in that church, and everything he's been able to do in the state and everything he's done for me—he's just kind of set the pace and been an example for what leadership is, as far as being in the black community. And he's one of the people that we will be honoring at the Evening in Harlem event. We'll be honoring two people: Pastor Davis, and Rep. Sandra Hollins because she was the first black representative for the state of Utah.
Tell me more about the event this week.
It's a way to celebrate the people in our community, and kind of launch Black History Month and celebrate the Harlem Renaissance, which took place during the mid-'20s, early '30s. So people will come dressed in their Harlem Renaissance garb and we'll have a jazz band and a casino to raise money for our charitable foundation, and it's just a way for people to come together and socialize and have fun.