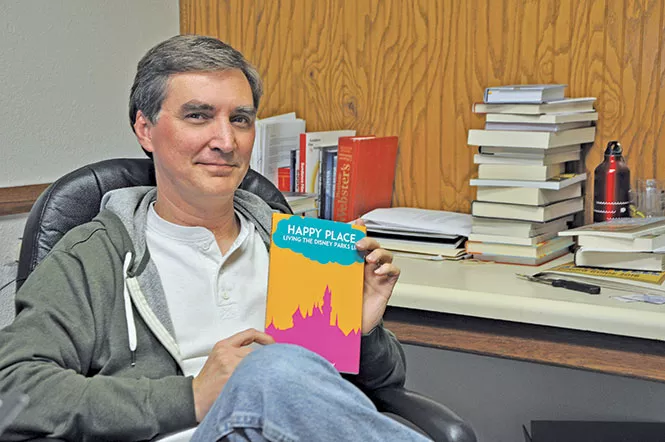 It's always good to see one of our own thrive. In the case of City Weekly Arts & Entertainment Editor Scott Renshaw, his longtime fascination with Disneyland has now taken the form of a book titled Happy Place: Living the Disney Parks Life. As a destination, it turns out, it can be a once-in-a-lifetime vacation for some and a daily relaxation spot for others. Renshaw highlights some of these stories in his book—including one of a man who has been to Disneyland for 1,000 days in a row—as well as the ever-evolving relationship he and others have with the park. Renshaw reads from his book at Weller Book Works on Tuesday, Oct. 11 at 7 p.m.
How did a 40-something film critic from Utah become Disneyland-obsessed?
I am a California native, who after moving here 20-ish years ago found that I still had a lot of this emotional attachment from going there as a kid. It was really after going there with my own kids that I sort of rediscovered what was so fascinating to me. I was in the moment, and my thoughts are so jumbled that I am rarely ever in the moment. For some people, Disneyland becomes a place where they get tense and annoyed, but for me it is one of the most relaxing places in the world.
Disneyland is so often seen as a children's paradise, but it appears that the place doesn't lose it's magic for many adults. Is that right?
Well that certainly applies to the people I interviewed. There are people—for a lot of different reasons—that continue their attachment. Some of it is nostalgic, some of it is that they build relationships with other people who go or with the cast members there, or they may have fallen in love with someone there. Like with any fan relationship, I think there are as many different ways someone becomes fans of Disney parks as much as there are ways to become fans of sports teams, a television show or anything.
Who are the people you highlight in your book? How did you find them?
The first fans I found were because I perused Disney fan websites as my way to get a fix when I couldn't go every year because I live in Utah with kids. So that's when I found the first couple of stories of two guys; one was approaching his 1,000th day in a row visiting Disneyland, and another that had gone for a year straight as well. I had a sense there were more stories like that, so applying all of my journalistic research skills, plus the skills of my librarian wife, I began to search message boards to find some of these stories. People did scavenger hunts through the park, or turned it into a job on a website or some other avenue, and there were more stories than I could even fit into a book like this.
Do these people seem troubled, or do they appear "normal"?
In the 1,000-day-in-a-row case, it started as a time he was unemployed and served as a motivator to get through the day. When he actually got a job, just like many people at the end of their day go to a bar to unwind, he goes to Disneyland. It isn't as if he doesn't have other things to do; he can go for an hour or two hours because it's close enough to do that. For a lot of people, this is part of their social network. While I'm sure there are people—as with anything—who become obsessed enough with something that it becomes a problem, with these particular people it was just another part of their lives that they managed to incorporate into their lives in what appeared to be a healthy way.
Are there any parts of the park that are not magical?
The places that are less a part of the overall theme, I suppose. As someone who grew up in Southern California, I associated the original park with Walt Disney and the sense of closeness and intimacy. For some of the places, it is clear it has become a place just to put a brand. The rides might be interesting, and there may be fun things to do there, but it doesn't have the same feeling of walking down a Western street or being in the middle of a jungle. For most hardcore fans, it is being in a place where there is no other place in the world you could find it.
What is your favorite ride or attraction?
My favorite—and I think this probably changed in the course of researching—is the Disneyland Pirates of the Caribbean. All of the Pirates of the Caribbean rides are slightly different. In this one, there is a little more depth to it. I realized there was a story about the ride, how it was put together. It's unique, it's not just a roller coaster, it's something that takes you from one part of the world to another part of the world gradually. It's part of the Disney sense of immersing you in something so fully that you aren't thinking of anything else in that moment.
How has your perspective of the parks changed?
People would always ask, 'Is it possible for you to enjoy it anymore? Are you overthinking it? Can you just relax?' I realized that the people that go there so much of the time aren't thinking they have to go to every single ride and do so many things in that one day. They have time to relax and appreciate the atmosphere, the theme, people-watch—things someone on vacation who may go their once in a lifetime, feels that pressure making sure that no one is unhappy and it is the perfect trip. When you develop a relationship with the park, it's not all about the rides. It's more about the experience of being there.