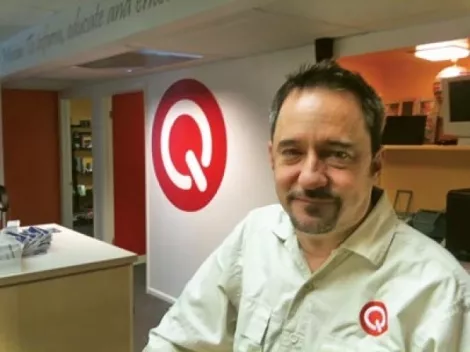 Eric S. Peterson
Michael Aaron
Inside the office of Michael Aaron, founder and publisher of QSaltLake, Salt Lake City's only publication specifically serving the state's lesbian, gay, bisexual and transgender community, a whiteboard on the wall is filled with brainstormed ideas on keeping the paper alive in a down economy. Fidgeting with a rainbow-colored slinky, in a neat, custom button-down shirt adorned with the Q logo, Aaron looks at an idea written on the whiteboard that simply says, "Mainstream?"

Taking the niche publication more mainstream is an idea he admits was considered to make the publication more appealing to new advertisers, following recent ad revenue losses that have pushed the publication close enough to the brink of collapse that Aaron wrote a column in the Sept. 15 issue of the biweekly paper, asking readers for help. But going mainstream really doesn't work for a paper that speaks for a specific community.

"We would then be competing against City Weekly and Now In Utah and places much larger than us," Aaron says. "So what … we have to offer that they don't is what it ultimately comes down to."

What they offer is a solid product, Aaron says, noting Q's redesigned Website and new editor, Seth Bracken. The problem is that lost ad revenue can't support the new product.

In a grow-or-die situation, Aaron says the paper is hiring new sales staff, focusing more content for a younger demographic and calling on readers' help through its Qvangelist page—a Facebook page enlisting readers to tell advertisers about stories they read in Q and encouraging readers to talk about the publication and comment on the online articles.

"We think that will show our advertisers that they are getting some bang for their buck," Aaron says.

Aaron says that at the beginning of this year, they had hoped revenue would support their new growth, but by August, he realized Q was in trouble

after having lost advertising from nonprofit arts organizations, a major chunk of its revenue.
As recently as 2010, an average edition of the paper would include as many as five full-page ads for plays, opera productions and other artistic venues, Aaron says. But with nonprofits losing access to grants and public funding, those ads have diminished.

The Qvangelist program is one he hopes will give advertisers some sense of the community served by Q. He says the paper is currently coding a program that will track mentions of Q on Facebook so it can award points to Qvangelists who post and comment on Q stories and give prizes to its top online advocates.

Along with the Q Website and online LGBT-friendly business directory PinqPages.com, Q also plans to launch GaySaltLake.com, a gay nightlife calendar.

"I'm crossing fingers that this does work," Aaron says.

Aaron is not the only one with fingers crossed. LGBT advocates, like Equality Utah Director Brandie Balken, worry that no one else could fill Q's place in giving a direct voice to the LGBT community. She says the paper has "created a venue for specific news, community events and personal narratives for our community. I think the loss of that paper would be huge for us," Balken says.

It was Q that recently broke the story of the alleged hate crime committed against Dane Hall, a gay man assaulted outside of a Salt Lake City club in a brutal attack where four assailants hurled homophobic slurs at Hall before beating him and placing his open mouth on a curb, then "curb checking" him by stomping on the back of his head.

It was a story the local media failed to pick up on and that Aaron says was only uncovered after editor Bracken tracked Hall down and worked for three days to convince Hall to come forward with his story.

"We actually found him. He didn't come to us," Aaron says. "[Hall] is a very shy guy, he doesn't like the spotlight." Since then, Aaron says, Q followed up on the story and has been fielding new stories of unreported possible hate crimes.

Aaron points out that the paper also serves his community's diverse interests that would lack a platform without Q, including monthly columns on LGBT health issues and listings for gay square-dance clubs.

But beyond that, the LGBT-rights movement would lose a voice without Q.

"Salt Lake City is kind of an epicenter for the gay-rights movement," Aaron says. He had been involved in the early 2000s with a small publication dedicated to Utah's gay social scene. When the Legislature moved to pass Amendment 3 to the Utah Constitution, defining marriage as strictly between a man and a woman, Aaron decided the LGBT community needed to speak up and launched Q's first incarnation, Salt Lake Metro, in April 2004.

"Our very first issue, we printed the center spread as 'No on 3' that people could put up in their windows," Aaron says.

Aaron has seen hard times before. In 2006, when Metro was rebranded as Q, he says the paper was a lean 28 pages with a circulation of 4,500. Throughout 2006 and most of 2007, the paper's office was Aaron's home. Since then, however, the paper has averaged 40- 48-page editions with a circulation of 10,000. And the nine-person staff operates out of a Sugar House office instead of Aaron's home.

If Aaron's Plan B does not pan out, he says the publication would even consider making the move to becoming a nonprofit publication—giving the paper the ability to fundraise and accept private donations.

That's one model that University of Utah communication professor James Fisher says has worked well for publications like Salt Lake City's West View, a paper that changed into a nonprofit several years ago. Fisher also agrees that reaching out to readers to create a buzz is
smart marketing, and on top of that, he sees Q's niche status as an asset to build on.
"If you look at big publications—traditional magazines and newspapers—they're suffering like crazy because they don't have a niche," Fisher says. "They're trying to be all things to all people and that's way too costly."

Aaron is hopeful that Q will keep producing crucial news to the LGBT community so long as the community in turn spreads the news about Q. He just needs time to get the paper back on its feet.

"I did go out and get us a loan to last us for the next little while," Aaron says. "But I don't even know what that 'little while' is going to end up looking like."