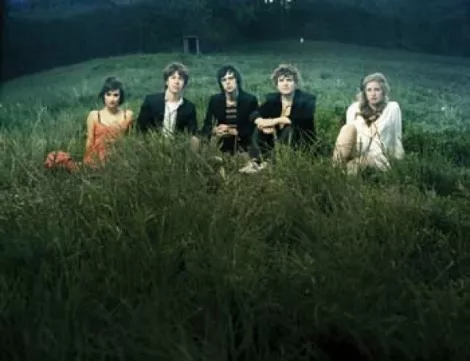 "If you build it, they will come," said an elusory voice to farmer Ray Kinsella (Kevin Costner) in his Iowa cornfield during the 1989 classic baseball flick Field of Dreams. After some consideration, Kinsella turned his land into a baseball field to be filled with the ghostly apparitions of baseball past. He does what every man wishes he could do: fully follow his passion.
Kinsella plowed his cash crop; Wes Miles and company built The Orchard. Although the actions are essentially opposites—minus food references—the Ra Ra Riot frontman got that same invigorating sense of freedom. "I can imagine always having the feeling I do now, which is excitement to redefine and reshape the music I make," he says.
He and the other four band members came together during college in 2008 in Syracuse, N.Y., via guitarist Milo Bonacci's mutual acquantences. Within a year, they released their debut, The Rhumb Line, and soon began touring with the likes of Bow Wow Wow and Someone Still Loves You Boris Yeltsin. Soon after came their excellent, expressionistic second full-length, The Orchard, which has set them on a major-league indie-pop run.
But for Miles, music isn't the only way he gets his swings in: He's a sports junkie. "I'd say it's more of a release for me. Any time touring or music gets overwhelming, it's nice to have some other dimension of your life that you can feel the full range of emotions from," he says.
The love of the game spills over into band territory, as well. Over the course of the summer and fall tours, Ra Ra Riot's Twitter followers have had the chance to win spots on the band's guest list for many gigs by answering obscure baseball and hockey trivia questions. On the band's Tumblr site, Miles drops commentary on this or that sports triviality and talks about old obsessions, like collecting baseball cards.
"I actually liked collecting cards more than watching the sports, I think. Although 'hoarding' might be a more appropriate word, since I really didn't know anything about it and didn't really trade cards, either," Miles says.
Luckily, he's grown out of that hoarding phase—at least musically. The Orchard hit a home run with indie-rock fans and critics alike. Its rich instrumentation—fueled by cellist Alexandra Lawn and violinist Rebecca Zeller—and melodic bass lines made a perfect backdrop for Miles' cunning lyricism.
The man is savvy with the pen. In fact, beyond writing songs, he says that he will soon be contributing to the blog AlonOnSports.tumblr.com from time to time "about [New Jersey] Devils' news, contract snafus, other punditry, etc."
"Actually, I've sort of had a sports renaissance in my life in the last few years. I'm definitely not interested in the critical parts of sports writing, but, as an enthusiast, writing satisfies some sort of void between games without reading too many paranoid comment sections on other blogs," Miles says.
On Dec. 11, 2010, Miles merged his two loves when he sang the national anthem prior to a hockey game between the Detroit Red Wings and the New Jersey Devils. He wrote on the blog that singing in front of his hero, goalie Marty Brodeur, was surreal.
He's an open book when writing about the major-league sports, but he's much more secretive about what's in store for the band. It's been more than a year since The Orchard was released, and Miles wouldn't dish out on anything, really, regarding the band's third release or any new musical directions.
"There's not much to say other than we are getting started pretty soon, and I'm super excited about where we're headed," he says. Answers to other questions, like who might replace current touring drummer, Kenny Barnard, were also vague.
For now, Miles and company remain content to tour the land and tout NHL banter via social networking. Crunch time will come, as it always does, but with the pressure lessened for their third album—versus the impending questions of a sophomore effort after a stellar debut—the band can hopefully hone their craft. And, who knows, maybe a divine voice will whisper in Miles' ear, allowing a new fruitful divergence.
RA RA RIOT
w/ Delicate Steve, Yellow Ostrich
The Urban Lounge
241 S. 500 East
Monday, Nov. 14, 9 p.m.
$15