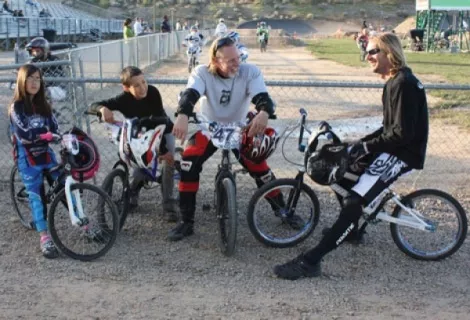 There aren't many places where you can push yourself to your limits, test your daring, find out how out of shape you are and ride your bike, all at the same time. Salt Lake County Parks & Rec facility Rad Canyon in West Jordan is one.
Before you laugh at the idea of taking your off-road bike to a BMX track, open your mind and consider it. Maybe your idea of BMX is Dew Tour-type jumps into the sky, or young punks in skate parks. Wrong. It's an actual dirt track that you can pedal at your own pace, taking it as easy as you wish. You'll be riding with well-mannered adults and polite hotshots—even 4-year-olds.
Why should you think about doing this? Simply, because it's fun. Once you get the hang of it, you'll understand why BMX is the fastest-growing sport in America. Another good reason: A two-hour practice at Rad Canyon costs just $3, cheaper and more fun than a movie. Practice sessions are from 6:20 to 8:30 p.m. on Tuesdays, Wednesdays and Thursdays, with a fourth session Sunday from 11 a.m. to 2 p.m. Thursday is the big day: race night. You can show up just to practice; you don't have to race, but nearly everyone else will. There may be hundreds of racers in "motos"—or laps—grouped by age and experience (novice, intermediate and expert). The atmosphere is relaxed and encouraging.
At a Rad Canyon practice session, you'll ride or push your bike up the ramp to the starting gate. After some experience, you'll be able to balance against the gate with your feet on the pedals and your front wheel pressed on the metal gate. There are eight starting lanes where riders line up for each "moto" around the track. When the "cadence" (starting call) is given, the gate falls flat. You ride about 30 feet down a wide cement start to the dirt of the track.
The hard-packed dirt track is studded with various sized bumps that you take at whatever speed you dare. There are three big turns, each paved with asphalt. The area of track between each turn is called a "straight." There's a grassy area between the second and third straight where you can pull off the track and rest if you wish. When you're ready, go back up and do another moto.
About half the riders at each practice session are families. Dave Cote, 43, comes to each of the four weekly sessions with his 12-year-old son Tyler and 9-year-old daughter Lauren. Mom works at the registration booth and finish line. Cote says, "It's something we can do together, it's a family activity. We root for each other, we practice together, we go home and talk about it."
Cote is one of the faster riders, part of a growing group of BMX racers called "Crazy Old Guys." He loves the sport. "It's very competitive but very laid back, a great combination. You race against your friends and go out for pizza afterward."
You might not think that a BMX practice session makes for a great date night, but a lot of couples do. In fact, Rad Canyon is where John Alvey, 38, met and proposed to his wife Krystal, 28, back in 2007. Since then, both have improved enough to win their division in the state championships.
The small BMX bikes are not the only two-wheelers that ride the track. There are a lot of "cruisers," larger bikes, and even mountain bikes.
The coolest thing is that you can grab your bike and go to the track without having to make a major excursion up to the mountain trails. The friendly atmosphere is another plus. And if the dirt bumps seem daunting, Cote has some advice: "The most important thing is just to relax, don't tense up. And ask for advice, anyone here will help you."
Just one warning: You'll quickly find the sport can be addicting.
RAD CANYON
Approximately 5200 West 9800 South
West Jordan
801-699-9575
Race nights every Thursday
6-9 p.m.
Through September
RadCanyonBMX.com