Page 2 of 3
"There just wasn't a good relationship between [Feulner] and KUER, and so the rest of KCPW was kind of associated with that," operations manager Ellis said. "They actually had a meeting with [KUER]—we're working with each other, we communicate more, we figure out when we're going to be doing pledge drives and whether we're going to be doing them at the same time or different times."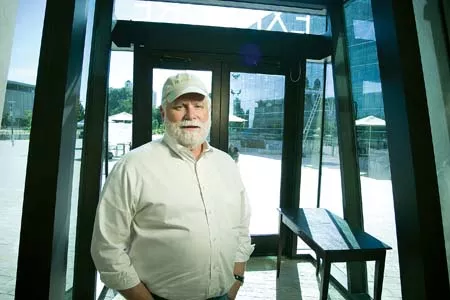 Wasatch Public Media CEO and owner Ed Sweeney said although both KCPW and KUER air NPR's All Things Considered and Morning Edition, they aren't broadcast at the same time, and each station carries other NPR programming its competitor does not. Sweeney was general manager of KCPW until June of 2008, when he started the nonprofit Wasatch Public Media and had 60 days to raise $600,000 in listener contributions and secure a bank loan, making up the station's total $2.4 million purchase price. The accomplishment was unique in that a capital fund-raising campaign of that magnitude would typically be spaced out over at least a couple of years, Sweeney said.
Sweeney is leery of discussing the station's relationship with Feulner, just as Feulner won't talk about Sweeney. "That's like talking about an old girlfriend," Sweeney said. "It'll just open up old wounds."

But Ellis said Feulner was not well-liked around KCPW, and he often sent board member Joe Wrona to deliver news to the station because Feulner was "never a good people person."

"Whenever he came around it was like, 'Oh, God, the boss man's here,'" Ellis said. "He kind of came with a dark cloud every time." Feulner said since he was bouncing so much between KCPW and KPCW trying to save the Salt Lake City station during the last two years, perhaps some people on the operations side of KCPW felt neglected.

Quoting figures from Arbitron Inc.'s radio ratings service, Sweeney said KCPW's listenership has increased since the station changed hands— from 27,800 weekly in the summer Wasatch Public Media first bought it to 61,300 weekly in January 2009. But after a reporter, Faroe Robinson, recently was let go, KCPW's staff was stretched too thin to continue producing its only live local show, Politics Up Close, which went on hiatus June 5 and won't return until October. When it becomes financially feasible, KCPW hopes to bring back the public-service hour it used to air and move its satellite dish from Park City to Salt Lake City, Sweeney said.

Feulner said it would be unfair for him to judge how KCPW and KPCW are doing since he let go of the reins. But, the stations will succeed, he said, as long as they adhere to the mission statement that guided KPCW from Day 1: provide a quality source of local news that holds public officials accountable. Feulner said he isn't sure if the stations are doing that.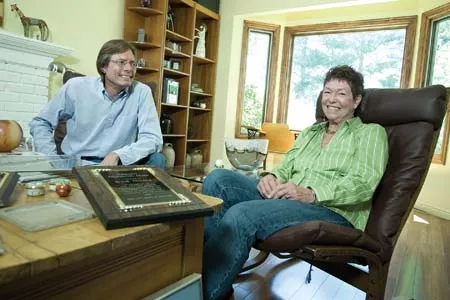 Park City's KPCW has seen its share of changes since Feulner's resignation in July 2008. In September of 2007, he began training the station's new general manager, Tina Quayle, to ensure the station kept the same programming, fund-raising strategies, and general operations he and Susan Feulner had developed over the years. No major changes were made, Quayle said—until her ouster in December 2008, though she wouldn't detail what the changes were.
In a move that might signal a new direction for the station, the board replaced Quayle, whose background is in nonprofit work, with former CBS division president Jonathan Klein, whose 31-year career has been spent in broadcasting.
Unlike Feulner, Klein is not an on-air personality— news director Leslie Thatcher fills that role and is a "worthy successor" to Feulner, KPCW reporter Rick Brough said. Yet, to many in Park City, Feulner is synonymous with KPCW—"the voice of community radio" there, as Park City Mayor Dana Williams put it.

"He's one of the best interviewers in the nation, period," Park City public affairs director Myles Rademan said. "If you watch television or you listen to NPR—there's no one better than him in terms of knowing the issues and getting hardhitting interviews with people."
Feulner was notoriously tough on interviewees, according to Rademan, Williams, and former KPCW host and program director Don Gomes. Public officials knew they wouldn't be able to hoodwink Feulner, who often had a better grasp of the issues than they did—for a couple of years Utah Sen. Orrin Hatch wouldn't call KPCW back for an interview. During the annual Sundance Film Festival, preening actors and directors sometimes got taken down a peg, Gomes said.

"When somebody came in and left after an interview, the main thing is they felt like, 'Well, I didn't just have to mail it in; I was there and really had to hold myself accountable,'" Gomes said.

Being on the air and reporting news was always the point, Feulner said, and that's what he wanted to get back to focusing on when he proposed the change in his contract to the board last year. His drive to create local- and national-news programming was the reason Feulner left commercial radio and started the station after the FCC changed regulations, requiring less news on commercial radio, he said.