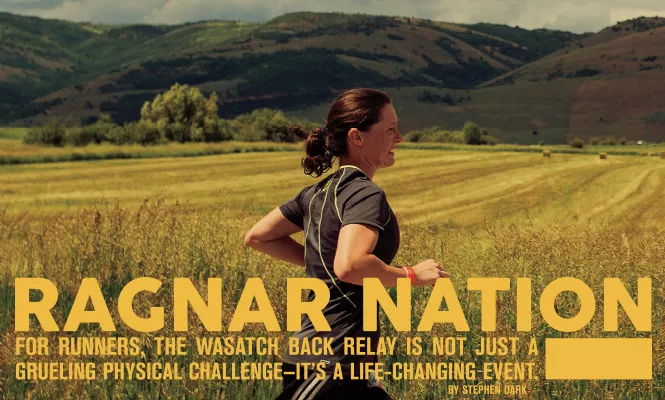 Ask a Utah runner if they have a "Ragnar story," and chances are, they'll share a rite-of-passage tale involving the nationally popular endurance relay race. They will wax lyrical about the drama and the hilarity of being one of six members of a team crammed into a stale-sweat-drenched van. Or they'll enthuse over the challenges and rewards of running a particular leg—one of three—within a 30-hour time-frame with little sleep, hygiene and good food.
But no one among the thousands who gathered to run the original Ragnar Relay, the Wasatch Back, on June 18, 2010, had quite the same story as Melinda Kunz.
Kunz's husband Jeremy had decided to run the 2009 relay after he saw Ragnar runners coming to his hometown of Kamas. Melinda wasn't convinced. "No way," she remembers thinking. "Running three times in 24 hours? That's insane."
He organized a 12-person team to fill the two vans that would leapfrog each other along the course from Logan to Park City. He called the team the Wannabees—as in, "I wanna be running"—and filled it with family and friends.
Melinda was as enamored by the experience as her husband. "It was kind of like a party with a little bit of running in between," she says. Inspired, they signed up for Ragnar's late-2009 Las Vegas run. Run both races, and you earn the "Saints & Sinners" medal.
Jeremy was waiting to give water to a teammate on a Nevada street in October 2009 when a drunken driver hit and killed him. Melinda couldn't get past the police barricade to see her husband's body. She and her relatives were "falling apart on the side of the road," she says.
Melinda decided to run the Wasatch Back in her husband's memory. That first run after his death was particularly difficult when it came to the late-night leg, which took her through her hometown. As she ran to the outskirts of Kamas, she was greeted by glow sticks placed every 100 yards, marking the path. They were laid out to form messages: the word 'love,' the symbol of a heart. When she slapped the bracelet baton over the wrist of the waiting member of her team, her three children were waiting for her, holding up signs that said "Run, Mom, run," and "Way to go, Mom." Tears streaming down her face, Melinda fell into her children's embrace.
Melinda's father-in-law, Bart Kunz becomes emotional as he talks about how Ragnar's founders Dan Hill and Tanner Bell visited with the family in the days after the tragedy. "We are a Ragnar family, and they are our family," he says.
When Bart Kunz sees a stranger wearing Ragnar merchandise with its logo of a stylized Viking helmet, he feels "an immediate connection with someone who has done, in a lot of cases, something that was very hard for them," he says. "They trained, they sacrificed, they've gone without sleep—and in some cases, they've done Ragnar without having been a runner at all."
That sense of family, of being Ragnarian, part of the self-styled Ragnar Nation, is a sentiment that many Ragnar veterans express—bonding born of forced intimacy that comes when six people share a small van for 24 hours or more. From the pun-festooned team names to the outlandish costumes some runners wear, Ragnar's co-founder Tanner Bell says the race he first debuted in 2004 with 264 runners is an opportunity to "let your inner wild out."
This year, 950 teams comprising more than 11,000 runners will run the Wasatch Back June 19-20. Each participant has paid $140 for the privilege. "It's considered one of the hardest Ragnar races ... because of the elevation," says Utah Film Center executive Mariah Mellus, who has run nine Ragnar races. "It's the crown jewel; it's the first and the hardest."
Mellus says she started Ragnar to stretch herself athletically. "I was not a runner four years ago," she says. "I wanted to be with my friends, to see if I could do it." But then, her involvement became more personal. "Now I do it because it's a tradition. Once girls have been on this Ragnar, they're friends for life."
SANCTUARY
Ragnar comprises a series of long-distance relay races—and is also the organization, whose roots and ownership are distinctly Utahn, under whose aegis those races operate.
In the booming world of long-distance and endurance running, Ragnar Events LLC has become a dominant player. Owned 75 percent by venture-capital firm Dolphin Capital, Ragnar has propelled itself across the United States in just 11 years to control around 80 percent of the relay-race market. Other relay-race owners say Ragnar, for good or bad, has become the byword for relays—so much so that many entrants think the Utah-based business created the concept. A combination of astute marketing, merchandising and social-media prowess has powered Ragnar to the point that, in 2012, a Fortune.com writer estimated annual revenues to be $10 million to $15 million. Ragnar's Bell would only say Dolphin provides "not only financial support, but also invaluable mentoring."
For participants, the money and behind-the-scenes corporate power-plays set within the highly competitive world of running-event management are beside the point. It's all about the experience.
Mellus recalls her biggest Ragnar challenge was her first night run, which took place in the wild country outside Primm, Nevada. "Why did I sign up for this?" she asked herself, exhausted and a little scared, as she ran through coyote country under the light of a full moon. But when she encountered another runner, they decided to run together—and that companionship between two runners transformed a spooky experience into one of Mellus' most memorable legs. "My Ragnar story is about pushing myself to these extremes but allowing people to support me," Mellus says.
Annie Macdonald's office wall boasts dozens of oversize medals she earned in Ragnar Relays and other running events throughout Utah and the United States. In mid-May, on a rain-drenched Saturday, Macdonald marked her 40th birthday with a 40-mile run [see "A Run for Her Life," p. 17]. In many ways, that run echoes the Ragnar relay concept that social running is a journey through the prism of both landscape and relationships. Indeed, Macdonald ran a self-designed course through the story of her life, beginning where she grew up in Magna and ending in Farmington, where she lives now.
Like Ragnar, Macdonald says, that almost 12-hour run—and sometimes walk—"was not a race, it's about the experience, it's a journey. It's about your teammates, who you're with." On her birthday run, friends and family accompanied her every step of the way. "Running for me is my sanctuary," she says, echoing the passion many runners feel. "It's the time I can pray, I can cry, I can be angry, I can run it out and just enjoy this beautiful world."
ALONE IN THE NIGHT
A Ragnar relay, Ragnar's Bell says, is akin to a hero's journey: By the time you've finished it, you've changed.
Co-founders Dan Hill and Bell were introduced to the concept of relay races as wild parties by Hill's father, Steve. He rhapsodized about running the Oregon monster-relay race "Hood to Coast." Hill and Bell, Brigham Young University business graduates, decided to emulate that race in Utah. While the race is named the Wasatch Back, the name they eventually chose for their grand relay race and their company came from a friend Steve had known in younger days—"a rough, tough, burly" type, Bell recalls. Ragnar is also the name of a ninth-century Norse hero, "a wanderer, a conqueror"—which, Bell says, fits the ethos of the race.
Utah, he continues, "was a prime place to incubate this idea, then take it nationally," where it has had "very significant success." LDS networks, he adds, "helped us grow outside of Utah."
Like most running events, for-profit enterprise Ragnar includes a charity component. Bell estimates, for example, the Wasatch Back's charitable impact alone at $150,000 to $200,000 annually, with the money going to communities along the races' routes, he says.
The Wasatch Back starts in Logan and then stretches through small towns like Huntsville, Eden, Liberty and Paradise. "It is some of the most beautiful countryside you've ever seen," says Macdonald. It's also a complex, logistical nightmare: 50-plus permits have to be pulled, from 30 cities, five counties and three jurisdictions.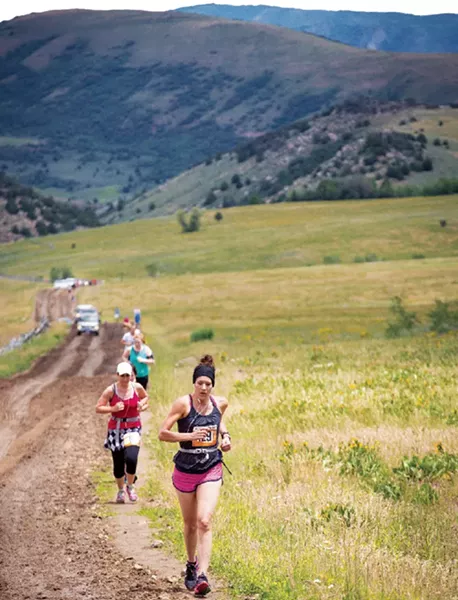 "We definitely say at Ragnar that the magic we think happens in the van," Bell says. Those 24-plus hours of enforced cohabitation encourage bonding, he says, to the point, many say that you emerge either lifelong friends—or you never want to talk to them again. "The stories, the memories, the insider jokes, the stink and sweat. No sane person would do this, yet, by the end, you want to do it again," Bell says.
While Mellus loves the female-bonding in her van, that submarine-like intimacy can work against you if there's a personality conflict. She recalls one dictatorial woman teammate who "pushed everyone beyond their breaking point."
Life in the van can quickly become a question of bodily functions. Along with negotiating the rising tide of body odor in the van, there's a mildly scatological aspect to Ragnar, which Mellus notes doesn't only relate to the portable toilets that dot the route every five miles. Long-distance runners live in fear of an involuntary defecation known as a "shart"—an unpleasant combination of bodily functions that can leave indelicate stains on the back of your pants.
As much as Ragnar is about van-time, it's also about the challenge of running seven or 10 miles, even when exhausted. Ragnarians get a faraway look in their eyes when they talk about running the second night leg of an event, typically alone, under the stars, their footfall in time with their heartbeat, as the cool, crisp air fills their lungs.
The night run is so solitary, Bell says, it makes that leg a very personal journey. He recalls running in the Catskill Mountains. "I hit this runner's high under the night sky. You're pushing yourself to get through that wall [of pain], and then you get this flood of endorphins and you feel like you can go for another 50 miles. Right there, you feel like you can conquer the world."
TRIBAL MARKINGS
Run a marathon, and people cheer you on even though they don't know your story, Mellus says. Ragnar is different: People check on you, encourage you, and they want to hear your stories when you get in the van. Ragnarians, she says, feel like "warriors out there." For her artist-husband, an unrepentant non-runner, the gathering together of so many "shiny, happy people"—as she self-mockingly terms them—"feels more like a cult."
Rather than boosting a counterculture the way Burning Man does, Bell says, his nationwide 15-event series is "like a microcosm of a culture we already have. It pulls you out of your normal everyday life—puts you in a situation where you have to do your part, pull your weight, to accomplish something."
Bell says that the pride of being part of the "Ragnar Tribe" has led to several hundred runners nationwide getting Ragnar tattoos. Ragnar stickers are a common sight on many vehicles in the streets of Salt Lake City—which is not surprising, given that 200,000 Utahns have run at least one Ragnar event.
Still, the thought of people tattooing themselves, Bell says, "stresses me out a lot. That's a lot of responsibility, something permanent on the body. I want to do right by them. I'm never going to change the logo, that's for sure."
Salt Lake City yoga teacher Scott Moore ran the Zion trail race in May. "People want to belong to a tribe, to identify with it," he says. With Ragnar, "you create your tribe, your team." That's what keeps people doing the event year after year, he says. As with much of contemporary fitness-franchise marketing, "They don't have to convince you to come on your own anymore," he says. "It's the network marketing Mormons are so famously known for."
RITE OF PASSAGE
Runners are "a unique breed," Bell says. "They tend to shun commercialism. They crave uniqueness and authenticity, and infusing a local feel into it." That's the key challenge that Bell says he faces: Namely, sharing Ragnar with as large an audience as possible while retaining the distinct flavor that defines it.
Yoga teacher Moore expresses ambivalence about Ragnar. On one hand, he admires its ability to "get people off their ass" to exercise. He also acknowledges how effective its branding has been. In the same way that Harley-Davidson's customers went from "big, tough dudes riding bikes to fat-cat business dudes," Ragnar has brought marketing and swag to the ultra-athlete culture—and, Moore adds, "It's not the worst thing to buy into."
On the other hand, Moore says, "As with too many people doing anything, it becomes such a melee of people and organization." His memory of running the Ragnar trail race in Zion National Park recently is "dust, dirt and hordes of people. I didn't know quite where to go, what to do. It was a little chaotic, in my opinion."
Ragnar set up trail runs a few years ago to diversify from relay races. It has conducted several on the edge of Zion National Park, only to be plagued by bad weather.
Moore characterizes Ragnar as "Mormon moms doing a race together," in contrast to the "gnarly runners doing things like the Wasatch 100." (The Wasatch 100 is an annual 100-mile run from Brigham City to Soldier Hollow, which enshrines a Spartan culture.) "No one is walking around with a '100' tattoo on their back," Moore says dryly.
Long-distance runner Pete Stoughton runs 300 days a year. He did Wasatch Back once, he says, and was unimpressed. He describes it, not unkindly, as "kind of the Saturday Night Live of running," nevertheless acknowledging its role in introducing many thousands to the sport. His Ragnar story involved repeatedly wishing he was running the entire race rather than legs at a faster pace. He felt like a caged animal in the van, and when he did get to run, he'd jump back into the vehicle only to struggle with leg cramps. "I'd rather be out on the trail looking at the views, rather than exhaust pipes."
In contrast to Ragnar, Stoughton prefers trail runs. Some of his most treasured runs are called "bandit runs" (not to be confused with "bandit runners," who jump in on organized runs without paying fees). A bandit run provides a sense of a rite of passage for some trail runners, a validation that you are truly a local. "A lot of them tend to have elements of suffering, at least on the trails," he says. "You go 20 miles, 25 miles without support. If there is a guy, he's got a 2-gallon jug of water and tells you, 'Good job,' as you pass by."
With neither insurance nor registration, the course is passed friend-to-friend via word of mouth. Even such an underground approach to running has experienced rising popularity. When Stoughton first took part after moving to Utah in 2006, he says, there were 20 entrants. Now, he puts the number at 150-200.
A NEW CHALLENGE
For the first time in its 11-year history, Ragnar is changing the Wasatch Back route—in part, to accommodate the relay's extraordinary growth. Instead of finishing at Park City High School (which does not allow for celebratory beers), the 2015 Wasatch Back will end at Soldier Hollow, near Midway.
This year is also the year Bell was supposed to run the Wasatch Back for the first time. The course, which started Ragnar's rise to the top of the endurance relay-race circuit feels like "my second home," he says. But he's never run it himself: In the early years, he was too busy organizing it and, in later years, it didn't coincide with his schedule. However, a recent injury means that, once more, he will miss running the race on which he has built his relay empire.
His "home" has a new challenge: the Ragnar Leg, the toughest single run of the relay. Originally about 7 miles up a steep dirt road (paved two years ago), in 2015, it has become a 2,608-foot ascent over 10 miles, winding up from Park City and over Guardsman Pass to the new finish line at Soldier Hollow in Midway.
Bell stands on the top of Guardsman Pass, facing Midway, with Park City behind him. Memories of countless runners who, often as not, walked up the steep slope still give him chills. "It's a pretty mean leg, man. It's amazing people do it. They love us, and they hate us for it."
The Kunzes' Wannabes are still the No. 1 team in a list of 950 that will run the route June 19-20. Bell promised the Kunzes that, to honor Jeremy, they would retain that placing as long as they want. Melinda is excited to see how the new course "plays out." She says, when she gets to the finish line and watches other people come through, "You see it on their faces: They are proud of themselves. They had to train a long time, and they finally did it."
A RUN FOR HER LIFE
Eighteen months after Annie Macdonald buried her 5-year-old daughter in late 2003 in the Farmington cemetery, a woman approached her at her LDS ward and asked her if she wanted to join her and some friends in a run. Annie had long relied on solitary running as a physical, emotional, psychological and spiritual outlet. It had also aided her in processing a terrible accident in 1999, when her toddler daughter Kailee got caught in a tree swing and nearly hanged herself. Until her death four years later, Kailee was severely disabled.
Annie joined the group as they ran through leafy Farmington, up past Lagoon amusement park and into the surrounding hills, where they could look down at the animal enclosures and rides. "I remember at the end of it thinking, 'This is home, this is good,'" she says. Running was "the breaking point," she says, in dealing with her grief. She resolved to live life to the fullest and honor her daughter's memory.
Several of the women asked her if she wanted to do the Wasatch Back relay with them. Two of them were the mother and wife of Tanner Bell, co-founder of the Ragnar Relay Series. "Doing my first Ragnar was so inspirational and made me feel like I could do anything," Annie says.
Fast-forward nine years through a multitude of Ragnar relays, and Annie decided to embark on a unique running adventure. One rain-swept Saturday morning in mid-May, 2015, she gathered with family and friends in the small, picturesque Pleasant Green cemetery overlooking Magna and the Salt Lake Valley, where her ancestors are buried—including descendents of the first Italians to convert to Mormonism in the 1850s.
Cheers erupted as Annie—her thick, black, long wavy hair pulled up in a pony tail—set off with her sister Reese Pahl and several relatives to run one mile in the Salt Lake Valley for each year of her life.
She and Pahl grew up on a 110-acre farm, back when Magna and the surrounding area were predominantly rural. Their marathon-runner parents routinely signed up their six children for half-marathons—Annie loved it, but her sister, Pahl, hated it. As she left home, she says, she vowed never to run again.
They ran down the middle of 3500 South, which in the pre-dawn hours, was all but empty of traffic. Their route took them past the house of their 90-year-old grandmother, who awaited them on her covered porch to cheer them on in the rain. Pahl thought about how, when her grandmother was in labor back in the 1940s, 3500 South had been a dirt track and she had to be transported to the hospital in a sleigh.
Annie and her small entourage turned left onto 5600 West, passing a fast-food restaurant where she had her first job at age 14.
Along 5600 West, what had once been their playground of farms, barns and fields, was now home to WalMart, Del Taco and Discount Tire. As they ran, the darkness turned the darkest shade of blue, before the sun rose, barely peeking through the rain clouds.
Annie collects objects on her runs. She picked up a small ceramic heart, scratched and broken, along with beaten and marked pennies. When she stopped to pick up a Barbie doll's leg, Pahl had enough of her younger sister's ways. "Don't," she snapped.
They crossed 2100 South, soaked to the bone. Shortly after, Annie's husband of one year, Brad, joined them. Brad is a fellow runner, although without Annie's love of the sport. They turned off 5600 West, going up 700 South towards Redwood Road and met one of Annie's friends, who had run 10 miles from Bingham High School, to symbolically connect her to her old school days. On the corner of Redwood Road and 400 South, they shot off a confetti cannon to mark the encounter.
Puzzled passersby called out, "What are you doing?"
Rain-drenched blankets were stretched out on the Interstate 15 underpass, their owners panhandling at the intersection below. "Can you imagine having to sleep on concrete?" Brad said to his wife.
A homeless man called out to them, "You guys are wack-wack."
They ran past the Copper Onion—the restaurant where Annie and Brad had their first date—turned up 200 East to 100 South, then turned left. Annie glanced to her right; she had chosen this part of the route because, for four years, she and Kailee had travelled that street three or four times every week on their way to Primary Children's Hospital, before Kailee's respiratory system began to shut down.
When the accident occurred, Kailee had been playing with her cousins on the swing in Pahl's garden. Pahl went inside to answer the phone. Annie never blamed Pahl for what happened—and Pahl, like her sister, had found in running a way of processing her feelings. "It was a super-hard time for me," Pahl says. "I felt like I was the one who ended her life." The sisters grew closer through running together.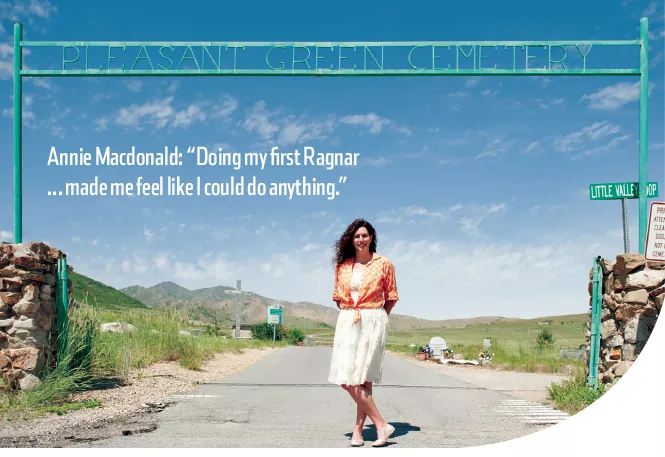 Pahl thought it irreverent to their Mormon faith to run up Main Street through Temple Square, but followed her sister. Annie had been excommunicated in her early 20s because, after her first divorce, she had had sex outside of marriage. That expulsion—and her daughter's horrific accident—left Annie angry at both her God and her church. To be re-baptized required a genuine commitment on her part, but first she had to find out if she actually wanted to remain in the LDS Church. "I'm going to dig to find out if I believe this," she said.
She gave up running during her first marriage, but in the years following her daughter's accident, she returned to it with a vengeance. "I had nights on my runs—I was screaming, swearing at God, I was absolutely angry," she says.
But, after reconciling herself with God, she regained her church membership.
Annie and Pahl ran up Capitol Hill, where they were met by their youngest sister, bringing them PB&J sandwiches. Annie pointed out an apartment near the Capitol where she once lived, then set out on a four-mile trail run close to Ensign Peak. It was like a secret trail, Annie thought, as she ascended almost up into the clouds. "It was away from everything. The clouds felt like we were alone, out there by ourselves."
Annie knew that the Davis County section of her run would be emotional. As they ran down into Bountiful, Pahl told her she couldn't go on. The rain and the cold had gotten into her bones to the point she couldn't pull her gloves off. The sisters hugged and parted, Pahl having accompanied Annie farther than anyone else on her run.
Annie was joined by a married couple of runner-friends who wore costumes in tribute to her love of costumed running: He wore a buffalo hat and brightly colored socks; and she, a boa, cat-hat and tutu.
Annie ran by the home where she cared for Kailee in the last years before her death. The group fell silent as she pointed out her daughter's bedroom window. They ran past the LDS ward house where Kailee's funeral was held. Annie recalled that 350 people attended the funeral, showing that, even though her daughter had been unable to communicate after the accident, she had touched many lives.
The last leg of Annie's "sentimental journey" was from Kailee's grave to her home, a distance of 2 1/2 miles. A running friend unaware of Annie's journey pulled up and jumped out of her car to join the swelling ranks of supporters, accompanying her in high heels. Whether in relays, alone on the street or on a life-affirming run, "That's what you love about it, the camaraderie," Annie says. "That's why you do it."
It was 11 hours since Annie had left the cemetery. She and a group of a dozen other runners climbed a gentle hill to witness, just over the crest, a crowd awaiting them outside her home.
Tanner Bell's wife Kristen screamed, "You did it!" as 40 well-wishers each presented a stunned Annie with a red rose. Brad took a homemade, hand-carved wooden medal from around his neck and placed it over his wife's head: "Annie Macdonald," it read, "40 miles, 40 years."