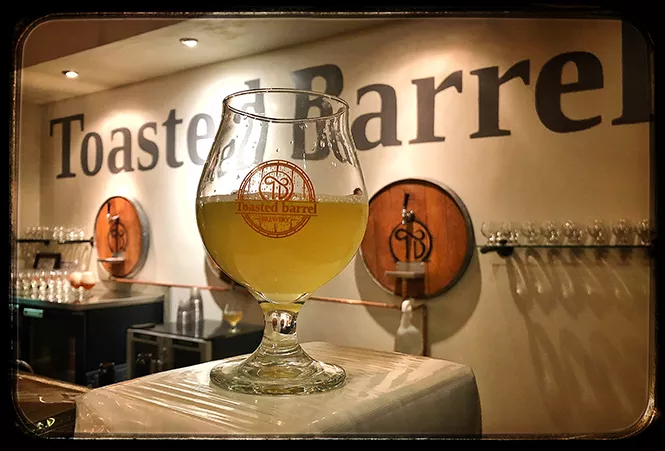 The edict, "The King is dead, long live the King!" simultaneously announces the death of the previous monarch and salutes the new one. For our purpose: We acknowledge Saltfire Brewing Co.'s brief five-week reign as Utah's new brewery, even as we welcome the state's new newness, Toasted Barrel Brewery. Toasted Barrel was founded by homebrewers Sage Dawson and Lynn Litchfield as a brewery dedicated to sour beers. Proper barrel-aged sour beers can take quite a while to mature (up to a year), so while those beers are napping in oak barrels, Dawson and Lichfield offer more traditional ales.
Four Saisons: This beer has a hazy yellow grass color. The aroma brings out earthy and spicy yeast, along with some hints of grainy and caramel malts. Once in your mouth, the flavors turn maltier, with notes of caramel and graham cracker. From here, the yeast phenolics come into play, a bit more subdued than it is in the nose. The end is slightly earthy with a low dose of bitterness and a semi-dry finish.
Overall: This 4-percent beer is rather malty for the style, but has nice aromas and flavors of earthy yeast that will appeal to people who are not typically huge saison fans or those looking to get acquainted with this style.
Weisse Man: Pouring a dark straw to light orange, the nose consists of apple, pear and a good dose of tart lemon, but the taste is even more sour than the aroma lets on. There are some unripened berries, prune and a moderate lemony zap. Some hint of wheat bread crust is also present. Toward the end, you get other sour notes that are akin to green apple peel, as it finishes dry and puckering. The mouth feel is fine and a lot smoother than I would have expected, considering the high pH levels.
Overall: There are plenty of Berliner weisses out there right now, but this one has an advantage of having a nice yet barely perceivable fruitiness. It's worth checking out, for sure.
Cantaloupe Sour: It pours a nice maize color with some faint orange highlights. The aroma has pleasant green melon, moist bread and apple cider notes, but the melon really sets it apart. The taste starts with cantaloupe—fruity and fresh, with background nuances of tart apple cider. Soft wheat notes come in next, with a soft, spicy lemon peel and orange touch rounding out the back end. It's much less tart than its aforementioned brother.
Overall: It might sound gimmicky, but they managed to really pull this one off. The fruity, fresh and wet cantaloupe combines nicely with the tart base. Definitely worth your quatloos!
Belgian Dubbel: This offering is dark brown with ruby highlights. It smells like dark fruit, with lots of candied sugar, yeast and solid spice characteristics. The flavors are fruitier than the nose lets on, including some figs and raisins, but they have a distinct spice to them that is almost holiday-like. The yeast and caramel malt backbone pull it all together. It's moderately sweet, but the bitterness from some hops keeps it balanced.
Overall: This 7-percent ale is malty and spicy with complex phenolic yeast qualities.
Toasted Barrel is currently classified as a tasting room and not a bar. That means you are only allowed to have up to 16 ounces per person per day. Their sampler flights, however, seem to cover this restriction nicely. Dawson and Litchfield are waiting for a proper bar license, and 22-ounce bottles of Toasted Barrel beers are also available to go from the brewery's bottle shop. Welcome to the craft-beer community, and cheers!