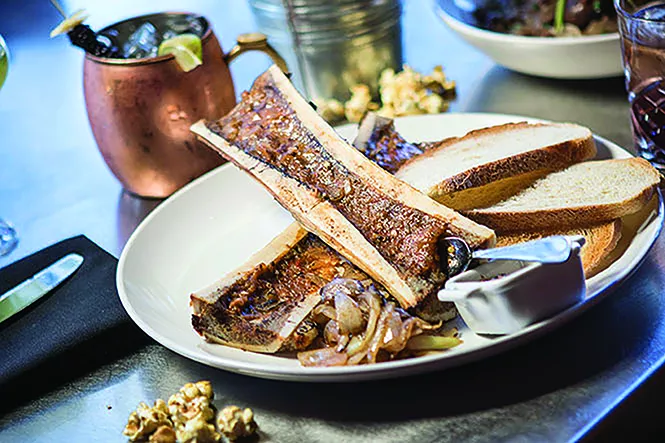 There was a time not all that long ago when bar snacks usually consisted of items such as stale pretzels, pickled eggs and Corn Nuts. The most one could hope for was greasy chicken wings or soggy fish and chips. But I'm happy to report that those days are long gone, my friend. With very little effort, you can now feast like a gourmand and enjoy your favorite craft cocktail, to boot. I've previously sung the praises of the top-flight crew of bartenders at Water Witch (163 W. 900 South, SLC, 801-462-0967, waterwitchbar.com), along with their Caputo's-curated bar bites. Here are a few more watering holes that are steadily raising the bar, food-wise.
Since BTG Wine Bar (63 W. 100 South, SLC, 801-359-2814, btgwinebar.com) is adjacent to Caffè Molise and shares the same owner and kitchen, the food there is anything but routine. A range of bruschettas and antipasti are certainly tempting, but don't pass up BTG's extraordinary eggplant meatballs ($4.95) bathed in a silky tomato and shallot cream sauce.
With bar manager extraordinaire Amy Eldredge at the helm of Under Current (279 S. 300 East, SLC, 801-574-2556, undercurrentbar.com), this bar's libations are second to none. But, that's also true of the "Food-Bites," which range from fresh oysters on the half-shell ($2.75 each) and a killer lobster roll slider with brown butter aioli ($12), to the seafood lover's Fruits de Mer platter brimming with oysters, shrimp, ceviche and lobster ($51).
Ogden's Title 32B Lounge at Hearth on 25th (195 25th St., Ogden, 801-399-0088, hearth25.com) is rightly known for its craft ice program and distinctive cocktails like the Giggle Water, a festive and fizzy libation of Banfi Rosa Regale sparkling rosé with crème de cassis, black currant shrub and rock sugar. For my money, the down-to-earth wood-oven-roasted bone marrow ($15) is pretty much the ultimate bar bite. Ditto the crazy-good coconut-curry popcorn ($5).
Whiskey Street (323 S. Main, SLC, 801-433-1371, whiskeystreet.com) might be well known as one of SLC's most hip urban bars, but it ought to be equally known for its kitchen. Chef Matt Crandall's talents take bar snacks to new levels with options like pork belly corn dogs ($14), short rib polenta poutine ($14), hazelnut-dusted calamari with chipotle aioli ($11) and the unforgettable deviled eggs seasoned with minced chives, pickled mustard seed, bourbon-smoked paprika, pimento cheese and double-smoked bacon ($8).
In Park City, the Boneyard Saloon & Wine Dive (1251 Kearns Blvd., Park City, 435-649-0911, boneyardsaloon.com) is a sort of adult theme park where the Hunter S. Thompson quote, "Too much is never enough," applies. Leave your inhibitions at home. I might have dissed pretzels earlier, but the Amish Friendship Pretzel with sweet country mustard and housemade pickles ($8) here is a whole other story. The wagyu beef sliders ($15) with fig compote, cambozola, bibb lettuce and—say it with me—bacon aioli are stupendous.
At Sundance Resort's Owl Bar (8841 N. Alpine Loop Road, Sundance, 801-223-4222, sundanceresort.com), the classic beef chili ($9) is a dependable winter warmer when bellied up to the antique rosewood bar and listening to the live music lineup. But we need our veggies, too, right? Thankfully, we can convince ourselves that the fried Brussels sprouts with tamari glaze, white balsamic vinegar and roasted peanuts ($10) is healthy, just like the fried pickles with chipotle aioli ($7).
Top-notch mixologists and specialty cocktails—such as the Gossip Girl, Slow Ferrari and Wrought Iron—seduce visitors at Copper Common (111 E. 300 South, SLC, 801-355-0543, coppercommon.com), but so does the elevated bar food. How many bars do you know that offer beet salad with feta, pumpkin seeds and sherry-shallot vinaigrette ($8)? Or, for something a little more decadent, pig lovers will exalt in the housemade chicharrons ($4) with spicy mayo and the pork belly steam buns with herb salad ($8).
With live music, karaoke, cheap drinks, friendly staff and rockin' barbecue, Moab's Blu Bar (811 S. Main, Moab, 435-259-3333, blupigbbq.com) is easy to love. Order up a $5 Moscow mule or a $7 Long Island iced tea and enjoy jumbo smoked chicken wings for a mere 50 cents each. The crispy battered green beans with ancho-chile mayo ($8.95) are yummy, as is the pulled pork burger ($11.95), a half-pound beef burger topped with house-smoked pulled pork and slaw.
The speakeasy vibe of underground Bourbon House (19 E. 200 South, SLC, 801-746-1005, bourbonhouseslc.com) makes it feel like you're in on a secret. Well, here's another secret: The food menu has been rethought and reworked and now ranges from small plates like deviled eggs ($5) and truffled popcorn ($3) with Pecorino Romano, to flatbread pizzas, sandwiches and full meals such as roasted chicken ($14), shrimp and grits ($15) and carnitas tacos ($14). Oh, yes, there's bourbon here, too.
First of all, there's much more to Beer Bar (161 E. 200 South, SLC, 801-355-3618, beerbarslc.com) than just beer. The conjoined Bar X offers also a vast selection of wine, cocktails and spirits (how many taphouses also serve both green and yellow Chartreuse?), plus food from purveyors like Vosen's Bakery, Salt & Smoke Meats and Eva's Bakery. The focal point here is the artisan sausages made by meat master Frody Volgger in flavors like Mediterranean turkey, buffalo chipotle, elk bratwurst, picante Italian, curry bratwurst and others. Add gourmet dipping sauces like sambal aioli, tzatziki and curry-ketchup, plus outstanding Belgian-style frites, and you've got the bodacious Beer Bar.
Do you have a favorite bar bite? Share it with us!