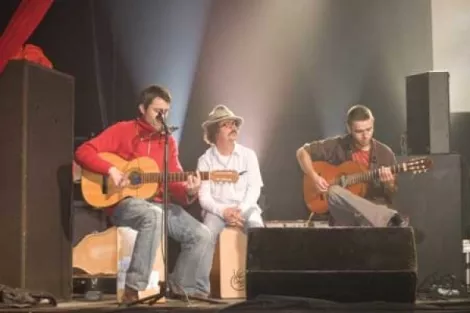 A song is like a recipe. The right combination of ingredients in just the right amounts is what it takes to make something that really pleases the senses, whether auditory or gustatory. The local "gypsy-jazz" band Rakatanga is like a great plate of food in several ways, but on the "ingredients" side—aka their lineup—they do a lot with a little, minimal even by the standards of acoustic music.
Ukrainian-born guitarist Orest Nakonechny met Scotty Hacker, the band's former percussionist, in 2007. Hacker introduced Nakonechny to Mark Warren, and they started playing music together. Most of the time after the group formed, they played without a bass player, but, just over a year ago, Jon Bean—known for years in the local music scene for punk bands like Erosion—joined. In this scenario, he plays acoustic bass, but he plays it with all the gusto of a rock & roller.
Rather than drums, the final member of the band, Jonathan Meyer, beats out a rhythm on the cajón, a Spanish instrument fashioned simply from a wooden crate about the size of a small chair. It was originally a South American slave instrument, Nakonechny says, since the slaves weren't allowed to play instruments. The Spanish later incorporated it in flamenco music, and it's been used by jazz musicians, too. The Intermountain Acoustic Music Association doesn't allow drums at its concerts, but the cajón is considered "percussion," so the group was allowed to play an IAMA show Nov. 4 at South Valley Unitarian Universalist Society with longtime local folk stalwarts Maggie Beers and Julie Marks. Nakonechny admits that they are working with a limited sonic palette. "We have to fine-tune; we are reinventing the wheel," he says.
Bean adds, "Each composition determines the style of playing," and it's a surprisingly rich and diverse spectrum of sound that they draw from. That's partly because of their multicultural influence—Nakonechny's Eastern European idioms and Warren's Spanish verve. With two nylon-string guitars, the cajón and an upright bass, in addition to Warren's vocals, Nakonechny has to sometimes adapt Eastern European themes and motifs from a musical dialect in which the guitar isn't prevalent.
He tends to start writing instrumental songs, and then Warren starts singing to them. "I've seen Orest kicking Mark," laughs Bean. "That's what you have to do sometimes to get a song written!" By trade, Nakonechny is a maker of fine violins, and occasionally a classical passage sometimes enters their music, if only momentarily.
The group recorded a demo in 2010 at Lucas Jones' 161 Records studio. They are talking about maybe releasing a CD soon and have more material now to do so. "Winter might be conducive," Nakonechny notes, as there are fewer outdoor gigs. In 2010, they played at the EarthWell Festival at Kimball Junction in Park City, and KRCL's Hidden Hollow concert series. They have also played The Garage, a more rough-and-tumble venue, demonstrating how well their "gypsy-jazz" sound travels.
"When you play acoustic instruments, there's a mobility to it, a freedom," Bean says. Swing jazz, Latin music, flamenco and folk all work their way into this mix, but the patron saint of Rakatanga is probably jazz guitarist Django Reinhardt. The band also manages to add a bit of the blues with a Robert Johnson cover.
A lot of bands foster a celebratory atmosphere, but how many actually cook while they play? During the summer, Rakatanga is known for playing backyard paella parties, the centerpiece of which is the Spanish dish combining rice, shrimp and vegetables, cooked in gigantic pans. You can find a video on YouTube of them playing and cooking the dish. Nakonechny jokes, "We use a lot of wine when we make paella, but none of it gets in the pan."