Recently, I had the opportunity—well, the privilege, really—of sipping some of California's best wines over lunch at the Alta Club with winemaker David Ramey of Ramey Wine Cellars. If you're much of a wine geek, you're probably familiar with Ramey. He's a wine pioneer who has influenced many other winemakers and has helped raise the bar for American-made wines.
Before founding Ramey Wine Cellars in 1996, Ramey did a stint working at France's venerable Chateau Pétrus, learning about terroir and lessons in winemaking that he would bring back to California, where he helped establish wineries with names like Chalk Hill, Dominus Estate, Rudd Estate and Matanzas Creek. It's hard to recall, but Ramey says that when he first went to work with Chalk Hall, the product was "supermarket wine" selling for around $6-$7 per bottle. He completely turned that winery around, and Ramey's stamp is still found on Chalk Hill Wines.
"I love the scrum," says Ramey, as he discussed "the intersection of art and commerce" that is winemaking. Over the course of a truly delicious lunch, presided over by Alta Club food & beverage director Lori Walls, Ramey talked about his wines and winemaking in as clear and cohesive a manner as I've ever heard. Throughout the meal, he threw out a few bombshells that would border on enological blasphemy. "I don't care about aromas," he boldly stated. He simply doesn't care what wines smell like; he cares a lot about what they taste like. So, when you sniff his phenomenal Hyde Vineyard Chardonnay ($60.99)—one of the highest-rated wines he's made, according to Wine Spectator—you might think: There's not much happening here. But, swish it around in your mouth and it'll rock your world.
Generally, I prefer Ramey's white wines to his Bordeaux-style reds, although they are quite good, too. He's unapologetic about the fact that he makes California Chardonnay. In fact, a wine-geek friend of mine said, "If you write that his Chardonnays are Burgundian in style, I'll punch you."
"Chardonnay is the red wine of whites," says Ramey. It's something that had never quite dawned on me before, but he's right. Just as he says, "Pinot Noir is the white wine of reds," what he's getting at is that in body and texture, there's not a huge gap between Pinot and Chardonnay. Ramey makes Chardonnay that, while bold, is balanced. There's no doubt that his are California Chardonnays with a capital C, but his method of picking grapes at the last possible moment and using winemaking methods that he says his former college professors at UC Davis would consider "risky at best," results in stunning wines that are made to last. He says that his 2002 Hyde Vineyard Chardonnay is drinking superbly today.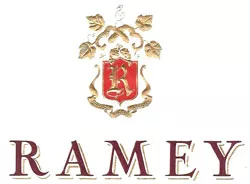 Asked why he chooses to make Cabernet Sauvignon in Napa versus Sonoma, Ramey says "Napa Cabernet has bass notes; Sonoma Cab has treble notes. People like bass notes." Tasting his Cabernet Sauvignon Pedregal Vineyard 2007 ($151), from Oakville, the base notes are certainly there: beautiful, deep cherry, blackberry and coffee flavors are complimented by hints of vanilla from a judicious use of oak. This is a positively gorgeous wine, one that Robert Parker rated 96 .

Although Ramey's methods certainly influence the outcome of his wines, he believes in "letting nature make the wine." And so, he picks grapes when they're ripe and ready, and isn't concerned about alcohol levels, letting the grapes and nature determine that.

We're fortunate to have a good range of Ramey wines available here in Utah. Try some. You won't be disappointed.