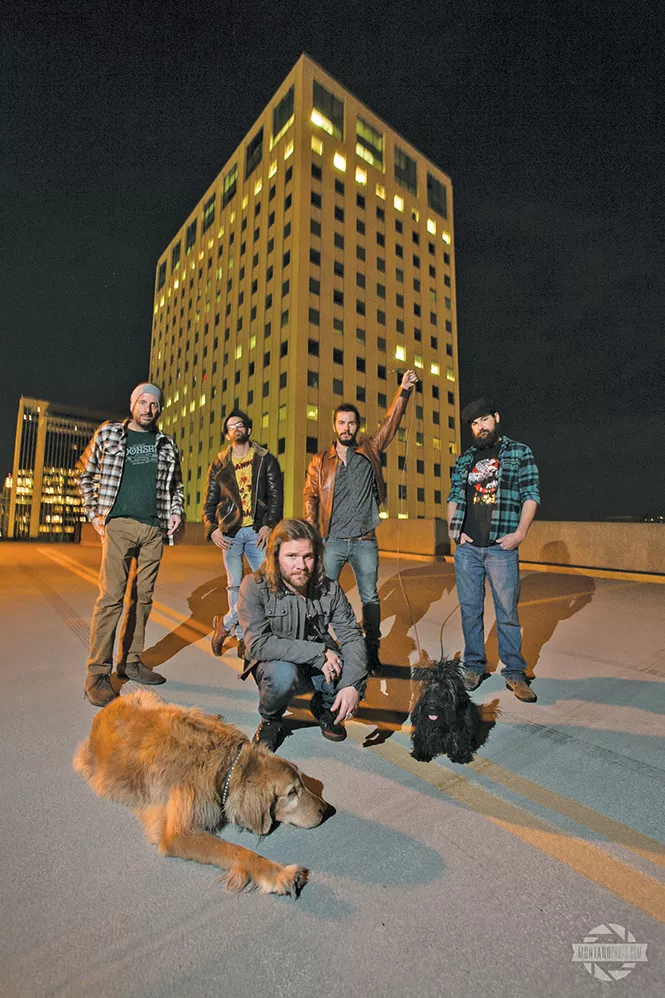 "Whiskey," from the Samuel Smith Band's 2011 EP, starts with a fat kick drum and a simple, dirty blues riff echoed down low by the bass, and another guitar harmonizing in spots before it hits a fat groove, a nasty, burning slide guitar lick and gritty-reedy-raspy vocals. In a word, it's raw. Much like Samuel Smith himself, who walks into Patrick's Pub and immediately orders two shots (whiskey, natch) and a beer.
Two minutes later at a corner table, Smith's giving unfiltered candor. He's the 35-year-old home-schooled son of an opera singer and multi-instrumental savant; he married right after returning from a mission in Latvia in order to escape his parents' house, subsequently found drugs, divorced at 23 and is now in recovery. "I was incredibly unhappy," he says, citing the cognitive dissonance of a faithless Temple marriage. "Drugs were my answer, and I went really hard until I checked into rehab at 113 pounds." His fighting weight is 155.
Smith says he's stabilized. "Fuck AA meetings, right?" He wasn't about to surrender to a higher power while declaring himself powerless, "but I knew the value of being in a safe environment and having some kind of regimen." Gesturing to the glass vessels before him, he says it's only booze and weed now. "To me, this is recovery. The Buds 'n' Suds Program."
Smith found fellowship at Acoustic Music, whose staffers were his pseudo-sponsors and taught him some guitar chords. Music helped him get out of his head and stay safe. He quickly amassed a body of rootsy rock songs, but performing them for anyone meant being vulnerable, and Smith was already raw: "You go through a two-year heroin phase and ... It's more than a hangover, dude."
He decided to hit the streets; "I thought, 'It's 2 o'clock in the afternoon. I'm gonna smoke a bowl and walk downtown and play for the homeless people.'" Eventually he waltzed into Bluekats Coffee & Junk Food, asking the barista to turn down the music so he could play a few songs. Afterward, a stranger told Smith, "You've got to keep doing this."
Venturing into the SLC music scene, Smith hit open mics, befriending Tony Holiday and Jordan Young, and knocking people out with his striking, vivid songs. When Smith met Dustin Swan, Joey Davis and Ren Pankovich, they formed the Samuel Smith Band, becoming a popular draw around town with a reputation for rollicking shows and unrefined but intimate songs. In 2013, they broke up because, Smith says, "I'm a fuckin' dick."
For two years, the SSB played only occasional events as Smith toyed with not being a musician. But he kept writing, which is his compulsion. He reveals a cyst on the back of his hand—a consequence of his relentless pen. "I grip really tight and I push really hard," he says. Since someone had to play all those songs, he's back with two bands and two new albums.
Pigeon, a five-piece folk-Americana band, is dropping Shame and Regret, recorded mostly live in the studio and produced by Jay William Henderson. The band provides a simple, more stripped-down context—authentic Americana for Smith's real, raw songs. The other project is the reunited Samuel Smith Band, who recorded their self-titled new joint comprised of "all fucking interesting songs" with Terrance DH at Counterpoint Studios, who'll release it via his Mid Jet label. This weekend, the bands play a two-night stand: a funk night with Talia Keys on Friday, and a blues/Americana night with Candy's River House on Saturday. Both feature a slew of other local music all-stars.
Two nights after the interview, Smith calls, happy and drunk, to report spending the day practicing SSB songs alone to "make sure my shit's together," doing bean counting for the Pigeon record and then rehearsing with the SSB. "I am proud of that record," Smith says of Pigeon, adding he shed tears of joy in the studio. As for the SSB rehearsal, "It was like riding a fuckin' bicycle," he cackles. "Fuck, yeah."