If you're still in search of holiday gifts for wine enthusiasts or even enological wannabes, I have recommendations. I recently read three very good books about wine, all from the same publisher: Sterling Epicure.
Oz Clarke has been writing about wine and educating drinkers for decades. Now, he's written what is probably his most approachable book, Let Me Tell You About Wine: A Beginner's Guide to Understanding and Enjoying Wine. In this fine book, nicely laid out and illustrated with photos, maps and lots of helpful tips, Clarke addresses three main topics: "The Flavors of Wine," "Enjoying Wine" and "The World of Wine."
In the section "The Flavors of Wine," Clarke does a nice job of explaining what we taste and smell in wine and the differences between various wine types and grape varietals. There's a nifty chart briefly dealing with each style of wine—from juicy, fruity reds and gutsy rosés to ripe, toasty whites and tangy, fortified wines. "Enjoying Wine" deals with how to taste, serve and store wines, how to order in a restaurant, food and wine matching, wine and health, and more. In part three, "The World of Wine," he discusses some of the world's most significant wine regions and their wines. Happily, Clarke manages to do all this in a very accessible, straightforward but entertaining manner. This isn't just a great book for wine rookies but also a nice refresher for those who've had experience with vino.
Kevin Zraly's The Ultimate Wine Companion is a compilation of writings from the likes of Robert Parker, Kermit Lynch, Lettie Teague, Hugh Johnson, Jancis Robinson, Gary Vaynerchuk, Jay McInerney, Francis Ford Coppola and many more. Topics run the gamut from a serious introduction to "Bordeaux" (Michael Broadbent) and the helpful "Creating Pairings that Work" (Evan Goldstein) to a rib-tickling essay by Calvin Trillin ("The Red and the White") and provocative thoughts on organic winemaking from Gerald Asher. This isn't a book you sit down to read from cover to cover but, rather, one you imbibe in a little at a time—sip by sip.

To me, the best book of this bunch is Matt Kramer on Wine. It's a collection of columns, essays and observations from the man the publisher calls "America's most original and lucid wine writer." It says so right on the cover—and I can't argue with that description. One of the first, and still best, wine books I ever read was Kramer's Making Sense of Italian Wine.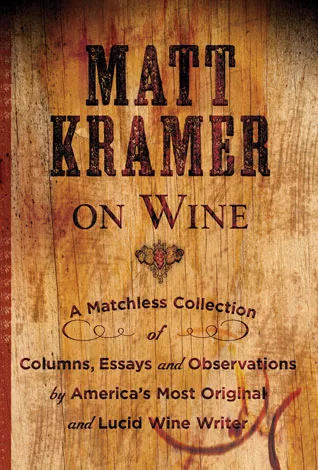 I especially like Kramer's irreverence and willingness to tip over sacred wine cows. Hitting close to home, in "Do Taste Buds Make the Wine Critic?" he questions the authenticity of so-called wine "supertasters," and in a chapter called "Wine Hokum" he skewers the movie Mondovino, calling it "pure agitprop" and "a willfully deceitful piece of antiglobalist propaganda of the heavy-handed sort unseen since Greenpeace started filming the bludgeoning of baby seals." Whew! You might not agree with everything Kramer has to say, but you'll sure enjoy reading him.

In "How do They Live with Themselves?" Matt Kramer bites the hands that feed him as he questions an industry—the wine industry—that knowingly sells defective products in the form of corked wines. "Every winery that uses corks knows full well that somewhere between 3 percent and 5 percent of everything they send out the door is defective," Kramer writes, and poses the question: "If you knew that 3 percent to 5 percent of everything you sell is defective—could you look at yourself in the mirror and whistle a happy tune?" It's great stuff, from one of the best wine thinkers around.%uFFFD