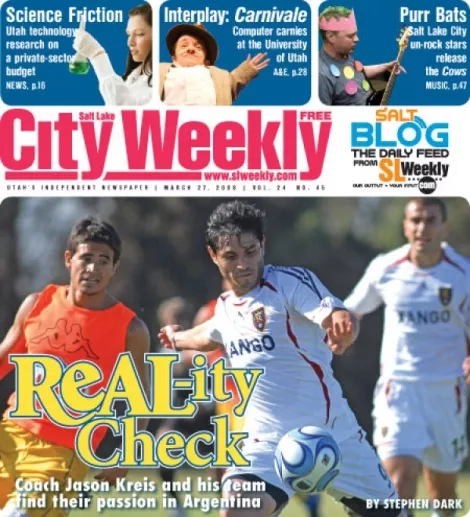 Rosario, Argentina: a mid-March morning, 2008.
In the distance, they resemble a line of straggling school children. They are hefting metal folding chairs across the dew-drenched grass of Argentine soccer team Rosario Central's training camp, Palos Verdes.
As they get closer to the pine-tree lined pitch, their black trousers, white shirts and clip-on name tags clearly identify who they are: Missionaries from The Church of Jesus Christ of the Latter-day Saints working in the Argentine port town, Rosario, who have come to support Salt Lake City's soccer team, Real Salt Lake.
The Utah team is on a 14-day tour of friendly matches against Rosario's top soccer teams. After Argentine capital Buenos Aires, home to legendary soccer teams like Boca Juniors and River Plate, Rosario is Argentina's most important concentration of soccer talent.
Of the 40 young elders and 20 sisters, some are from Orem and Murray, while others are natives of Uruguay and Argentina. In total, 190 "young warriors" as the LDS mission president, a lawyer from Salt Lake City, calls his charges, cover the province.
One young elder confesses to not liking soccer until he came to Argentina. "Here, if you don't like football, it's like not liking asados [Argentine barbecue]," he says, a pamphlet promoting familias para siempre (families are forever) jutting out of his back pocket.
Another missionary, Elder Hyams, had attended all the Real matches for their first year and a half until leaving on his mission. He was unaware until now that former RSL captain Jason Kreis replaced head coach John Ellinger in May 2007 but was not surprised. "You get used to losing," he says.
Kreis agrees. "Losing got accepted for three years,¨ he says, in his typically taciturn, tight-lipped way. Since 2005, RSL won just 21 of 94 games, never once making it to the playoffs. The fans, Kreis adds, deserve better. That's a point RSL fan club Rogue Cavalier Brigade member, Donk, the RSL malcontent, does not dispute. He recently asked in his blog, "Will fans keep coming back to see a team that sucks?"
How long owner Dave Checketts' patience with losing will last is another unpredictable factor—especially given that, according to RSL's staff, he's lost $2.5 million to $5 million per year on the team.
After much wrangling, criticism and political bad blood, construction is underway on RSL's $110 million stadium in Sandy. Fans can only wonder, given RSL's traumatic history so far, will there even be a team to take possession of it by the time it opens in the fall?
For a man in an ever-tightening vice grip, Kreis seems remarkably calm. On one hand, he is trying to forge a new team out of the wealth of players he has plucked from soccer leagues in Argentina, Germany, Columbia, Scotland, MLS, and universities, some only within the last few weeks. On the other, he knows the countdown to the fourth season opener at Chicago Fire on March 29 at the Rice Eccles stadium is approaching lift off. When you factor in that Kreis has no coaching experience and is building a new team from scratch, the picture only gets more complex.
Perhaps some of 35-year-old Kreis' calm comes from knowing the fate of his team rests on decisions he makes. He is motivated by the low expectations others may have of him. At the press conference in May 2007 announcing RSL owner Dave Checketts' decision to dump Ellinger as head coach for Kreis, Kreis described himself as "5 foot 7 on a good hair day." He all but jeered at the press conference: "You don't believe in this decision, then get in line. There's soon going to be a lot of you, and I will in the end thank you for that." A painfully shy man, according to both Kreis and his wife, Kim, he nevertheless draws his deepest motivation from proving people wrong in this most public of arenas.
"The best way to right this ship was to do it myself," Kreis decided when Checketts offered him Ellinger's job. A key part of the ballast he's using is foreign talent, notably from Argentina, from where he's imported defender Matias Mantilla, midfielders Matias Cordoba and Javier Morales, and forward Fabian Espindola. Cordoba joined the team barely a month ago. Since RSL can't afford first-division European players, Kreis says, the favorable exchange rate on Argentine pesos makes players from that country attractive.
Then there's a similarity in playing style. United States and Argentine teams, Kreis says, both play tough, physical games, at a fast pace, with a lot of defensive pressure. "We chose to come to Rosario in large part because of the Argentine players," Kreis says. "So they could show their teammates their lives, take the guys to steak restaurants, show them the sights."
In this exercise in team-building that Tony Robbins would no doubt endorse, taking the non-Latino players out of their geographical and linguistic comfort zone and seeing how the team knits together seems a logical way to try and build morale, create relationships. It's the games that are the true testing ground, though, no more so than the final tour match against Rosario Central.
The LDS elders and sisters boisterously cheer the first half against Rosario that sees the two sides largely equal. In the jittery beginning, Real gives away a free kick. Shortly after, RSL midfielder Kyle Beckerman drives a strong shot at the Rosario goal just passing outside the right post. Beckerman, Carey Talley, Morales and veteran Andy Williams have periods of dominating the midfield, pressuring Rosario's defense. Rosario presses back hard, but by half time, there are no goals.
Some of the missionaries want players like Andy Williams to sign their Book of Mormon. Others decide they will offer their ties. The Latin American-born Mormons comment on how the United States' side wears shin guards. The macho Argentines do not. For the RSL fans, the quality of their team's performance is encouraging. "They look good out there," one of them says.
Follow Kreis and his team around Rosario during the second week of their tour and it's clear the coach is searching for more than goal-scoring ability. He's trying to inject a European/Latin American style into his team: low ball passes, well-crafted attacks coordinated by midfield nexuses like the dreadlocked Kyle Beckerman and Javier Morales. Kreis seeks, finally, a team of fighters and scrappers whose collective heart beats with a will as defiant as his own.
To understand what that heart might be, you need only look at the hard-fighting history of the man who is, Frankenstein-like, trying to bring it to life. The game against Rosario Central was his last chance in Argentina to see if he had succeeded.