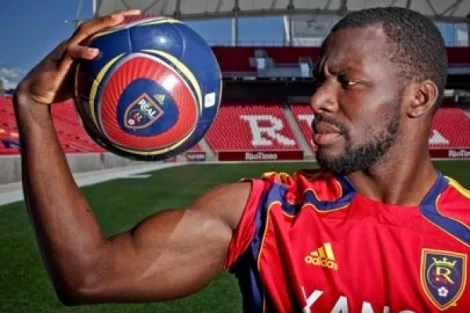 In late 2008, Real Salt Lake flew Jean-Marc Alexandre and his father to Utah to check out the stadium and the team. Alexandre was fielding offers from several teams, but when he and his father toured the stadium, Alexandre's father Jean "fell in love with the place," his son recalls. "He made the choice for me."

That's perhaps not surprising, given that his father "is living his dream through me." For while his father had earned respect in Haiti playing soccer "at the highest level," Alexandre says, it was never professionally. Indeed, in order for Alexandre to realize his dreams of becoming a professional soccer player, his father had to relinquish his own ambitions.
Click here to read this week's cover story about Real Salt Lake and the struggles for local undocumented soccer players

Jean-Marc Alexandre grew up in rural poverty in Haitian village Verrettes. If he wanted hot water, he had to go down to the river, collect the water, carry it back and heat it at home. Soccer fields didn't exist, but rather stony patches of grass, he recalls, "that weren't kid-friendly." Not that he was expected to play soccer as a child, since for several years he had to wear leg braces—"like in Forrest Gump"—because his knees turned inwards and his lower legs out. "I did back flips in them," he says.

His father worked for an American-funded development project, advising nearby mountain dwellers on finding work in towns without being scammed. When Alexandre was 4, gangs made death threats against those involved with the project. His father fled to the United States, sending them pictures of a world Alexandre came to think of as a faraway "promised land." He also sent his son a soccer ball, making him "one of the few kids in my neighborhood with a ball." There were no youth soccer clubs in Haiti, leaving Alexandre and his friends to play in the street. When his team was losing, he'd pick up the ball and throw it in the opposing team's net. Since he was the ball's owner, "they had to accept it," he says with a laugh.

Alexandre's mother took him and his three siblings to visit their father in Florida. An astonished Alexandre saw "how well the streets were paved, the buildings, the lights. I felt like I was in a magical land." His mother sent the four children back to Haiti to live with an uncle, while she stayed on with her husband. With no phones in Verrettes, Alexandre's parents recorded tapes and their children crowded around a tape recorder and listened to their parents individually greet them.

When Alexandre was 9, the children moved to the United States. He graduated from high school and was the first Haitian, he says, to play soccer at Lynn University in Baton Raton, Fla., as well as the first in his family to go to college. At graduation, his father told him that when he fled to the United States, he had had the opportunity to start college himself and begin a new career. But that would have meant abandoning his family in Haiti. "He chose to work in the cotton fields and support us," Alexandre says. Recognizing that his sacrifice had been worth it, his father burst into tears.

If it hadn't been for his father providing his family with the opportunity to live in the United States, Alexandre says his future in Haiti would not have been bright. He and his father started up a soccer academy in 2004 in Verrettes, he says, buying the basics such as shoes, socks and balls for children to play in his hometown.

Alexandre signed with Real in January 2009 and scored his first goal for the team on June 24, 2011, against Vancouver Whitecaps. As his teammates hugged him, he was nevertheless in shock. He thought, "Oh my god, did I just score?" The first person he called was his father, but at first he didn't pick up. "I was worried he'd had a heart attack," his son says.

In early July Alexandre's long journey from Verrettes to professional soccer player took another step when he became an American citizen. "I'm as American as it gets," he says. "This is where I became a man. This is home for me."