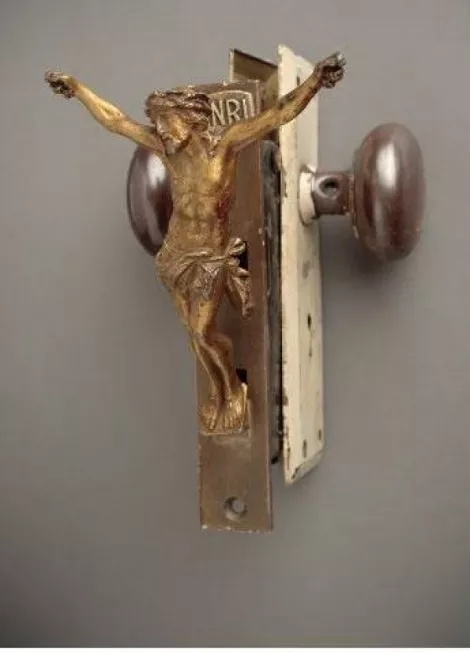 Frank McEntire has long been a major figure on the Utah art scene, not only for his inventive and sometimes controversial mixedmedia works but also his leadership as former director of the Utah Arts Council and as arts critic for The Salt Lake Tribune. His new show Reappropriated Passion is the only group of works he's assembled dealing directly with his Mormon faith.

But the word "reappropriated" is curious in connection with Jesus as the central figure of Mormonism and all Christian faith. The sense of passion or religious salvation lost is nothing new, but "appropriated" in postmodern art has the dubious connotation of a kind of borrowing of material that can be highly subversive. In McEntire's case, it's an ingenious juxtaposition of unlikely materials, like a golden figurine of Christ mounted on a wool-carding tool, a World War II code machine, a doorknob or even a rodent trap ("Ascending Passage I" is pictured above). The lack of an interpretive key to McEntire's code makes his intentions obscure, and something like a doorknob could be accorded a symbolic weight.

Artists of the LDS faith don't have an iconography in the same way that Catholics and other mainstream Christians do—at least not the same way, with hierarchies of saints and other liturgical figures. But there is Jesus himself, looking as inscrutable as ever. And in McEntyre's pieces, you could make the case that depicting the sacred among the mundane is an act of faith in art and devotion living in the real world.

Reappropriated Passion @ Harris Fine Art Center, Brigham Young University, 801-378- 4322, Through July 15