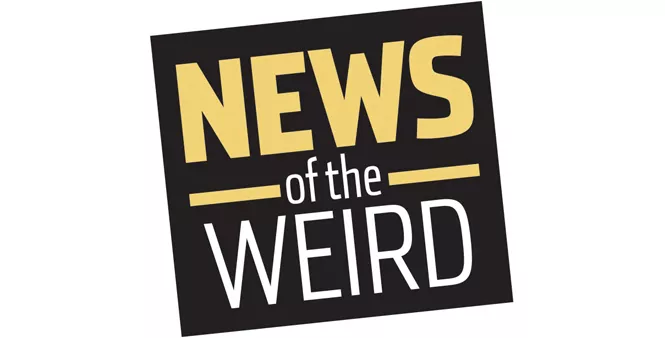 Recent Alarming Headline
Infamous South Beach street artist Jonathan Crenshaw, 46, attracts a lot of attention in Miami among tourists, who watch him paint on a canvas—using his feet. Crenshaw does not have arms and is homeless. Profiled in a local newspaper in 2011, Crenshaw told of a difficult childhood (he also claimed Gloria Estefan had given birth to 200 of his children). He landed in the headlines again after stabbing a Chicago man with a pair of scissors on July 10. According to the Miami Herald, Cesar Coronado, 22, told police he had approached Crenshaw to ask for directions, when Crenshaw jumped up and, using his feet, stabbed Coronado. Crenshaw's story is that as he lay on the pavement, Coronado punched him in the head—so he stabbed him, tucked the scissors into his waistband and walked away. Police found Crenshaw, who has a lengthy record, nearby and arrested him.
Bold Move
Faith Pugh of Memphis, Tenn., had a date to remember on July 14 with Kelton Griffin. Her casual acquaintance from high school "just out of the blue texted me and asked me to go out," Pugh told WREG-TV. They took her car and stopped at a gas station, where Griffin asked Pugh to go inside and buy him a cigar. But while she was inside, "He drove off. I came outside and my car was gone," Pugh said. Shortly, Pugh received a text from her godsister, telling her Griffin had just asked her out on a date. He picked up the godsister in Pugh's car and headed to a drive-in movie. "He didn't even have any money," Pugh said. "She actually paid their way to get in the drive-in just so I could get my car back." Pugh alerted the police to the car's location, and they arrested Griffin for theft of property. "I hope he's in jail for a long time," Pugh said.
Mystery Solved
On Jan. 25, 71-year-old Alan J. Abrahamson of Palm Beach Gardens, Fla., went for his regular pre-dawn walk to Starbucks. What happened on the way stumped police investigators until March, reported The Washington Post, and on July 13 they made their findings public. Images from a surveillance camera show Abrahamson walking out of his community at 5:35 a.m. and about a half-hour later, the sound of a gunshot is heard. Just before 7 a.m., a dog found Abrahamson's body, lying near a walking path. Police found no weapon, no signs of a struggle; he still had his wallet and phone. Investigators initially worked the case as a homicide, but as they dug deeper into the man's computer searches and purchases over the past nine years, a theory developed: Abrahamson had tied a gun to a weather balloon filled with helium, shot himself, and then the gun drifted away to parts unknown. A thin line of blood on Abrahamson's sweatshirt indicated to police that "something with the approximate width of a string passed through the blood on the outside of the shirt," the final report says. As for the balloon, investigators said it would likely have ascended to about 100,000 feet and exploded somewhere north of the Bahamas in the Atlantic Ocean.
Bright Idea
It's time once again for minor league baseball promotion fun and games! This time, however, the Montgomery (Alabama) Biscuits managed to tick off a whole generation of baseball fans. The Biscuits announced Millennial Night on July 21, featuring participation ribbons just for showing up, a napping area, selfie stations and lots of avocados, reported Fox News. While some Twitter users thought the promotion was insensitive, others were more philosophical. Dallas Godshall, 21, said, "More than targeting millennials, it's sort of targeting older generations who like to make fun of millennials." Pitcher Benton Ross weighed in: "If it's insensitive, maybe they should just have thicker skin."
Revenge, Texas-Style
The Austin American-Statesman reported that on June 17, RV park neighbors and longtime adversaries Ryan Felton Sauter, 39, and Keith Monroe got into a heated dispute about an undisclosed subject. Later that day, Monroe saw Sauter leaving Monroe's RV and asked him why he had gone in without permission, to which Sauter replied, "You'll see why." Going inside, Monroe soon spotted a 3-foot-long rattlesnake. "I freaked out," he said. He used a machete to kill the snake, which strangely was missing its rattles. Turns out Sauter had bitten off the snake's tail, with its signature warning sound. Sauter has been charged with deadly conduct and criminal trespass.
People and Their Pets
Tina Ballard, 56, of Okeechobee County, Fla., was arrested in North Carolina by Linville Land Harbor police on July 16 after fleeing there to "hide (her pet) monkey so that state officials could not take that monkey from her," assistant state attorney Ashley Albright told WPBF News. Ballard's troubles began in May, when the spider monkey, Spanky, jumped out of a shopping cart in an Okeechobee Home Depot and grabbed a cashier's shirt, "leaving red marks on the cashier's shoulder and back." In June, Fox News reported, another Home Depot employee spotted Spanky in the parking lot, having escaped Ballard's truck and dragging a leash. Spanky was spooked by the store's sliding doors and bit the employee on the arm, grabbing her hair and running away. The employee gave chase and eventually caught Spanky, but not before suffering more bites and scratches. Spanky was in the car when Ballard was arrested and extradited back to Florida; the monkey will be placed in a primate sanctuary.
People Different From Us
A Russian man who has covered more than 90 percent of his body—including his eyeballs—with black-ink tattoos underwent surgery on July 14 at Jardines Hospital in Guadalajara, Mexico, to remove his penis, testicles and nipples because they spoiled his body art. Adam Curlykale, 32, of Kaliningrad, an albino, was diagnosed with cancer and started the tattooing process 12 years ago to cover scars left behind from the disease. "I always knew that I was different from the rest of society," Curlykale told The Daily Mail. "My favorite color, for example, has always been gray, in different tones, and that's why my current skin color is graphite." He plans to finish the process by inking his remaining un-tattooed skin.
Mistaken Identity
A man in Tameside, Manchester, England, is trying to figure out who painted "Pay your bill, you bastard" on the side of his house, deflated the tires on his car and cut his brakes. "I was dumbstruck because I don't owe anyone anything or have any problems with anyone," the man, who wanted to remain anonymous, told Metro News. On the next night, July 20, someone set fire to his neighbor's van and painted on his house again, this time: "Pay your bill, Donna." But he doesn't know who Donna is. The man has hung a sign over the vandalism saying, "Donna does not live here," and he and his nephew are taking turns guarding the house. "Someone has obviously upset someone," he said, "and I am stuck in the middle of it."
Send tips to weirdnewstips@amuniversal.com.