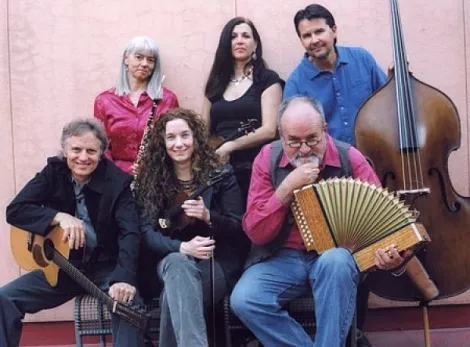 The other five members of Red Rock Rondo smile at each other and silently laugh when Phillip Bimstein sings the individual symphonic parts of his score. Not that he's off-key—it's just amusingly impressive to hear the bespectacled conductor mimic cello, then clarinet and so on.
Above the city, off of 13th Avenue, the sextet rehearses one final time before taking A Secret Gift to the Salt Lake Symphony. It's a delight and a challenge, one Bimstein has never done before, he says. The musicians sit in a circle in a comfortable basement; on the periphery lie several 11-by-17-inch sheet-music books. Soon, Bimstein will leave the notations outlined therein to the symphony, as he and the others will only sing the lyrics to these heart-tugging tales.
Backed by the symphony, the band will perform seven of the cycle's tracks, which are based on Ted Gup's A Secret Gift (Penguin Press, 2010). The former Washington Post and Time magazine journalist was given a trunk filled with letters written to B. Virdot; Gup later found out that this was his grandfather Sam Stone's pseudonym. The letters were responses to a newspaper ad placed on Monday, Dec. 18, 1933—during the Great Depression—in The Canton Repository. It was an offer to give a modicum sum anonymously to those in dire straits, who would also remain anonymous. The response was so overwhelming, in fact, that rather than $10 being given to about 75 families, $5 was given to about 150—just in time for Christmas.
Bimstein read Gup's New York Times op-ed in 2008 and was moved musically. "I heard songs in these excerpts [of the letters]. There was music, there was heart, and I thought there were many parallels to today," Bimstein says. He immediately contacted Gup for permission to set some letters to a score. Gup was interested, but it wasn't until after he landed a publishing deal in 2010 that he gave Bimstein the green light.The advance copy that Bimstein pulls out has copious notes, underlined phrases and musical notation written next to some passages. What Bimstein saw was "a meeting of meaning and musical possibility, cadence, rhythm, phrases that I knew would sound good as a musical lyric," he says.
He soon began sketching out ideas, which fleshed themselves out. "It's almost like I had 32 racehorses, each a song idea from various parts of the book. Each just edged forward, and I got to see which emerged from the pack," Bimstein says, adding that there's a certain emotional balance to the cycle, which happened naturally, as he realized levity or a particular topic was needed.
Red Rock Rondo unfolds these songs at rehearsal. After the prelude, "Christmas in Canton" helps set the scene. Then, Hal Cannon (lap steel and accordion) speak-sings the intro to "Hello Bill," a tune about the monetary decline of a once-prosperous businessman, Bill Gray. Everyone chimes in for the chorus, including Charlotte Bell (oboe), Flavia Cerviño-Wood (violin), Kate MacLeod (guitar and violin) and Harold Carr (stand-up bass). Other songs include "Dear Sir," based on the letter from Helen Palm—the only surviving letter writer—then a 14-year-old girl who lacked clothing and food.
At one point, Cannon realizes he has to hurry a lyric—the "in upper" of "in upper Sandusky" from "Hello Bill"—to keep in time. Feedback is given all around, tunes are taken from the middle, and hopes are voiced—ah, the process of refinement before the band joins Robert Baldwin, the Salt Lake Symphony and the 160-voice West Jordan High School Choir. "To go forward to an orchestra and have access to all of these other instruments—to have that fullness to articulate this vision, with counterpoint and counter-melodies—it is just terrific," Bimstein says.
In the past, when Red Rock Rondo has performed the song cycle, they tell stories between songs; due to this concert's nature, they will not, but there will be a pre-concert lecture at 6 p.m.

RED ROCK RONDO & SALT LAKE SYMPHONY
Libby Gardner Hall
1375 E. Presidents Circle
Saturday, Dec. 17, 7:30 p.m.
$10 adults, $5 students and seniors