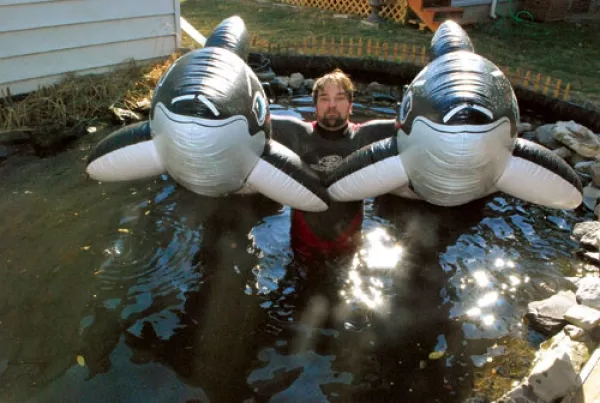 On Kickstarter.com, artists, entrepreneurs and others aiming to rake in strangers' cash begin their crowd-funding campaigns with videos outlining what they're trying to raise money for. Said clips usually show the project creators as endearing, chummy and occasionally obsequious folks; since Joe Internet is more likely to shell out money to a sweetheart than an asshole, this technique is key.
But when James Dewees launched a Kickstarter to fund No Country For Old Musicians, the sixth full-length album by his solo-project-cum-band Reggie & the Full Effect (RATFE), he took a different tack. His pitch video began with teaser text—"hello everybody!!!! i hope you like chicken!!!"—before launching into a song that was lovable but so, so stupid. It had a super-catchy melody and lyrics consisting of the word "chicken" repeated over and over again, all while a slideshow of thematically appropriate images—live chickens, fried chickens, Obama eating chicken, Dewees eating chicken, etc.—ran in tandem. Dewees ended up using the standard friendly, upbeat sales pitch in his video, too, but not until after regaling watchers with something totally ridiculous.
In RATFE, the man's always had a goofy, sarcastic streak. In 1998, the post-hardcore-tinted synth-pop project debuted with a record called Greatest Hits 1984-1987. The follow-up, 2000's Promotional Copy, was a disc with a cover that looked like an actual promotional copy of an album that shouldn't be making it to retailers. RATFE's third album was 2003's Under the Tray..., which contained an empty tray and an actual CD hiding underneath. (This created some confusion and frustration for people too dumb to take the album title as advice.)
Then, in 2008, Dewees announced that an upcoming RATFE tour would be the project's last—which, since you're reading this concert preview, clearly wasn't true.
Though these stunts sound Andy Kaufman-esque, the Liberty, Mo.-bred, Long Island-based multi-instrumentalist's sense of humor was shaped by Bill Cosby records and early Saturday Night Live cast members like John Belushi and Chevy Chase. He identifies with "stop-and-makes-you-think humor," where "no one's getting hurt out of the joke, which seems to be a big trend these days," the 37-year-old Dewees says.
While he's technically correct, this doesn't mean that RATFE has never been about pain—specifically, Dewees'.
He's often bounced between serious and silly, but 2005's Songs Not to Get Married To, the project's fourth record, was inspired by his real-life divorce, and the extra-heavy and morose Last Stop: Crappy Town—released in 2008—was written after getting out of rehab for drug addiction.
"The humor element would stop when I really wanted to tell somebody how I felt about them," Dewees says. "Most of the time when there are those songs that aren't funny and have a little more of a serious note, they're usually a message from me to someone. I'm a horrible communicator, so I usually use music to tell people when I'm upset with them or how much I like 'em."
All that said, Dewees wasn't pleased with how Last Stop left him in fans' perception. It was put together in 2006 and shelved for a couple of years until Vagrant Records released it—at which point Dewees had moved on. The more lighthearted No Country, for which the funding goal was more than met and which was released in November 2013, takes a stab at improving the mood. It not only features cover art with a confused kid in a Mr. T costume, but also "Fowlin' Around," a track about a certain barnyard bird.
"The music that I write pretty much all the time for myself is the Reggie music," Dewees says. "That's the stuff [that's] just perky pop songs with a little bit of humor, kind of the lighter side of shit, where it's like, 'You don't need to take this seriously.' It's more about having a good time and enjoying yourself and celebrating your life."

REGGIE & THE FULL EFFECT
w/Dads, Pentimento
Kilby Court, 741 S. Kilby Court (330 West)
Thursday, Feb. 6, 7 p.m.
$14 in advance, $16 day of show
KilbyCourt.com
Limited no-fee tickets available at CityWeeklyStore.com