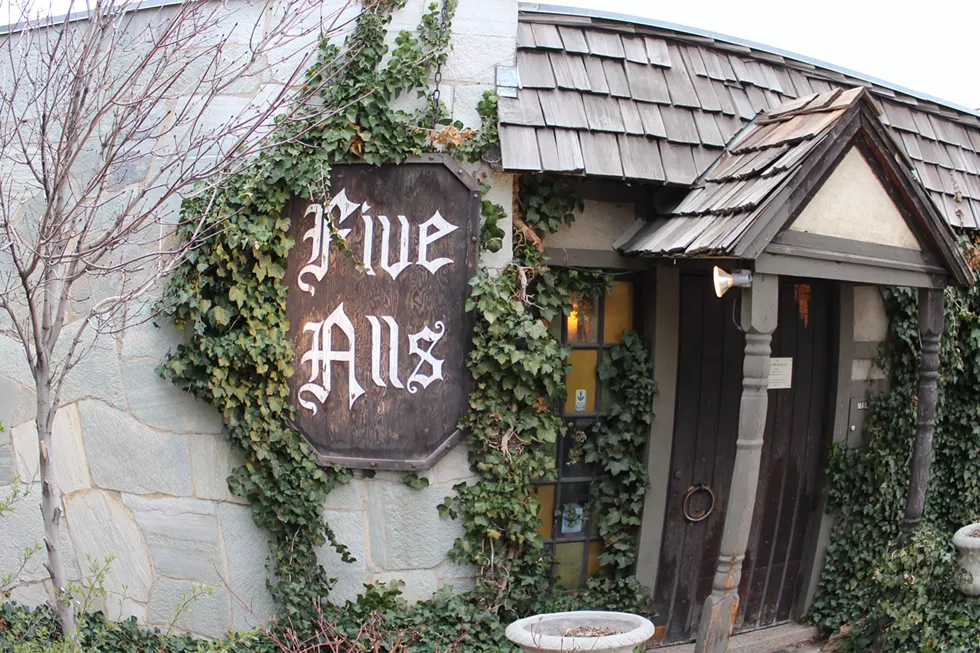 Good morrow and salutations, dear readers! As one whose knavish exploits hath trod culinary paths both delightsome and dour, I dare adventure my discretion to proclaim The Five Alls (1458 S. Foothill Drive, 801-582-1400) a most worthy destination for evening festivities. Dost thy jowls froth at the mention of a five-course supper? Dost thy eye revere rustic craftsmanship and lusty environs? Then I prithee, unbend thyself and make way to The Five Alls.
Now that I've gotten that out of my system, let's unpack this peculiar place, shall we? Initial research revealed a peculiar air surrounding The Five Alls: It's only open during dinner hours three days a week; they only serve five-course meals; and its interior has been painstakingly stylized as an Old English pub. This peculiarity made me a little nervous, truth be told. I've typically had bad experiences with restaurants that add some kind of gimmick to their presentation—the now-closed Mayan and its stable of cliff divers come to mind—because they tend to think they can get away with charging you extra for dinner and a show.
Based on my experience with The Five Alls, that's not its angle at all. Yes, it's just barely toeing the line between cheesy and tasteful, and yes, the waitresses wear corsets, but there's an endearing sincerity going on here. If you've ever been to a renaissance fair and enjoyed yourself, there's a good chance you'd feel right at home here. Broadswords and shields decorate the walls, tables come complete with pewter mugs and charger plates and backlit stained glass windows depict each of the five "alls"—the story of which is cleverly described within each menu.
Enrique Limón
The Five Alls' kitchen staff working with chronometric precision.
In many ways, the sheer fact that a place like this exists in Salt Lake was enough to ignite my enthusiasm. It's a ballsy move to scrape so deliberately against the grain of restaurant culture by opening an atmosphere-heavy eatery like this, even ballsier to continue serving dishes like chicken Kiev and filet Oscar, and ballsier still to keep the place open for close to 50 years. The restaurant's adherence to the traditions that originally brought it to life, exude a defiant confidence that's instantly captivating.
Bells and whistles aside, the point of going to The Five Alls is to feast, and feasting did readily commence. Service consists of five courses, with a choice of entrée. The menu is a tad on the pricier side—come ready to drop a good $40-$50 per person—but, with a few exceptions, the food is worth the price. A few of the starters were one-note and could create a misrepresentation of the main courses' quality—the sour cream heavy-clam dip is not as good as the sour cream-heavy herring—but that's not what you came for anyway.
Enrique Limón
Filet Oscar
The chef recommendations are all great bets, chief among them the pictured filet Oscar ($51). It's a lovely filet mignon, topped with the glorious combination of king crab, asparagus and béarnaise. Even without a sauce medley that would make a boot taste good, this tender filet was exactly what I was hoping for. Despite its stigma as a culinary cliché, the chicken Kiev ($30) made good use of its buttery stuffing—its crisp exterior yields to some truly tender and juicy chicken. The stuffed pork chop ($34) had the potential to be one of the highlights of the menu, but ours happened to be overcooked—the meat closest to the bone was tough to cut through, and even tougher to chew.
Along with this brief misstep, our service was a little slower than it should have been. My friends and I were fully prepared to spend a few hours here, because multi-course meals aren't typically served in quick succession, but our wait to be seated was longer than I expected, even though we had a reservation. The tableside service also had some pacing hiccups—some courses were delivered promptly and others were not, setting an uneven time frame for the meal.
Despite a few minor issues with the evening, I fully expect to add The Five Alls to my list of destination dining spots in Salt Lake. Anyone who has even a slight tinge anglophilic blood in their system is sure to feel the same. Gramercy!

AT A GLANCE
<!——StartFragment——>
Open:

Thurs., 6 p.m.-9:30 p.m;
Fri-Sat., 5:30 p.m.-9:30 p.m.
Best bet:

The delectable filet Oscar
Can't miss:

Spring the extra $4 for the sour cream cheesecake