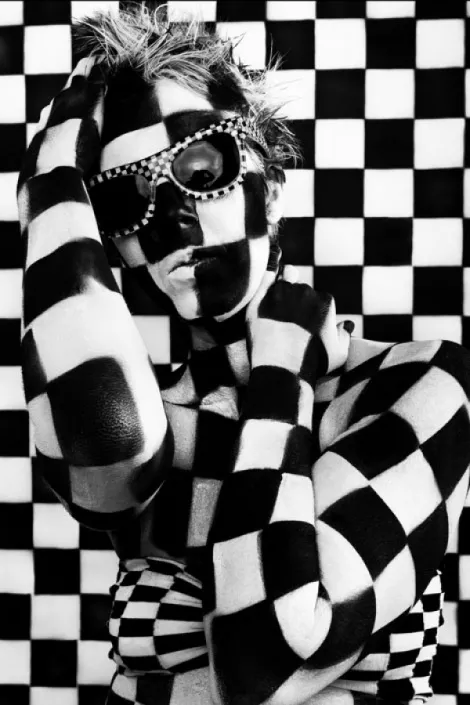 One of the most eye-catching recent developments in the art world is body painting: artists using skin as canvas, whether to transform subjects into mythical, animal-like creatures or make them blend into a background—literally, a wallflower. One thing artists
don't
do is make body painting look easy. Rather, it appears to be painstaking, virtuoso work that demands a lot of the artist, not to mention the models.
Local artists Renee Lee and Todd Keith started body painting in February and have made it their own. Photography is the main medium for both, so it would seem to demand a much steeper learning curve. And while Lee says it didn't come naturally, their work has the appearance that they've taken the time to master it. The airbrush requires a completely different technique than the conventional paintbrush, and they practiced for months to get the hang of it. "It was completely random," explains Lee. "It was just something to do for fun."
But the really infectious element in their work is the playful energy they put into it. From images of local model DaniJae melding into a blue and white swirling background to a bowler-hat-topped lizard-man to Keith with painted-on mask and far-flung hair, this show has a whimsical flair to it. Touching up some of the works with paintbrush strokes on top of the broad outlines of the airbrush demonstrates an incredible attention to detail amid the whimsy—an eye for detail that not all practitioners of body art take the time to exercise. Their exploration of the medium ranges from the devilish to the angelic, and from the sensual to the serpentine.
It takes three to four hours, on average, to paint a model from head to toe, and several additional hours to paint a backdrop, if needed, Lee explains. The water-based airbrush paint is nontoxic. Time-lapse videos of the process on Vimeo show that everyone involved seems to be enjoying being a part of it. Then there are the photographs to be taken, in addition to all that painting work, so it's several art forms in one. Some of the works in this show are collaborations, and some of the works are from each of them individually—about a dozen on canvas and the same amount framed on paper.
Keith, who had taken photographs since growing up, met Lee two years ago through a photographer friend, Charles Uibel. "I mentioned wanting to get into stock photography, and Charles suggested I talk to Renee. It was love at first sight," he recalls of their meeting at the SLC Photo Club. They opened their commercial arm, BellaOra Studios, out of their downtown apartment shortly after, and this July moved to a home in the Avenues, where they transform the high-ceilinged rooms into the backdrops for photographic flights of fancy. They are traveling to Italy next month to get married.
Subjects of their shoots are mostly friends—locals like Adam Palcher and Adam Sherlock of A Damn Movie Podcast, and Internet celebrity/City Weekly contributor Deena Marie Manzanares. The two have a similar aesthetic, although Keith switched to digital four years ago and Lee still shoots on film. "With digital, you can combine numerous shots of the same image and compensate for light imbalance," explains Keith. Originally shooting weddings and other similar commercial subjects, Keith has enjoyed the change to stock photography, and has also won awards for his work.
Outside their own work, they are involved in the community. Lee started the nonprofit SLC Photo Club in 2004. She says Derek Dyer—director of the Utah Arts Alliance, which is hosting a show this month of work by the duo—told her she could have a space at his gallery to do whatever she wanted. Originally a painter, she had barely started taking photographs at that point but didn't let that stop her. "We have 10 to 30 people at meetings, and it's very noncompetitive," she explains. The club has had several group exhibits and has more than 100 members. Both artists also volunteer for the American Red Cross, documenting events and emergencies.
The two pay the bills shooting stock images for iStockphoto.com and Getty Images. Published internationally, they always try to make everything from their lenses far from "stock" but instead a product of their eccentric imaginations, such as a scary yet humorous series of scenarios about online dating. Some of their work is just plain awe-inspiring, like Keith's photo of Delicate Arch at sunset on the cover of the book Capture My Utah. "We can come up with whatever we want," explains Lee. "We get to make a living exploring our own concepts."
BODY PAINTINGS & PHOTOGRAPHY BY RENEE LEE & TODD KEITH
Utah Arts Alliance Gallery
127 S. Main
801-651-3937
Through June 30
UtahArts.org