That Salt Lake City cop standing in front of the whiskey at the Utah State Liquor Store—gun on one hip, Taser on the other, a badge pinned to his breast pocket—isn't exactly at work. Technically, it's his day off, and he's busy working his $25-an-hour part-time job.
Same goes for the police officer who guards the office tower at 222 S. Main, which houses the Salt Lake City branch of Goldman Sachs. There is no way to get into this building to whatever floor the police officer guards, but a patrol car—sometimes marked, sometimes not—is nearly always parked outside.
Off-duty Salt Lake City police officers also work part-time jobs at the Sapp Bros. truck stop on California Avenue, the O.C. Tanner retail store and even at University of Utah fraternity parties. In all, the city's police force contracts with 41 private businesses and public entities to provide security. Often, the officers who show up for duty arrive in their taxpayer-bought uniforms and patrol cars.
The scope of this work is difficult to pin down. The officers are paid directly by their employers, so the police department doesn't track how much money is changing hands. But the work is lucrative. Salt Lake City's preferred rate for leasing out its officers is $30 an hour.
This type of moonlighting is beloved by the law-enforcement community. According to arguments in its favor from law-enforcement associations and members of the state legislature, the work benefits taxpayers by putting cops on the street who aren't, at that moment, on the public's payroll—but still look the part.
But critics—primarily private security companies—say they're forced to compete with municipal police forces for business, and that the practice raises questions about whether taxpayer dollars should be used to aid an officer in procuring a lucrative part-time job.
Liability issues also abound, and grow sticky when attempting to tease out exactly for whom an officer is working when he or she carries out a police action—like an arrest or use of deadly force—while being paid by a private business. Critics of this work also worry that the authority inherent in an officer's state-issued uniform and badge is, at the very least, confusing to citizens, and could also discourage them from engaging in activities that, while perfectly legal, might be frowned upon by the private business employing the officer.
Salt Lake City Police Chief Chris Burbank says that if one of his officers is sued while working a part-time job during which they were acting as a police officer, he would back them up just as though they were on duty.
"You're never essentially off duty," Burbank says, adding that if an officer were forced to take police action on his day off at a part-time job, "I would dare say that's my responsibility now, whether it's injuries to themselves or others."
Though lawsuits in this arena are rare in Salt Lake City, a federal suit was filed in September that names, among others, the city, Mayor Ralph Becker, a police officer and Burbank as defendants. The suit, filed by Jesse Fruhwirth—an activist, independent journalist and former City Weekly reporter—says that an off-duty police officer violated his First and Fourth Amendment rights when he was detained while filming the Tesoro oil refinery.
If the lawsuit sees a jury trial and rattles through the appeals process, the officer's part-time job with Tesoro could end up costing Salt Lake City taxpayers tens of thousands of dollars—and in the case of attorney's fees and a potential settlement, millions.
NEVER OFF DUTY
Burbank says efforts are made to reduce problems with off-duty employment, and says that the type of jobs his officers work are more in the realm of policing, not security.
Security officers are capable of a multitude of tasks that officers aren't. For instance, a security guard can search bags and check IDs. A police officer cannot arbitrarily perform these invasive functions, due to constitutional protections restricting warrantless search and seizures.
On the other hand, police officers also have a unique skill set: Mainly, they can make an arrest, and as lawyers and politicians say, cops can act "under the color of law."
"The difference is, you hire a security guard, they can do nothing more than call the police," Burbank says. "What you get by hiring an officer is you get a police officer that can take action in the event a criminal act occurs."
But the line between thwarting criminal acts and enforcing your part-time employer's company policy can get blurry.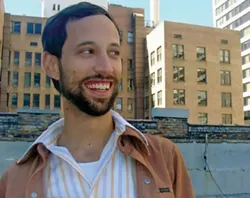 Former City Weekly reporter Jesse Fruhwirth is suing the Salt Lake City Police Department after an off-duty police officer working for Tesoro detained him while he filmed an oil refinery.
Fruhwirth, who was detained in December 2013 near the Tesoro oil refinery, says that when he aimed his video camera at a large flame shooting from a pipe and illuminating the night sky, he was doing so in an effort to document a massive Salt Lake Valley polluter doing its dirty work during an inversion, when the air across the Wasatch Front was toxic.
Shortly after he began filming, officer Yvette Zayas pulled up, lights flashing, in her squad car. Fruhwirth filmed the interaction, during which Zayas tells him he's not breaking the law, but that he was stopped for filming "critical infrastructure." Zayas takes Fruhwirth's ID and calls dispatch to check his information. Fruhwirth wasn't cited for filming, and he was eventually allowed to leave.
His suit says that by detaining him, Zayas violated his Fourth Amendment rights prohibiting warrantless search and seizures. And by halting the filming, the suit says, the officer violated Fruhwirth's First Amendment rights to free speech, expression and freedom of the press.
Fruhwirth's attorney, Stewart Gollan, says that when a police officer, regardless of whom they're working for, asks someone to stop taking pictures of something when they're on public property, it has a chilling effect.
"If you think every time you take a picture of something, the cops are going to arrest you," Gollan says, "things don't get reported and that documentation doesn't get disseminated."
Gollan says that though Zayas was not technically working for the Salt Lake City Police Department, she was using her squad car, uniform, dispatch equipment and firearm as though she was.
"This is somebody who is not just employed by Tesoro, but is engaging in activity that is made possible by her status as a Salt Lake City Police Officer," Gollan says. "She has substantial authority by her position as a Salt Lake City Police officer."
A spokesman for Salt Lake City declined to comment on the lawsuit.
Lara Jones, a spokeswoman for the police department, said in a written statement that "we look forward to responding at the appropriate time, in the appropriate venue."
A month before the lawsuit was filed, Burbank told City Weekly that, in the event one of his officers is sued for police actions while working off-duty part-time jobs, he believes he would pick up the tab.
"When my officers have to take police enforcement action, whether they're off duty, on duty or part time, that becomes my responsibility," he says.
An off-duty Unified Police Department officer working a part-time job guarding the Deseret Industries building at 131 E. 700 South had a close call in 2012 when he accidentally discharged his firearm during an altercation with a suspected thief.
Police reports from the incident say that while confronting the suspect, Officer Brandon Stock removed his gun from his holster. The suspect resisted, and during the struggle, the firearm was discharged as he tried to put the weapon away. No one was hurt, and the suspect was captured shortly afterward.
Salt Lake City detectives handled the investigation, and no wrongdoing on the officer's part was found.
Fruhwirth says that in his case, he'd like to see the city simply admit wrongdoing, rather than spend taxpayer money defending an officer who was working not at the behest of the public, but for Tesoro.
"Corporations entice our institutions to engage in very questionable behavior, and then they use our collective community resources like taxpayer money to defend the very incursions that they're making," he says. "That's demonstrative of just how captured our governments are."
Erik Daenitz
Sen. Margaret Dayton, R-Orem, has introduced several bills aimed at bringing transparency to the part-time work done by off-duty police officers.
PRIVATE BUSINESS
Though no concrete efforts have been undertaken by the state legislature to rein in the work of off-duty cops, one person, Sen. Margaret Dayton, R-Orem, has put the practice in her crosshairs. Over the past four years, Dayton has introduced several bills that indirectly call out this sort of part-time work by police officers.
Dayton says that though she doesn't want to put a vise on the ability of officers to win part-time work, the prevailing model nevertheless raises red flags about misuse of taxpayer dollars.
Many police agencies work to ensure that the part-time work officers do is above-board, Dayton says. But "on the opposite end of the spectrum in our state, there are some police agencies who are very involved in recruiting private security contracts for which they use their cars and uniforms," she says. "They run a business. I know of two that even run a business out of their police department."
Dayton, saying she doesn't want to "incriminate" any departments, declined to identify these police agencies.
In 2012, Dayton's Senate Bill 120, which required law-enforcement agencies to publish their part-time employment policies on their websites, passed. In 2013, she introduced a bill that aimed to add an additional person to the Security Services Licensing Board. Passage of this bill, which added another member from the public, brought the number of people on the board to seven.
John Tinsley, president and CEO of Centurion Security & Investigations Inc., says he's worked with Dayton on her legislation.
John Tinsley, president and CEO of Centurion Security, has spoken out at the legislature about his concerns about work done by off-duty officers.
Tinsley, who is currently chairman of the Security Services Licensing Board, says the board has long been dominated by members of law enforcement. Dayton's 2013 bill, he says, was initially penned to give an additional spot on the board to a representative of the private-security industry.
Law-enforcement groups "fought us on it," Tinsley says. He says a compromise was brokered that added an additional member from the public, which, at times, has been a full-time police officer. "A reasonable person must ask themselves why? Why do they care?"
The answer, Tinsley says, is that "millions and millions" of dollars is flowing into the pockets of off-duty cops from these part-time jobs.
Though police departments don't track how much their employees are making on these part-time gigs, SLCPD does charge a $6 fee for gas and equipment per shift. In 2013, Salt Lake City collected $75,300 through this fee.
According to SLCPD policy, the shifts are required to be at least four hours in length, and the stipulated hourly rate is $30. Based on these numbers—which are conservative, considering many of the shifts are likely longer than four hours—officers worked 50,200 hours in 2013, covering a total of 12,550 four-hour shifts. The total amount of money changing hands was $1.5 million. When the average shift time is stretched to six hours, the amount of money earned is $2.3 million.
A decade ago, Tinsley says, his business was comprised almost entirely of off-duty police officers. He says the pay is no worse working for him. And when an officer does take up part-time work with a private security company, he says, at least the public knows that the work is being done legitimately.
"You know they're in the right uniform, you know they're burning the right gas and not the taxpayer's gas, and you know the taxes are being taken out," Tinsley says of officers who once worked for private businesses. "Right now, no one can prove legitimacy."
Tinsley says that when he airs concerns about not being able to bid for jobs and mourns the business that has dried up as off-duty cops have crowded his market, he's accused by members of the law-enforcement community of only wanting to make money.
To that accusation, Tinsley says that he's a small business owner, and as such, he certainly does want to make money. But since when, he wonders, is it the role of government to compete against small businesses?
"The private sector never even sees, never even has the opportunity to make a bid on these jobs," Tinsley says. "Why? Because our government is taking the calls, and they're filling the orders with government personnel and assets and subsidizing their own personal incomes."
GOOD WORK
At the Salt Lake City Police Department, a full-time civilian employee processes requests for off-duty officer security guards.
Over the years, management of these positions has morphed. At one time, Burbank says, there was no oversight. For a time, an officer managed it, and now a civilian employee does.
"We monitor it, and that's why we have a person in the position to manage it and everything else," says Burbank, who became chief of police in 2006. "Over any other agency, we do it very well and we've done it for a long time, and it's gone through a whole bunch of different iterations in my career alone."
In the SLCPD, several part-time jobs—including working for a bar, a sex-oriented business or as a bail bondsman—are prohibited. Some of the work officers do is for large special events, like traffic control for a concert or a Utah Jazz basketball game.
Burbank says the benefits of having officers on the street who aren't being paid by the taxpayers are "significant." Like other advocates of these jobs, Burbank says officers simply aren't paid enough by the cities they work for. The part-time jobs, he says, help make up for flimsy city pay.
A first-year Salt Lake City police officer is paid an annual salary of $36,712. This salary rises sharply each year, climbing to $64,084 by year eight, according to the police department's website.
Through part-time work, regular police salaries can grow substantially. Because most of the entities employing off-duty officers are private businesses, salary figures weren't provided. Among the larger public part-time jobs for Salt Lake City police officers is guarding the Utah Department of Alcoholic Beverage Control's liquor stores.
In 2013, the state liquor agency, which pays off-duty officers $25 an hour, paid 68 cops $434,543, which averages out to $6,390 per officer.
"There's a possibility to make quite a bit of money if you're working these things," Burbank says, noting that if officer are relying too heavily on part-time work to pay the bills, they should probably get their priorities straight.
At the Unified Police Department, which includes several of the Salt Lake Valley's police agencies as well as the Salt Lake County Sheriff's Department, part-time work comes a little bit easier.
Lt. Justin Hoyal, a sheriff's department spokesman, says queries for part-time work are either handled through a software program within the department, or through direct-contact officers.
As Hoyal explains it, a direct-contact officer is contacted by a business that needs security work. This officer must still let the department know that he's working security, but it is up to the officer to staff the part-time work.
One such officer is UPD Sgt. Jason Ashment, who says he fell into his role as a direct-contact officer about eight years ago, when he filled in for an officer who couldn't cover his part-time shift.
Ashment, citing security concerns, says he isn't permitted to disclose the entity he works for. Hoyal and the UPD denied a public-record request seeking the names of companies that hire UPD officers and sheriff's deputies.
Hoyal did provide figures for three non-consecutive months from the last fiscal year, showing that UPD officers worked 176 jobs for 79 employers each month. This does not include direct-contact jobs.
Ashment says it's his responsibility to make sure all of the shifts sought by his part-time employer are covered. He's enlisted nine of his fellow officers to partake in the work, he says, and is essentially the liaison between his fellow officers and the company they work for.
"We're all kind of a big family thing," he says. "We've all been doing it for so long. [The company] can call me at home and I can call them at home."
Burbank says Salt Lake City has a similar program. For example, he says, an SLCPD officer acts as the supervisor for events at EnergySolutions Arena and also works part-time there. When an officer doesn't show up, or is late, officials at the arena call the supervising officer, not the civilian employee who manages the department's part-time work program.
At UPD, Hoyal says, any part-time work must be noted on an officer's time card. This allows supervisors to loosely monitor the hours employees are working when they're off-duty. If an officer is dragging, or can't sufficiently perform his or her job, Hoyal says, the time cards are scrutinized.
Hoyal says the UPD rate for part-time gigs is $30 per hour, but in the case of direct-contact officers, it is negotiable.
Ashment says he doesn't always drive his patrol car to his part-time job, but many of the officers do. It is common, though, for officers to wear their police uniforms.
Ashment declined to disclose the hourly rate, but says his job is one of the lowest paying part-time gigs in the office, though he says it's worth his while. "It's not as much as I make being a police sergeant," Ashment says. "But it's a little bit extra each month."
Hoyal says problems with officers abusing their part-time gigs are rare. However, one recent incident involved Stephen F. Hall, a 20-year veteran officer with UPD. In April, Hall pleaded guilty to three third-degree felonies of theft by deception and a misdemeanor charge of falsifying a government record.
Investigators discovered that from 2010 to 2013, Hall was paid roughly $14,100 in illicit money by working grant-funded DUI shifts for the department at the same time he was working part-time shifts at a State Liquor Store.
On Hall, who no longer works for the department, Hoyal says, "It is important to note that members of the UPD found the discrepancy, we investigated it, and we took it to the Salt Lake County District Attorney's Office for charges."FOR SALE
Tinsley says that there are times, in cases of traffic control and other large events, when officers should be available for hire.
"We're not saying they shouldn't be in security," Tinsley says. "We're just saying that there's a right way and a wrong way to do it and we believe that right now it's not being done appropriately."
Gollan, Fruhwirth's attorney, says he believes police officers should try to avoid conflicts of interest, similar to the precautions judges must take to polish the appearance of objectivity. Outside of the suit he's filed, Gollan says, he has no evidence that the cozy relationship officers have with their part-time employers is tainting impartiality, but he says there certainly is the "perception of unfairness."
"A close financial relationship between police officers and large private companies could certainly give people the perception that rather than equal concern for all, there's going to be particular concern about the interests of certain groups that provide outside employment and substantial financial benefit to officers," he says.
Burbank says that when he hears these complaints, he counters them by pointing out the benefits that come from having more—or at least the appearance of more—police officers on the streets. And he believes that in his department, proper safeguards are in place to instruct officers how to behave while they're working part-time jobs.
No matter what, though, pretty much anyone can hit up the police department and ask to hire an off-duty cop. And, if the old saying that one gets what one pays for holds true, then in this case, unless you're peddling booze or flesh, you, too, can have your own cop.
"The color of law is now up for sale for whoever wants it," Tinsley says.