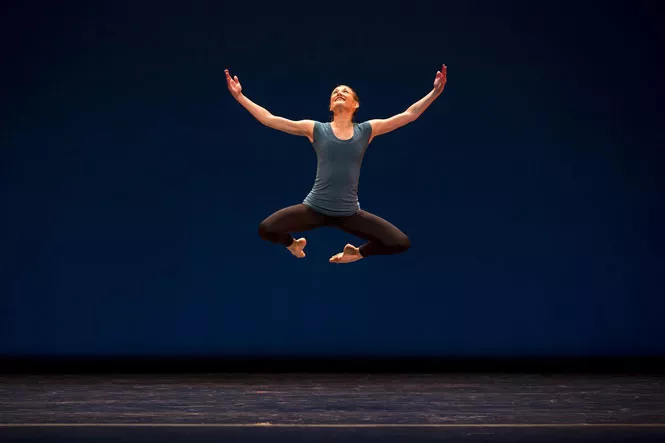 By the time modern dance—a creative form of movement expression that rejected the rigidity of ballet—was only six decades old, an impressive canon of work was already developing. From Isadora Duncan and her Grecian-inspired free-form pieces to Martha Graham, whose own company gave birth to great modern choreographers like Merce Cunningham and Paul Taylor, modern dance surged with radical, new ideas and dance techniques. But as the decades wore on, even some of the most seminal pieces in the modern-dance repertoire began to fade away as choreographers died, companies disbanded or new works simply overtook the old.
To preserve this legacy, in 1966, the Rockefeller Foundation chose an unlikely place to create a living library for modern dance. That place was in Salt Lake City, and the library was Repertory Dance Theatre. This spring, RDT stands at the threshold of its 50th anniversary season. For five decades, it has preserved and performed the jewels of modern dance.
It has also added to that repertoire. This week, for its spring concert, Reunion, RDT draws eight exceptional works of dance from its own richly talented pool of company alumni: dances by Linda Smith, Lynne Wimmer, Bill Evans, Kay Clark, Brent Schneider, Francisco Gella, Angela Banchero Kelleher and Nathan Shaw.
"When the foundation made their decision, choreographers in New York were furious that Utah would house such an important project," says executive and artistic director Linda Smith, one of the eight original dancers hand-picked to start the new company. A revolutionary idea born at a revolutionary moment in America, RDT was unlike any other company in the country. "Our mission, from the foundation," Smith says, "was to preserve and perform modern-dance treasures without being beholden to a single choreographer—to nurture the art of choreography, to commission new works, and to support and provide dance education for all ages."
But perhaps even more significantly, it has added to the modern repertory by fully nurturing the craft of dance in every one of its members. Since the company's earliest days, RDT company members have been more than dancers; they have also been teachers and choreographers. Such versatile experiences launched many long-lasting and creative careers.
One of the company's best-known and beloved archival pieces to be performed during Reunion, "For Betty," comes from alumni Bill Evans. Originally from a small town in rural Utah, Evans had his first brush with dance when Fred Astaire filmed a tap sequence at a local LDS Church ward house. The moment transformed Evans, who hasn't stopped moving since that day; the 75-year-old still performs and directs the Bill Evans Dance Co.
Evans joined RDT a year after its founding and remained for six years, serving for a time as artistic coordinator. Though he eventually left the company to start his own, Evans continued choreographing for RDT, creating a total of 18 works for his alma mater. "For Betty" is Evans' joyful and exuberant homage to Betty Hayes, the founder of the University of Utah College of Fine Arts modern-dance department.
Reaching into more recent territory, both in terms of choreography and RDT history, Reunion presents the world premiere of "Shubert Impromptu" by Francisco Gella (RDT 1996-'98). Though Gella started dancing late in life—converting his major from engineering to dance while at the University of Washington—he earned attention and job offers from a number of companies around the country.
It was RDT's repertory, however, that caught his attention. "Constantly switching styles made me a very versatile dancer," says Gella. "[RDT] was a deeply influential part of my journey, and I became a repertory dancer for the rest of my career." Gella, who now teaches and choreographs in Los Angeles, used his signature blend of ballet and modern styles to create "Shubert Impromptu," a duet with minimalist design that focuses on the tension, energy and qualitative juxtaposition between two moving bodies.
Completing the circle of RDT's five decades of dance, alumni Nathan Shaw (RDT 2006-'12) brings "Whistle Stop" to the stage. Reconceived from a piece begun while he was still with the company, Shaw's work gives a nod to the improvisational techniques pioneered by great modern choreographers like Merce Cunningham. Full of humor and energy, Shaw's work puts a sense of play front and center. Anything is possible in this dance, as the shrill commands from a blown whistle become random cues that freeze and move—and sometimes even upend—the performers on stage.
"I'm thrilled," says director Linda Smith, "that these alumni are giving their time and talent, paying tribute to the fact the RDT gave them such tremendous opportunities. This company has been a springboard for so many." Certainly, this week's Reunion speaks to Repertory Dance Theatre's success as both a repository and incubator for modern dance, supporting high levels of success for artists and alumni.