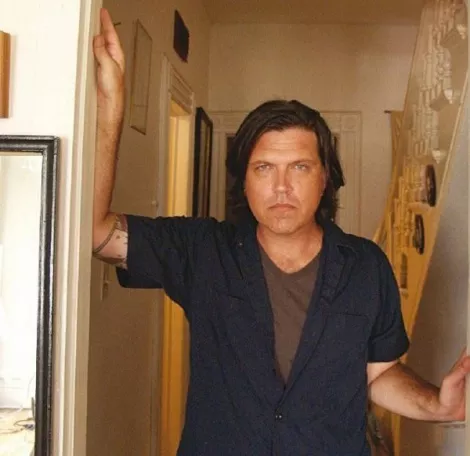 Richard Buckner has one of those voices: from the idiosyncratic school of countryinfluenced songwriters in the vein of Neil Young and, further back, Bob Dylan. Like Young and Dylan, the California-born Buckner has a sense of being out-of-place in an idiom that derives whatever authenticity it once claimed from Southern or Southwestern roots. It's a voice that like Young's is all the more real for it, somehow conveying the passion of rack and ruin with rough edges yet haunting overtones—lyrically looking to move past the perpetual pain of loss. In his songs though the speaker usually only seems to "slip away" back into loneliness.

Buckner is currently touring in support of the digital only re-release of three of his early albums on Merge Records: his debut Bloomed (1995), The Hill (2000) and The Impasse (2002). The re-release occurred by happenstance, as a song from The Hill was played on NPR, but since the record had gone out of print, listeners were unable to download it. He sought to rectify that, and talked to Merge. "Since we did one of these albums, we thought, 'Why not do all three?'" he explains.

When asked how the albums trace the development of his songwriting style, understated narratives often of loves gone inevitably wrong, kind of like a country Raymond Carver, he says, "When I write, I just kind of write however I'm writing at the time." It's an organic process, and listening to it you get that sense as well.
He didn't feel like he had hit his stride yet on Bloomed, and that goes to show the self-effacing personality of the soft-spoken songwriter, since it's an impressive debut by anyone's standard. The Hill is a cycle of songs based on Edgar Lee Masters' volume of poetry Spoon River Anthology, so it's not Buckner's full ownership, but he says by the time he reached The Impasse he was getting more comfortable, the songs flowing more. "I've seen a lot of things since Bloomed, and it's a document from that time I try not to think about too much, or I get freaked out." The Impasse follows from 1998's Since in adding a more rock sound to his arrangements.

"The process changes from record to record," he explains. "Sometimes I'm interested in recording a certain kind of sound. Buckner wrote a film score for an indie film Dream Boy, tentatively set for U.S. release this fall. Buckner had started composing music for it right after the director told him funding had been received, and so he had most of the music done by the time shooting had begun.

As with Buckner's next set of new material, he says he's been investigating melodies more. "The words are being written; I'm just not as caught up in words," he explains.

"My first album was written as a street musician, and things have changed a lot. My interests change, and as they do, I have a new set of handicaps. It makes the writing process different."

On his Merge Records blog, he describes the birth of these albums with wry humor: After a week in a motel at the mouth of the Death Valley with no TV or phone, he says, "I doodled the poems [songs based on Masters Anthology] onto a tape deck. At the end of the week, I put the tape in my glove compartment and headed south to begin constructing the second nail in my coffin."

Four years later, he found himself in Alberta, Canada with a case of writer's block when working on another album and pulled out the cassette. "I had started a record earlier that year and failed and I was looking for a distraction. A future ex found the cassette in my truck. I had forgotten about it, but after listening to it again, thought that maybe it was the distraction I was looking for." Thus winds the somehow appropriately circuitous route his albums take to reach fruition.

Buckner has been relearning some of the old songs for his live show, but he says it's not just a rehearsal of the re-released albums. "I try to include a mix from all the records; it keeps the tour fresh, and put together a set I'm comfortable with." Passing through Salt Lake City recently, he noted the snow we had wasn't much different weather from his adopted home of Brooklyn, of all places.

"I hope we're finally done with the snow," he says of the cold, bleak weather. "I'm tired of it."

RICHARD BUCKNER


The State Room
638 S. State
Thursday, April 30
8 p.m.
TheStateRoomSLC.com