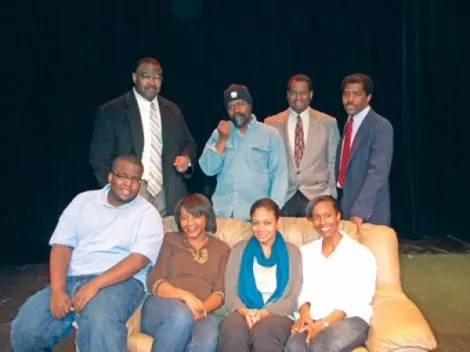 Richard Wesley's The Talented Tenth, produced by People Productions and playing now at the Studio 115 Theatre on the University of Utah Campus, is not your typical race-relations play.
In fact, there's no race relations at all, at least not directly. The all-black cast depicts a group of friends—classmates from the prestigious, predominantly black Howard University—as they approach middle age at the close of the 1980s. Using a lot of familiar Baby-Boom tropes, the characters struggle with personal identity as their successful careers clash with the idealism of their 1960s youth. There is talk of status symbols like BMW automobiles. There are indiscretions between an aging man in crises and a much younger woman.
In addition to these more familiar elements is the added layer of what it means to be black in America. Bernard (William Ferrer), is a former militant radical turned yuppie struggling with what he perceives as a responsibility to his people, long-forgotten in his quest for wealth. His wife, Pam (Latoya Rhodes), on the other hand, still feels the sting of the "not black enough" stigma she has carried since college due to her relatively fair skin and moneyed background.
>> Read Austen Diamond's review of Greater Tuna <<
>> Read Brandon Burt's review of The Glass Menagerie <<
The interplay between this couple and their friends shares a rare view of the convergence of race, class and community through the lens of middle-class African-America. Especially in the wake of the celebration of the birth of Martin Luther King Jr., it is well worth a look.
THE TALENTED TENTH
People's Productions
Studio 115 Theatre at the Performing Arts Building
240 S. 1500 East
University of Utah
Through Jan. 22, also Jan. 26-29
$10-$15
PeopleProductions.mynetworksolutions.com