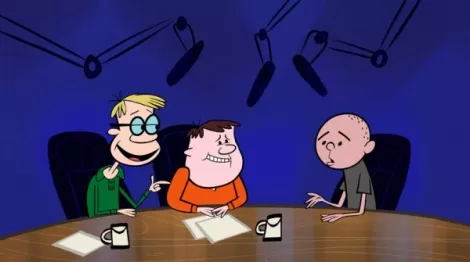 Friday, Feb. 19 (HBO)
Series Debut:
A podcast with over 8 million downloads? Damn. The currently-on-hiatus True TV podcast (just act like you noticed) has averaged, like, a billionth of that—well done, Ricky Gervais. The creator/star of the original British
Office
and
Extras
, along with co-writer Stephen Merchant and producer/perhaps actor Karl Pilkington, casually recorded
The Ricky Gervais Show
as a series of weekly podcasts for the
Guardian
newspaper's Website. Most shows go like this: Gervais and Merchant introduce a topic from the news, and then ask "What do you make of that, Karl?"; Pilkington—who is either a complete idiot or the greatest deadpan comedian of our time, no one's saying—expounds from his own misinformed and slightly demented viewpoint; Gervais and Merchant mercilessly ridicule him and his "perfectly round head." It's unrelentingly funny stuff, even without the newly added TV animation (think classic
Ren & Stimpy
on a budget) illustrating the trio's stories and observations.
The Ricky Gervais Show
, along with tonight's other debut,
Funny or Die Presents,
and the returning
Life & Times of Tim
and
Real Time With Bill Maher
, makes HBO a better destination for laughs than Comedy Central—at least on Friday nights.
Monday, Feb. 22 (TNT)
Season Finale: Apparently, The Only TV Column That Matters™ is the only critical outlet that absolutely hates Men of a Certain Age, TNT's mopey middle-age dramedy about three creaky buds (Ray Romano, Scott Bakula and Andre Braugher) and their increasingly maudlin SoCal lives. Who knew TV critics and viewers were hungering for The Golden Girls: Low-Swingin' Balls Edition? Certainly not me, but Men has already been picked up for a second season. Maybe I'll try watching it as a circling-the-drain extension of Everybody Loves Raymond: The nagging tiny wife and annoying giant brother ran off together, the kids won't call, the meddling parents are worm food and Ray's all alone with a bad haircut, stuck hanging with Quantum Leap bro and Homicide guy. OK, this I can do …
Tuesdays & Wednesdays (Fox)
Wha?! I know! Not so much to address the fact that American Idol has become slightly more watchable with the additions of Kara DioGuardi and Ellen DeGeneres—though I still won't watch it—but to point out that the Parents Television Council (the self-appointed morality watchdog group that conveniently directs me to the best "filth" on the tube via ParentsTV.org) is outraged over a rumor that Howard Stern might replace departing judge Simon Cowell after this season. Rumor. Weeps the PTC, "Adding [Stern] to American Idol would spell immediate death for one of the best franchises in American family entertainment." Other shows the PTC likes? Extreme Makeover: Home Edition. That's it—the rest of television is a wasteland of sex, violence, drugs and atheism that hasn't been safe since the communists canceled The Carol Burnett Show. Thus, the Jeebus Freaks have forced me to side with the Karaoke Cabal.
Wednesday, Feb. 24 (BBC America)
Season Premiere: Quick turnaround; the stateside showing of Season 1 just ended last week, and now here's Season 2—and, before you ask, Season 2 of the cult supernatural drama Being Human will make its U.S. debut in July on BBC America. Like Being Human, The Inbetweeners has been perpetuated in this country by word of mouth and torrent downloads with little media attention or promotion from BBC America. Which is strange, considering the British series so brilliantly nails what Americans believe they have a lock on: Teen angst and camaraderie channeled through hysterically profane awkwardness—Superbad has nothing on The Inbetweeners. Oh, the PTC is gonna hate this if they ever find it.