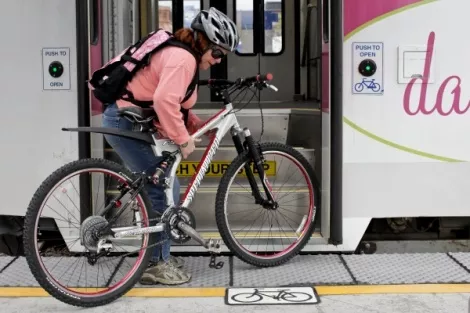 UTA makes long-distance biking a snap
Where do you ride if you can't take your mountain bike to the mountains because the trails are wet and covered with snow, and the idea of wheeling around your 'hood is just boring?
How about trying a different adventure, one that can actually save you money: the rails. You can ride from the Sandy end of the north-south TRAX line to the Intermodal Hub in downtown Salt Lake City (330 S. 600 West), transfer to FrontRunner and ride all the way to the Ogden Hub (23rd St. and Wall Avenue) for $4.75 for the entire one-way, 80-mile trip. That's a lot cheaper than the cost of the gas to drive there.
Of course, you don't have to go all the way to Ogden. You can choose to explore anywhere. Take TRAX to the University of Utah Medical Center and ride the surrounding undulating hills, or explore The Gateway and downtown Salt Lake City. For something different, get a transfer to FrontRunner from TRAX, get off at Farmington—second stop past the hub—and check out new terrain.
"There's some great bicycling there," says TRAX spokesperson Jerry Carpenter. Pleasant View is just six miles from the Ogden Hub. Carpenter suggests, "You could bike there and return on the train," which would be good, because the trains to Pleasant View are in the morning hours before 6:15 a.m., while the return is at a more reasonable time: 5:51 and 6:51 p.m.
Carpenter says the Utah Transit Website (RideUTA.com) includes schedules for TRAX and FrontRunner, plus all the station stops, and you might find a few that are located in an area that would be fun to explore. TRAX runs every 15 minutes on weekdays, from 5 a.m.-11 p.m., and every 20 minutes on weekends. FrontRunner runs every 30 minutes during peak hours and every hour during off-peak times like mid-day or evening. It doesn't run on Sundays.
A look at the list of station stops on the Website can certainly spark creative ideas, and the adventure is even cheaper if you go with friends. Carpenter says, "We offer a promotional pass called a 'group pass.' For $13.50, it allows four riders to travel together round trip on TRAX, UTA buses and FrontRunner for one day." If those same four people took TRAX and FrontRunner from Salt Lake City to Ogden and paid for a round trip, it would cost $38, so the group pass is a savings of $24.50. They don't sell the pass on buses, but you can purchase it at ticket vending machines at TRAX or FrontRunner stations.
The full, undiscounted fare from the Salt Lake City hub to the Ogden hub is $4.75, but if you start your trip on TRAX with a $2.25 one-way pass and get a transfer ticket to FrontRunner, it brings the FrontRunner price down to $2.50—again, a lot cheaper than driving. Plus, relaxing on the train while humming along on the rails is much more fun than navigating the freeway. There's free Wi-Fi, and FrontRunner hits speeds of nearly 80 mph—it's fun to look at creeping rush-hour traffic and snicker.
To board TRAX, you enter with your bike at either the front or back of the car, not the center doors. You have to hoist your bike up three steps and stay with it, whether you sit or stand. FrontRunner has level boarding; you just wheel your bike on. You can use any car, but the car just behind the locomotive is a dedicated bike car, with an entire row of bike racks, so you can put your bike in a slot and sit across from it while chatting with other like-minded, bike-minded passengers.
"Our system is very bicycle friendly, and we're always looking for ways to make it more friendly," Carpenter says.
At the Salt Lake City hub, each FrontRunner train waits for 15 minutes before departing, so you'll have plenty of time to choose a car and sit down for the 50-minute trip to the Ogden hub.
After taking a few trips to some of the more unfamiliar stops on the rail line, you might even decide to skip the muddy mountains for a while and go exploring while a train engineer drives you to new destinations.