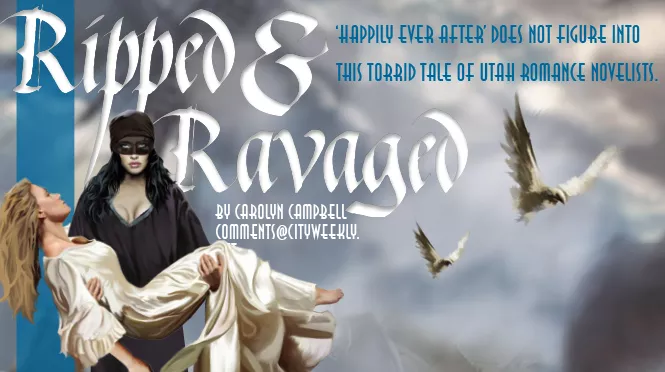 When reviewers told LDS romance novelist Rachel Nunes that a book titled The Auction Deal, scheduled for release in August 2014, seemed suspiciously similar to hers, she was sure it was a mistake. She hoped it was "just a similar plot," she recalls, never envisioning a stranger could possibly steal her story and rework it. But that's what Nunes now claims: A writer changed the point of view of her 1998 romance novel, A Bid for Love—and spiced up what was originally a Christian novel by adding some steamy sex scenes.

The conflict between the two writers would escalate far beyond charges of plagiarism. Nunes alleges the plagiarist used various Internet pen names to conduct a disinformation campaign showing "a clear plan of attack that I'm learning is used by many plagiarists." The alleged literary thief tried everything "to discredit and hurt me," Nunes says, claiming the writer "slammed my writing, threatened me professionally, and then dragged my extended family into the fray."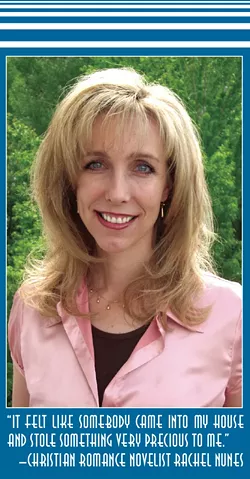 Today, Nunes hesitates every time she receives a Facebook friend request, because she worries it could be from a supporter of her foe—someone "who could fling more rocks and mud in my direction." For her, the act of being plagiarized was so personal, it is difficult for her to talk about. "But with all the added drama in my case, it also feels like a literal physical attack. Feels, not felt, because I'm still dealing with it every day and could be for another year or more."
She complains about how much time she has lost dealing with the issue. Those were hours she could have spent with her husband and seven children, or writing another book. "The lifetime earnings I won't make on the book I didn't write in these past months is something I'll never recoup."
Meanwhile, the author of The Auction Deal has removed the book from Amazon.
Nunes (pronounced Noon-esh) was born in Provo. She learned to read when she was 4 and began writing in the seventh grade. Until her recent run-in with the alleged plagiarist, Nunes enjoyed a prolific writing career as a Christian novelist. Now residing in Orem, she writes books ranging from romance and suspense to women's fiction and family drama, including Before I Say Goodbye, the Autumn Rain novels, and the Ariana series.
Rachel Nunes is a luminary in the LDS writing community, having published 48 books with the three largest LDS publishers, says local writer Heather Moore, herself the author of 20 novels and 16 novellas. "She is also the founder of the LDS Storymakers organization, in which she has mentored LDS writers from all over the country." Plus, Nunes serves on the Indie Author Hub board and has won the Whitney Award, a distinction honoring LDS writers. Her book, Daughter of a King, won Best Book of the year by the Independent LDS Booksellers Association.
Moore recalls how motivated she felt after taking a workshop from Nunes. "She talked about how she wrote 2,000 words a day. Sometimes it took a couple of hours, but most of the time it took the whole day," Moore said. "She said she'd often pick her kids up from school still wearing PJs. She frequently wrote with a toddler in her lap. As a young mom, it was a huge inspiration to me to know that I could set a word-count goal and that, sometimes, my family could have hot dogs for dinner, and it would be OK to follow my dreams."

A Complete Violation
When Sam Taylor Mullens self-published The Auction Deal on Amazon in the summer of 2014, Mullens may not have counted on the fact that Mullens and Nunes traveled in the same romance-novelist circles, and that the multiple reviewers who were sent a copy would remember Nunes' book, A Bid for Love.
Originally titled Love to the Highest Bidder, Nunes' book is a story about two art dealers—one from New York and the other from California—who meet and fall in love while bidding on an Indian Buddha statue. It was first published by Deseret Book, a publishing house for The Church of Jesus Christ of Latter-day Saints. Nunes got the copyright after the book went out of print and published a slightly revised e-book edition on Amazon.com titled A Bid for Love.
The Auction Deal, according to Nunes, has the same plot but is told in the first person. It is about an art dealer who bids on a sculpture in Beverly Hills and meets a Chicago gallery owner. Nunes understood that Mullens' book included sex scenes, another difference from A Bid for Love.
In late July 2014, Nunes said several reviewers emailed her, telling her that Mullens' book was very similar to hers. "They said it was a copy of my book and that [the author] was claiming to have collaborated with me," Nunes says. Writing back to the reviewers, Nunes asked them to read her novel to confirm if it was true. Either that, she said, or send her a copy of Mullens' book. Nunes "was freaked out" by the idea of people writing reviews about a novel that was hers (with the exception of the sex scenes). She then found The Auction Deal author's email address and sent off a message asking for an explanation as well as an opportunity to review the book. She asked to see an ARC, or advance reading copy. "I still hoped that it just had a similar plot," she recalls.
Nunes says that Mullens claimed The Auction Deal evolved from a writing group before about two dozen beta readers reviewed it. Nunes says that Mullens refused to send an ARC but attempted to allay her concerns by saying the The Auction Deal would not be published.
Nunes said she emailed Mullens again requesting an ARC, saying that reviewers had said there were "eerie similarities" between the two author's books. If Mullens would just send the ARC of The Auction Deal, Nunes said she told Mullens, "I could look at it and then email the three people I've talked to about this and put it to rest. It shouldn't take me long to review it."
But Nunes says Mullens declined and also asked Nunes not to request an ARC from any other sources because, "If you are still a member of the LDS Church, I would not feel comfortable about sharing The Auction Deal due to the sexual content ... and there is a lot."
Nunes claims that in an email exchange, Mullens said, "I do not write for a living, it is a hobby." Mullens allegedly said Goodreads had removed the link and that The Auction Deal would not be published in any form. With that, Mullens hoped the matter would be resolved because, according to email exchanges posted on Nunes' blog, reviewers were feeling "harassed." Nunes emphasizes that she never harassed any reviewers, claiming she sent them a single polite email and nothing further, unless they responded to her.
Nunes wrote back to Mullens, saying she was still confused about why she would not send her an ARC. "If you never read my book or copied it, then there can't be a problem, right? I don't want any money from you. I mean, I could just turn it over to my attorney if that were the case, because copyright infringement is a big deal. But I'm trying to believe what you say—that you haven't read my book or copied it. That is what you are saying, right?"
Looking back, Nunes said in a recent interview with City Weekly, "I know that she was trying to assuage my worry with her emails, but I realized right off that there was something very wrong because of her refusal [to send the ARC]. Plus, too many reviewers were saying it was the same book. Also, I had no guarantee that she wouldn't go ahead with publishing my book. I needed to know the truth so I could decide what to do."
A sympathetic reviewer finally sent Nunes the ARC of The Auction Deal on Aug. 8, 2014. That's when Nunes discovered that entire phrases were exactly the same, while other sentences and sections were summarized. "When I saw the ARC, I knew that everything the reviewers said is true. The entire plot, words. A complete violation. No wonder [Mullens] wouldn't send it to me."
Nunes said, "It felt like somebody came into my house and stole something very precious to me."
On Aug. 29, 2014, Nunes filed a lawsuit in U.S. District Court, seeking $150,000 in damages for each copyright infringement.