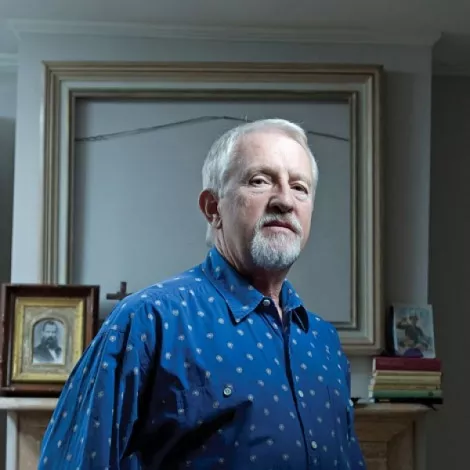 "Oh my," Randy Holladay said as he gingerly picked through the wreckage of his living room in his tree-shrouded house in Salt Lake City's 9th & 9th neighborhood.
He'd been visiting his brother in Tucson, Ariz. when a friend called to tell him he'd been burgled. Pillaged was a better word—at least if the devastation of overturned sofas, emptied drawers, muddy footprints, a woman's pair of shoes tangled up in his sheets and empty wine bottles was anything to go by.
Within 10 minutes, 66-year-old Holladay knew "this was no ordinary set of thieves." In the last week of February 2008, someone had carefully gone through all his possessions. Paintings and drawings were precisely removed from their frames. There were two techniques used, he decided, "one very surgical, the other ransacked."
If thieves had taken his computer, stereo or TV, it would have been inconvenient, but he would have gotten over it. Those items remained untouched. Instead, along with paintings, etchings, lithographs, a 1938 Winchester rifle and valuable rugs, several hundred family photographs were lifted. Among them were acid-proof sleeve-protected photographs of Mormon relatives dating back five generations, fading images of his family's past. "They were tangible representations of people who are no longer on this Earth, who passed life on to me," says self-appointed family historian and archivist Holladay. Such photographs are in high demand at Utah's antique stores. "They go faster than anything else," he says.
At first, all Holladay wanted to do was crawl into bed and hide under the covers. Then, he thought, "Being pro-active would be more productive than waiting for a white knight in the form of police to help me."
He says he's read enough New Yorker articles to have little expectation of under-resourced, overworked cops solving his crime. The Salt Lake City Police Department declined to comment on his case. Spokeswoman Lara Jones acknowledged that property crime inevitably has a lower priority than violent crimes. In 2007, nine burglary detectives handled 1,300 cases each. "To reduce that ratio would take significant financial support from taxpayers," Jones wrote in a fax sent to City Weekly.
For Holladay, though, the robbery last winter was an assault on everything he held dear. So he went from store to store in Salt Lake City's tight-knit antiques community, interviewing owners. Holladay says his quest led him to the "the sordid underbelly of this city's antiques world." He encountered "pickers" whose lives are dedicated to the endless search of thrift stores and yard sales for that undiscovered masterpiece lurking against a wall with a $5 tag. Holladay shone a piercing light into this murky world that revealed both how some antique dealers can turn a blind eye to what they buy off the street as well as the desultory lives of meth addicts who feed their habits by selling stolen property to dealers.
The retired carpenter's sleuthing led police to arrest one of the best-known high-end antique dealers in Salt Lake City, Anthony Christensen of Anthony's Fine Arts and Antiques, along with what several dealers agree is this city's most well-known picker, John Pilcher. Both were charged with receipt of stolen property. Holladay, along with another burglary victim, also helped police identify a loose-knit group of six people, most of them felons and meth abusers, who were named in connection with a string of "antique burglaries" in a Salt Lake City Police Department press release trumpeting Christensen's bust on May 20 this year. While one suspect later pleaded guilty, charges against Christensen and three others linked to the burglaries were dismissed. Two other suspects have yet to appear in court.
ON THE LAM
Holladay's adventures in the do-it-yourself detective trade bore him little fruit. He recovered only eight items out of many hundreds lost. What he was left with, along with a home gutted of his prized possessions, were a series of haunting questions. Why had the burglars targeted his home? Who had directed the precise ransacking of his artwork and Mormon memorabilia? Most of all, he wanted to know where his ancestors' photographs ended up.
Holladay, a shy man with a professorial air that belies a stern will, believed Gerald Kory Lloyd could answer those questions. Lloyd, a 46-year-old picker, one-time antique-store owner, self-educated art historian, meth addict and felon, was among those picked up by the cops, due in large part to Holladay's tenacity, in connection with the burglaries. Unlike other meth users linked to this case, Lloyd's history in antiques and art led Holladay to ponder if he was behind the "surgical ransacking" of his home. Holladay learned Lloyd sold a few of his possessions to two dealers and also one of his paintings to Pilcher. Lloyd, however, would be hard to get ahold of; he was on the run from police after skipping an arraignment on a charge of receiving stolen property. If City Weekly found Lloyd, Holladay said, he "would like to know where my treasured photos went."
Eventually, City Weekly did find Lloyd. He agreed to meet at a downtown restaurant parking lot. The wanted man answered questions, until a passing cop on a bike spooked him away.
Lloyd's responses still left Holladay pondering his involvement in the burglary. But Lloyd did offer a faint sliver of hope for the photographs.
Whether burglars chose Holladay's house because of its owner's art and LDS artifact collection or for other reasons, his brother Tom Holladay, a retired U.S. consul-general, believes he sowed the seeds of his own tragedy. "You tried to get above yourself by collecting artwork," Holladay recalls his brother telling him. "We're not highborn."
But Randy Holladay says he's less an art collector than "an historian at heart." His idea, he says, was "to write a family history." The robbery "took the wind out of my sails," his "time capsule" of photographs and Mormon memorabilia now likely blown to the four winds of the Utah meth community.
"Without a personal police force and a castle," Holladay says, "you can't protect anything."
STORMY WEATHER
The first store in which Holladay found remnants of his past was Decades, at 627 S. State. It's more a vintage-clothing store than an antique store. Owner Justin Ferguson had Holladay's great-grandmother's stereoscope, a 3-dimensional viewer, for sale, along with several other of Holladay's possessions. Among those objects was a cloisonné jar 3rd District Court charging documents allege Gerald Kory Lloyd sold to Ferguson, who was not charged with any crime. Upon learning the stereoscope and the other items were stolen, Ferguson gave them back to Holladay.
Ferguson says Lloyd is a familiar face in the antiques trade, going back decades to when Lloyd had his own Salt Lake City store. That store, Lloyd says, ended up a "dope factory," and he lost it.
The stereoscope was one fragile remnant of Holladay's family history. "It belonged to someone who supported her three children and their mother on $3 a week as a cook in mining camps on the Arizona frontier," Holladay says.
Holladay grew up the oldest of six boys outside Tucson, Ariz., surrounded by Mormon farmers and cotton fields. After graduating from the University of Utah in 1972, he worked as a curator at the Utah Museum of Fine Arts under its founder, the late Frank Sanquinetti. He says he quit state work in 1982 to tend his ill father. His father had been in the building trade. Holladay followed suit, remodeling homes. He retired two years ago. The artwork he says he's collected over the years from yard sales, estate sales and trading with friends, would be part of his nest egg. Now, all he has is his house.
At the end of his first day of questioning antique-store owners, on March 7, Holladay was exhausted and wanted to go home. But he forced himself to climb the stone steps of the gloomily gothic building on the corner of 200 South and 400 East—Anthony's Fine Art and Antiques.
"I really hesitated about going into Christensen's because I thought they would be dismissive of me," Holladay says. "He has a reputation of being haughty." Nevertheless, he went in. It was like "crawling into the Vatican and asking for a favor, hat in hand," Holladay says. Christensen's assistant looked at the list and shook his head. Half an hour after Holladay got home, Christensen's assistant telephoned him. Anthony's had one of his paintings, "Approaching Storm," by early Utah realist painter Edwin Evans.
After calling the Salt Lake City Police burglary division and the police dispatcher and waiting two hours for a response, Holladay returned to Anthony's, where Christensen's assistant handed him the painting, according to court charging documents. As he ran down the steps to his battered truck in the pouring rain, the painting under his arm, Holladay felt almost giddy. Finally, "I'd actually found something."
PICKER HEAVEN
Some storeowners weren't as obliging as Anthony's. The next morning, Holladay showed Dee Jackman of Jitterbug Antiques, at 243 E. 300 South, his stolen possessions list. Jackman shook his head and handed it back. Holladay looked down and saw his antique red toy truck. Jackman was decidedly unsympathetic. "He said, 'Prove it's yours; you can't prove it,'" Holladay recalls. On a notebook Jackman kept on the counter were the names of two men who sold him the toy truck, Holladay says. Both were later charged in connection with crimes related to the alleged antique theft ring spree. One of them, felon Dennis Hobot, had printed the words 'This is not stolen' and signed it. Jackman declined to comment for this story. Holladay would eventually get the truck back, after police interceded. Jackman has not been charged with any crime.
Holladay's luck continued to hold. After a lunch on March 10 with antique-store owner and Utah Mining Association lobbyist David Litvin, who, early on, according to Holladay, advised him on his search, Holladay received a call from a stranger, John Pilcher. Before his current legal problems, Pilcher could often be found at one of Salt Lake City's Deseret Industries stores at 10 a.m. with other pickers waiting for the thrift store to open. Lloyd claims Pilcher is one of his main business associates. Pilcher declined interview requests through his lawyer, Steve Anderson.
On the phone, Pilcher, a former oil worker from Texas, told Holladay, "I think I have something of yours." With the police, Holladay went to Pilcher's Salt Lake County house. The place resembled a gaudy museum, every available wall space given over to gold-framed landscapes and expensive portraits perfectly lit in a seemingly dust-free house. Holladay retrieved a painting, a few prints and a piece of art pottery.
According to court documents, Pilcher told the police he had bought two of Holladay's paintings in late February. One, "Approaching Storm," Dennis Hobot sold to him. Third District Court documents state Pilcher paid $1,000 for the painting in a car trunk-to-trunk sale outside Sears on State Street. He then sold the painting to Christensen for $5,000, although he only asked for $3,000. According to Holladay, when Christensen later offered to sell the painting for Holladay, he told the retired carpenter he could net $30,000 after the store's commission.
Hobot was a name Holladay recognized. On Dec. 6, 2007, at 8.30 a.m., Hobot and Shane Kennedy were identified from a photo lineup by an Avenues resident as two of three men witnessed removing valuable rugs from an Avenues neighborhood mansion and loading them into a car determined to be registered to Hobot's longtime friend, Howard Price Johnson, a Utah-registered sex offender. Hobot has a lengthy rap sheet, including a guilty plea in 1998 to the exploitation of a disabled or elderly adult.
The other Holladay-owned painting Pilcher bought was from Lloyd, whose criminal history includes a 2006 drug-possession conviction along with several charges for running a meth lab.
Lloyd defies stereotypes of a seedy meth-head, as B&W Collector Books owner Sherry Black discovered to her cost. She bought nine of Holladay's 1890s photographs from Lloyd. Lloyd claims those cards did not come from Holladay's house. Court documents value them at more than $1,000, although Black says she paid only $50. After learning the pictures were stolen, Black returned them to Holladay. No charges were filed against Black.
AND JUSTICE FOR ALL
Holladay made one fatal mistake, he says, in his homespun investigation. He gave out his list of stolen property to antique dealers in the first week of March. That's something the Utah Antique Dealers Association advocates, according to its vice president, Nate Bischoff. One day to the next, though, Holladay says, the trail went cold. He suspects the list was circulated to dealers across the Salt Lake Valley, who then hid from view whatever they had bought of his possessions.
Holladay's spirits revived on May 20, when Salt Lake City Police announced a flurry of arrests in connection with his and other antique thefts. They arrested a man Holladay describes as "the antique dealer to the merchant class and stockbrokers," Anthony Christensen. Five other men were arrested, including Pilcher, Dennis Hobot and Gerald Kory Lloyd. Another suspect, Shane Kennedy, whose lengthy list of prior crimes includes burglary and sexual solicitation, remained at large for several months before he was arrested.
Holladay's elation was short-lived.
At 8 a.m. on Aug. 5, Holladay went to Salt Lake County District Attorney's Office to testify in Pilcher and Christensen's preliminary hearing. But instead of the crowning moment of his amateur sleuthing, when he arrived, he says, he was told the hearings were cancelled. This, however, was inaccurate. He wasn't needed.
Instead, later that morning in 3rd District Court, Pilcher pleaded guilty to theft by receiving stolen property. His sentencing is set for Nov. 3. Then it was Christensen's turn. Assistant Salt Lake County District Attorney Jacey Skinner asked for more time to find an expert to value "Approaching Storm." Instead, the judge dismissed the stolen property charge for lack of sufficient evidence, although allowing Skinner the possibility of refiling the charge at a later date. Charges against three others, including Dennis Hobot, were dismissed. Shane Kennedy's preliminary hearing is set for Oct. 31.
The Salt Lake County District Attorney's Office declined to discuss the case surrounding the burglary of Holladay's home in detail, citing its ongoing status. To date, no new charges have been filed against Christensen.
ON THE RUN
"U mean me no harm today right," Gerald Kory Lloyd, the man Holladay most wants answers from, texts to City Weekly the day he agrees to meet with a reporter.
Lloyd has reason to be cautious. Not only are the cops on his trail, but his bail bondsman is also keen for a chat. It's the latter he fears most.
For a man who says he hasn't slept for four days, Lloyd, who shares more than a passing resemblance to gonzo writer Hunter S. Thompson, is remarkably coherent. He's also disarmingly direct, even while never taking off his sunglasses as he talks about his twilight world of meth addiction, antiques and picking. Wearing white chino slacks and a cut-off gray T-shirt, he's the first to acknowledge, "I look like a drug addict," if only for his gaunt frame and features.
"For the record, no," Lloyd says, when asked if he burgled Holladay's home. Not that he denies buying Holladay's property from Lloyd's longtime friend, felon Shane Kennedy.
"People bring me stuff all the time," Lloyd says. "I wouldn't know where to start, whether some of the things were stolen or not."
Lloyd has been wheeling and dealing in art, Mormon books and clothing, since he was 16, he says. He knew from an early age he didn't want to work. He found he could buy a painting for $1,000 and sell it for $20,000. Such classic scores are the constant quest of the picker. "I've had many of those, more than most," he says.
Lloyd saw that chance again on Feb. 25 after Kennedy telephoned at 10 p.m. and summoned him to his neighboring room in a Salt Lake County motel. They were both staying at the same Motel 6. Kennedy had some "stuff" to show him.
Amid the rugs, a bag of photographs and some paintings, one item jumped out at Lloyd: an oil pastoral scene of Mt. Olympus. "I told him, 'That's the fucking ugliest painting I've ever seen,'" Lloyd says. But he knew from his first glance the painting, Edwin Evans' "Approaching Storm," was a masterpiece. "It was simple but great. That's why I wanted it so bad." He thought he could get $65,000 for it. He recalls noticing, at the bottom of one bag, aging photographs, some of figures like LDS Church President Brigham Young, others unknown. Whether they belonged to Holladay's collection is not clear.
Dennis Hobot was also in the room. Lloyd hadn't met him before. Hobot "didn't know anything," Lloyd says, about art. "The bottom line is, they're both dopers." So Lloyd offered them $500 for the lot. "And $500 buys a lot of dope." After much complaining, "they agreed." Lloyd loaded three small paintings and some other items into his car, amounting, he says, to 20 percent of what he bought from the two men. He returned to his motel room. His girlfriend was furious when she heard what he had done with his money. Later, he went back to Kennedy's room. Kennedy and Hobot were gone, along with the Evans' painting and the rest of the haul Lloyd had paid for.
Holladay says police told him that Lloyd pursued Kennedy in his car. Lloyd denies this. Kennedy attempted a U-turn on California Avenue in Salt Lake City's west side. Another car traveling in the same direction plowed into his late-model Geo, stuffed with Holladay's possessions. Kennedy and a woman passenger went to LDS Hospital, where two detectives interrogated them about the burglaries.
Holladay was stunned to learn a month after the accident of his possessions' fate. The car was towed to a downtown impound lot. Several days after the accident, Holladay says, the police released the contents of the car to a relative of Kennedy. When Holladay finally saw police photographs of the car on April 10, he identified some of the contents as his—including two Tiffany lamps valued at around $10,000, Oriental rugs, an Indian basket and the toy truck Kennedy and Hobot sold to Jitterbug's Jackman.
CRIMES OF OPPORTUNITY
Lloyd says he sold Pilcher one small painting he got from Kennedy. He also told Pilcher about the Edwin Evans painting. Pilcher was on the phone to Lloyd "five times a day" demanding it. Lloyd in turn, he says, harangued and threatened Hobot for his property. Hobot stood his ground.
Hobot knew the painting was valuable, Lloyd says, and wanted to use the proceeds from selling it to Pilcher to go, at the beginning of March, to Hawaii with his friend Howard Price Johnson. Holladay and Lloyd both say Pilcher also went to Hawaii the same time as Hobot and Howard Price Johnson. When the police and Holladay were at Pilcher's home, Holladay recalls, Hobot called the picker from Hawaii.
While Lloyd describes Pilcher as "my main guy," he's not the only well-placed Utah antique and arts figure Lloyd has done business with. Evidence of this can be found on a first floor Springville Art Museum wall. Museum director Vern Swanson acknowledged to City Weekly a landscape by early Utah realist George Ottinger that hangs in the museum was the result of a trade he made with Lloyd. Lloyd says he bought that painting, "Fisherman at Mouth of Cottonwood Stream," from the owner of a closed-down antique store.
Christensen, however, says he doesn't know Lloyd. Court documents suggest otherwise. They describe a detective taking a "stolen painting recovered from Mr. Pilcher and Mr. Lloyd to Anthony's Antiques" for help in identifying it. Christensen, says the probable-cause statement, "fondly greeted the detective as 'Kory.'" When told Christensen says he's never met him, Lloyd spits out, "Liar." He speculates Christensen said his name because he believed Lloyd had forged the painting under the cop's arm. Lloyd has a reputation among some pickers for the quality of his forgeries.
Weeks after the charges against him were dropped, Christensen seems more depressed than angry. Unshaven, wearing a large, untucked gray shirt, he stares gloomily at three brass tacks on his green-leather topped desk, after welcoming a City Weekly reporter to "This world-class establishment."
He's still upset the police sent four armed detectives to arrest him. That a TV news report showed his storefront also still rankles. As to whether an antique theft ring exists, he scoffs. "How do they [the burglars] know about art? Do they think [the thieves] come in here and I told them about it?" All it comes down to, he says, are crimes of opportunity and political agendas. That agenda is, according to dealers, to impose through upcoming state legislation the same stringent and costly regulations on antique stores as those pawn shops operate under nationwide.
Certainly the publicity surrounding Christensen's arrest has done little to bolster Utah's antique trade's reputation. But Christensen himself remains defiant. "If we are not welcome here, that's fine, too," he says. "We'll pack up and move out to a place that appreciates integrity."
AMBUSHED
Holladay wants to move to New Mexico to be with family and friends. "I'm not accomplishing anything," he says, depressed. The robbery was not only "a big blow" that stopped him in his tracks. "It made me look at things," he says. The home he had spent so many years renovating "was finally just a house."
That impetus to leave might well have been sharpened by recent alarming events. A month ago, Holladay learned that 10 pages of e-mails he had sent to law enforcement at the beginning of the investigation were being circulated among neighbors and what he calls "various shady people" throughout the city. In those e-mails, Holladay poured out his anger, his fear, his suspicions—accurate or not—of neighbors and others. The district attorney's office shared the e-mails with defense attorneys in the discovery process.
Lloyd says his house was broken into several weeks ago. The only thing taken was the discovery file containing Holladay's e-mails relating to this case.
"I felt slightly uncomfortable," Holladay says, sarcastically. "If I'm found dead, they can pursue somebody, maybe."
Death threats abound in this case. Another antique-theft victim received several threats by phone and text message. Lloyd says he and Hobot have also received threats. In Lloyd's case, though, those threats were not idle. He says he has been shot twice since he first encountered "Approaching Storm." Someone hiding in bushes peppered one of his legs with buckshot. Another day he was shot in the side with a .22. He scrubbed the wound in the bath with peroxide and two pieces of the round fell out. In the world of drugs he knows so well, a gunman will walk up to you. "They want you to know who's going to shoot you," he says. If the shootings, as he suspects, were linked to the Utah art and antiques world, then it seems his assailants prefer the shadows.
Holladay supports regulation of the antiques trade. "[Antique dealers] are not careful who they buy from." Lloyd mocks Utah dealers' claims that they don't deal in stolen goods. "That they have the audacity to say they've never bought anything stolen amazes me," he says. "It's an unregulated business moving securities with no accountability. It's amazing there's not more of it going on."
Lloyd is sanguine he'll do time for possession of a smashed meth pipe in a jacket pocket that police found when they pulled him over on July 25. He's dug his own grave, he says. "It's not like I'm hiding. The cops will get me soon enough."
As to Holladay's two main questions, Lloyd has answers—of a sort. He says after he was released from jail, he drove by Holladay's home. Lloyd has a theory about why the house was hit, which he sent in a text message to City Weekly.
"Dude wrote the book on how 2 attract a criminal element 2 your house" he texts. "Dark as fuck … 5 foot weeds … peeling paint mail overflowing the box … scaffolding to a upper broken window etc looked like a fucking haunted house I halfway expected 2 hear organ music waifing [sic] through the nite air."
Lloyd offered to look for Holladay's photographs, which he thinks might have been at the bottom of a large bag in Shane Kennedy's motel room on Feb. 25, the night of the car wreck. He says he can lean on a few people who owe him favors.
When told of Lloyd's promise to look for the pictures, Holladay appears resigned that it will lead to nothing. Holladay suspects Lloyd may have sold the pictures to a dealer in South Salt Lake. Meanwhile, Holladay sits in his violated home, empty frames hanging on his walls—which, he says, he doesn't even see anymore. When he thinks of putting something in them, he goes to his drawer of prints, only to remember—too late—nothing is there.