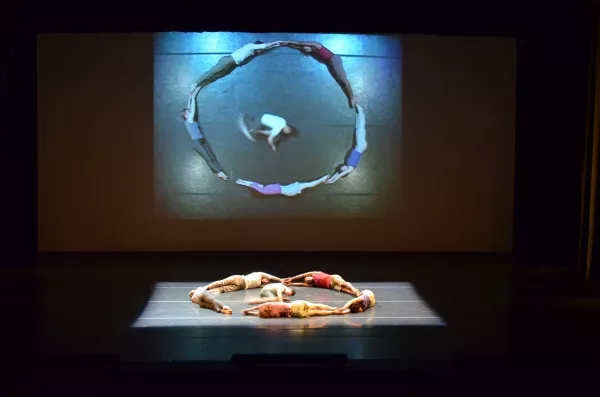 "You and the Space Between" is one of three pieces in Ririe-Woodbury's Accelerate.
When Joan Woodbury and Shirley Ririe, two dance professors at the University of Utah, started the professional modern dance company Ririe-Woodbury in Salt Lake in 1964, they were taking a chance that people in Utah would watch and support contemporary modern dance in an age when the art form—led by choreographers like Trisha Brown and Alwin Nikolais—was pushing the boundaries of movement expression and challenging audiences to find their own meaning in sometimes very abstract performances.

Though Woodbury and Ririe took their dancers into this contemporary realm, they also retained in their work a sense of joy, wonder and humor. In pieces like Affectionate Infirmities, choreographed in 1971, with dancers leaping, wiggling and spinning about on crutches, playfulness remained an engaging and central component of the company's repertoire. Perhaps that entertaining sense of play is why, 50 years later, the Ririe-Woodbury Dance Company is still going strong.

In celebration of RWDC's important half-century anniversary, a milestone that few dance companies ever get to celebrate, Ririe-Woodbury took a chance on looking back at its roots, restaging works like Affectionate Infirmities and inviting back alumni dancers, both as performers and as guest choreographers. And as a complement to this retrospective look, the company's final performance this anniversary season, Accelerate, will take an equally important look forward to the future path for the company and of modern dance.

Originally, says Ririe-Woodbury's artistic director, Daniel Charon, the integration of technology into all three of the works in Accelerate came as a complete coincidence. But, as Charon points out, it couldn't have been more appropriate. "At a time when technology is becoming increasingly integrated into people's everyday lives, Accelerate allows technology to take on a very metaphorical aspect," he says. "As our company moves into the future, it is reflecting the changes in society."

"Technology has really changed and expanded what can be done with dance," says Ellen Bromberg, a professor of dance at the University of Utah who—together with Doug Varone—is co-creating "States Rendered Choreography," one of three original works that will premiere at Accelerate. "Technology gives us access to 360 degrees of a body rather than just what we can see from our place in the audience. In this space, dance becomes a very different art form."

Bromberg, a lifelong dancer who performed with RW in the 1970s, first played with the interconnection between dance and technology in the 1980s, when a PBS station in the Bay Area commissioned her to create a dance for television. After choreographing and filming, Bromberg sat in on the editing process and realized the possibilities of what could be done with dance onscreen. "I saw for the first time how film can focus the eye on a single expression or movement of the hand," Bromberg says. "It can deconstruct time and space. It can create a context where even gravity doesn't have that same pull."

These days, modern choreographers play with all sorts of media and technology, from infrared sensors that trigger sounds to live-feed interactive videos. The video component of "States Rendered Choreography" formed slowly over the course of months through a tight collaborative process between Varone, who choreographed the movement, and Bromberg, who developed the media component. With Varone working in New York, setting the work to the dancers in his own company, and Bromberg working in Salt Lake City, the process has been long and complicated.

"It's been a real dialogue," says Bromberg, who took jumping-off points for her mixed-media creation from clips of music and dance sent by Varone as the piece developed in his studio. "I reacted to Doug's prompts, and together we cultivated and articulated the pieces that stuck."

Another guest choreographer debuting his work in Accelerate is Ririe-Woodbury alumnus Miguel Azcue. Born in Cuba and currently serving as artistic co-director for the Swedish dance company Memory Wax, Azcue's varied experience gives his work an international style. Through added real-time video projection, "You and the Space Between" makes uses of technology in a way that is at once simple and clever, shifting the audience's perspective in real time to play with gravity and space.

Finally, Charon gets a chance to showcase his work with "Construct", created in collaboration with composer and musician Michael Wall. Manipulating the time and scale of live video capture, "Construct" plays with the idea of image—what is real and what is virtual, and how important the difference is.

Dance, on a certain level, has always been about watching beautiful performers at the peak of their physicality, pushing the limits of the human body. Still today, dance remains primarily an experience of the human body and of movement. Technology will never replace that. But, according to Charon, as Ririe-Woodbury moves towards the future, they expect to continue incorporating technology into their work as just another tool in the artist's toolbox, expanding the vocabulary of contemporary dance.

RIRIE-WOODBURY DANCE COMPANY: ACCELERATE
Rose Wagner Center, 138 W. 300 South
801-355-2787
April 24-26, 7:30 p.m.
$35
RirieWoodbury.com