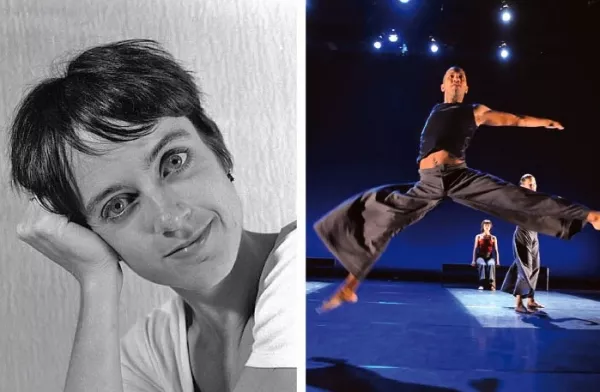 Left: Charlotte Boye-Christensen; Right: performance of "Bridge"
In 2002, the energetic and cosmopolitan Charlotte Boye-Christensen decided to accept a job as associate artistic director of Utah's Ririe-Woodbury Dance Company. The Copenhagen, Denmark, native uprooted her operations, moving from New York City and Mexico City to Salt Lake City. Accustomed to freelancing around the world, she thought settling down for a year or two could provide her with opportunities to explore her own work, while simultaneously fostering creativity in this idiosyncratic town.
Eleven seasons later, Boye-Christensen is just now moving on. Her exit happens to coincide with Ririe-Woodbury's upcoming 50th anniversary, and so, as this season has provided a countdown to the company's golden—with performances titled Four, Three, Two and One—it has also been counting down to Boye-Christensen's impending departure. One marks a significant crossroads for both the company and the outgoing artistic director.
"I'm ready for the next thing in my life," Boye-Christensen says. "But working with the company for so long did provide me with the opportunity to develop trust and generosity with dancers that facilitated a lot of depth in investigation of material. That kind of situation—where we are all working so close together on a daily basis—really allowed for a deeper exploration of emotion and ideas. That has been a wonderful thing, and the source of my main regret when making the decision to leave."
Boye-Christensen indicates that it can be a challenge in a company when trying to achieve success in three distinct directives, ones that are often contradictory as opposed to complementary. Founders Shirley Ririe and Joan Woodbury—and the legacy linked with their names—are clearly historical, as is the company's long-running collaboration with Alwin Nikolais. Then there is the obligation for performing-arts companies to integrate time-consuming educational programs into their endeavors. Teaching equals foundational monies, and a good portion of RWDC's time and energy is spent traveling around Utah delivering lectures/demonstrations.
The third side of that triangle—actually commissioning and performing contemporary dance—is arguably where Boye-Christensen has had the most influence on the company, both with her own work (more than 30 pieces during her time with the company) and the various choreographers she's lured into town, including John Jasperse, Brook Notary and John Utans. Then there have been the many collaborations she's done, such as with local artist Trent Call, Canadian architect Nathan Webster, Danish composer Jens Horsving, actor Ethan Phillips and renowned writer David Kranes, to name a few. That influx of the new and cutting-edge breathes invigorating life into a dance scene that can often be found resting on its legacy laurels.
"I am such a strong believer in work that is of the utmost quality," Boye-Christensen says. "It has to be completely uncompromised. I believe in choreographers that have an aesthetic vision, that have an aesthetic fingerprint. Nothing generic. I actually believe that contemporary dance has to provoke something, to move people, to engage and, really, to be contemporary. It has to initiate dialogue and conversations. That really is our responsibility as artists."
One highlights exactly what Boye-Christensen's artistic direction for the company has always been. Set to premier is One Hundred Thousand by Johannes Wieland, the choreographer in residence at the Tanztheater at the State Theater of Kassel, Germany. Augmenting that on the bill is a restaging of Mexican choreographer Alicia Sanchez's If My Right Hand Would Say What My Left Hand Thought, based on the writing of Paul Auster, and Boye-Christensen's piece Bridge, both originally staged in 2005.
"I've always enjoyed Wieland's work," Boye-Christensen says. "It's kind of unusual, and has a very physical language. His work is also very humorous and theatrical, and I think that he demands a lot of vulnerability and rawness from dancers. He expects them to open up and explore with him to help facilitate the movement vocabulary themselves. I thought a slightly edited and more concise version of Sanchez's work would pair beautifully with his. Of course, then I decided to go with Bridge in the middle to literally link those two together."
It will be interesting to see the new direction for the company once the final curtain closes on One. Does it continue to foster the contemporary by hiring another artistic director with a strong aesthetic and passion for the new? Does it become more of a legacy company, performing historical works? Or does it become an educational foundation, contextualizing and demonstrating dance for students everywhere?
Or perhaps the better question is: What becomes of Boye-Christensen? The choreographer asserts she's staying put, Salt Lake City is home, and she wants to continue to engage the arts community she's grown to love. With her insatiable appetite to push boundaries via interdisciplinary collaborations, you can rest assured that she has plans to continue to do what good art does best—make you contemplate, question and, ultimately, feel.
ONE
Rose Wagner Center
138 W. Broadway
801-355-2787
Through April 27
7:30 p.m.
$30
RirieWoodbury.com, ArtTix.org