Kelan Lyons
As he stands with his sign on 700 East, Martin says he understands the new laws regarding roadside panhandling and tries to stay out of trouble.
Martin's been working the same spot for eight years. So long, in fact, he's got a few "regulars." His hat and sunglasses partially obscure an otherwise friendly face, but whether it's the salt-and-pepper-stubble-surrounded smile or the handful of cardboard signs he uses to explain his situation—displaying something along the lines of, "Homeless, Hungry + Broke Please Help Thank You So Much God Bless"—some drivers routinely throw Martin cash as they're exiting onto 700 East from Interstate 80. Literally, throw.
"I tell my regulars to do that, so that way none of us get in trouble," Martin, who lives under a bridge near the intersection, says. If he spots a patrol car, he puts his sign down and turns his back to the exit ramp, acting like he isn't asking for money. "I tell my regulars, 'No disrespect, but the cops are here. I don't want either of us to get in trouble,'" Martin says, declining to give his last name because he's concerned he'll be arrested.
These little tricks are required for people in Martin's situation, thanks to House Bills 145 and 161, known as "Pedestrian Safety Amendments." Lawmakers passed the legislation during the 2017 and 2018 sessions, making it illegal for pedestrians to "impede or block traffic"—and panhandle—on certain roads, highways and on- and off-ramps. Should authorities see motorists and pedestrians exchange food or cash—meaning the pedestrian walks into the street, impedes traffic and takes money or property from a motorist—then both are considered in violation of the law. The first two offenses are a warning, but the third violation in a year is a Class C misdemeanor.
Rep. Steve Eliason, a Sandy Republican, previously told City Weekly he sponsored the original bill because he was worried about motorists hitting pedestrians standing near major roadways. Traffic safety concerns aside, Eliason says he also worries some panhandlers might use the collected money to get their next fix. "The quickest way for a citizen to get their cash in the hands of these drug cartels is to give it to the panhandlers," he says.
Utah Highway Patrol Capt. Steven Winward says state officers have issued 115 citations and 190 warnings between when the law went into effect last summer and June 4, 2018. But those numbers don't account for the instances when officers simply issue a verbal warning and don't record the interaction. "Most of the times, it's educational," Winward says of authorities' interactions with panhandlers. "Educate them a little bit, then send them down the road to a safer location." As for the money potentially being used for drugs, Winward says, "we're not going to follow somebody to find out what they're going to do with the money. We don't have time for that."
From early June 2017 to early June '18, Salt Lake City Police have issued eight citations to individuals who have entered roadways to solicit work or money, according to Detective Greg Wilking. But those citations are for a broader category than just panhandling, and include day laborers who hang around local stores, waiting for someone to pick them up and put them to work.
"We in the city have so many calls for service, that where it ranks on priority is fairly low, and if we tell them, 'You're not allowed to be out there panhandling, you need to move along,' most of them are compliant," Wilking says. "It's very much, we're advising them."
Both Winward and Eliason say they've noticed a dip in the number of people panhandling on roadsides and medians since the bills took effect. "Since this law was passed last year, I don't see it as frequently," Winward muses. But he does see people asking for money outside private businesses like Walmart. "They're out of traffic," he says. "[UHP is] concerned about safety and pedestrians. We want to make sure that person is safe and nothing happens to them."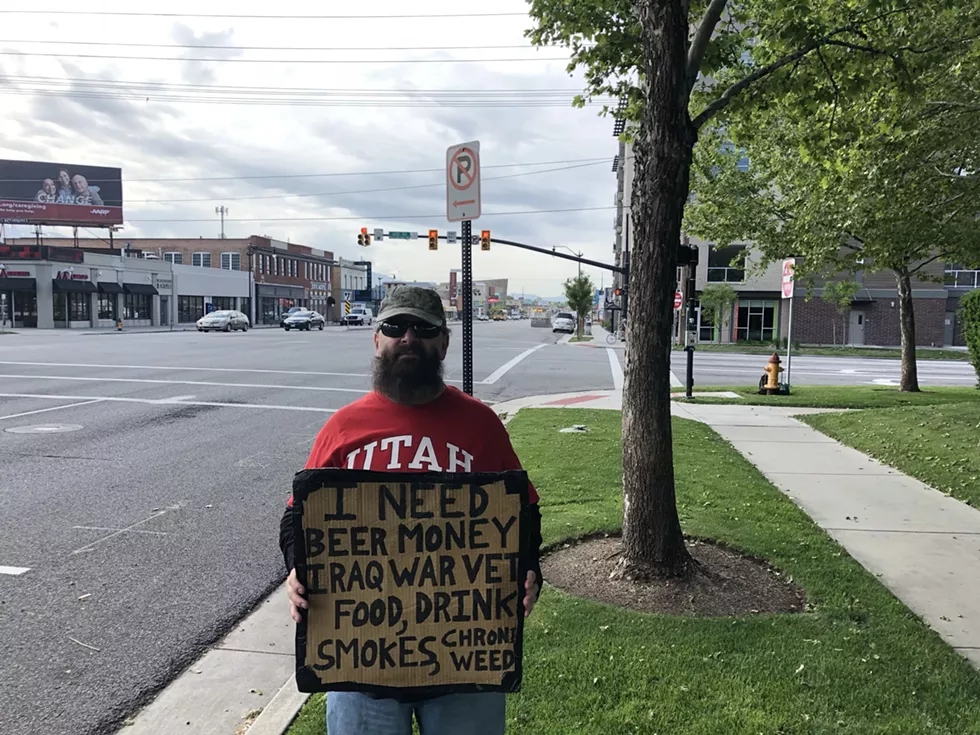 On an overcast May day, Erik Pavlik stands on the corner of 600 South and State Street holding a sign that says he needs beer money. Clad in jeans and a University of Utah sweater, Pavlik says he's trying to raise cash so he can move to Portland. "One cop said, 'Look out for me. If I see you getting money, I'm going to give you a ticket and the driver a ticket,'" he says. "They just warned me."
Pavlik employed a similar sign three years ago when he was homeless. (He has since secured shelter, but he's looking to pick up some extra funds before the disability money he gets from the Department of Veterans Affairs runs out.)
He estimates he used to make between $120-$200 during the roughly 13 hours he stood on the corner asking for money back then. Now, he makes about $60 in eight hours. "A lot more hustling to get a couple bucks," he says of the switch.
"I wondered why I haven't seen too many people panhandling [on roadsides since the bill passed]," he says. "It's kind of shitty. If people want to help somebody, that's up to them. It should be the citizen's choice."
Eliason has been a member of the board of trustees for The Road Home for more than a decade and is an active advocate for the homeless community—he carries a Narcan injectable and nasal spray in his car, in case he sees someone who overdosed lying on the side of the road. He also sponsored several homeless bills during his time in the Legislature and he volunteers his time to help raise funds for The Road Home.
On the last day of May, Eliason and City Weekly took a drive around Salt Lake City's panhandling hotspots.
After a police car drove by us on 600 East, Eliason meets Martin by his regular spot, off an I-80 exit ramp. "This is a really generous corner," Martin says, though he did see an accident there earlier in the day. "I got behind the pole and hid," Martin says with a smile after Eliason asks if it would have been dangerous for him to step onto the road.
Martin says he's never gotten a ticket, but he also has a good relationship with the cops. "If they don't like you, you might as well not come out at all," he tells the state lawmaker. Martin explains he and the two people he lives with under a bridge need to make $32 that day. "That's just what we calculated we needed," he says.
"That guy seemed to have his stuff together, for the most part," Eliason surmises, out of Martin's earshot. Driving again, Eliason says he worries the scars on Martin's face could indicate drug use, and that the $32 he said he needed would go toward drugs. "I don't want that on my shoulders, if he overdosed."
On the other hand, Eliason says as he points at a kid crossing the street carrying a Little Caesars pizza, it's possible to live off $32 per day.
Approaching 1300 East and 2100 South, Eliason spots a man holding a sign. Parking his car at a gas station, Eliason watches a woman in a vehicle's passenger seat roll down her window and dig through her purse while the driver waits on a red light. Unable to find anything, the woman mouths, "I'm sorry" to the man as the car speeds off once the light turns green. "It's extremely busy here," Eliason says of the intersection, noting that it'd be "definitely a distraction" were the man to walk into the road.
James, a youngish man who also declined to give his last name, tells Eliason he's asking for money because he got robbed that morning. "I lost everything," he says, mentioning that he has a home, an education and used to work for a home-improvement store. He says he's made about $9 in the hour since he started standing on the corner. Eliason wishes him good luck before reaching into his wallet and pulling out a few dollars. "Thank you so much," James tells him.
Back in the car, Eliason makes clear he didn't just violate his own law: He didn't disrupt the flow of traffic when he gave James the money, since he parked and walked over to him on the sidewalk, and the structure in the middle of 2100 South is "more a divider than a median," anyway.
Also, the lawmaker adds, James talked about his education and work: "This is actually somebody who found themselves in a difficult position and wants to do something about it."
"I didn't give him the money because you were there," Eliason swears. "I believed him. Maybe I'm gullible; it wouldn't be the first time."
The bills, Eliason underscores at the end of the drive, "weren't meant to stop anybody's right to ask for money. It simply says if you're gonna do it, do it in a safe spot."